An ongoing rivalry between two local politicians came to a head earlier this week, prompting accusations of a physical attack.
The skirmish took place at a press conference held by East Side Union High School District trustee Van Le, who denounced San Jose Councilman Tam Nguyen for allegedly spreading lies about her.
The Mercury News and several onlookers caught the encounter on video.
Nguyen crashed the presser with a handful of supporters in tow and held up a sign behind Le for all the cameras to see. Milpitas Chamber of Commerce CEO Mark Tiernan, Le's adviser and former campaign manager, moved in front of Nguyen to act as a barrier.
As Nguyen moved into view, Tiernan followed. Eventually, Tiernan said, Nguyen bopped him on the head with his sign. Nguyen, in turn, accused Tiernan of shoving him.
Tuesday's miff turned into a shouting match, with each side berating the other and calling each other communists. Nguyen called police. A couple of cops questioned Nguyen and Tiernan separately and left without citing anyone.
But the affray appears to have deepened divisions between Le's camp and Nguyen's.
Milpitas Councilman Anthony Phan—who was called a communist by Van Le's supporters during his 2014 campaign—took to Facebook to announce that he's stepping down from his role as liaison to the Milpitas Chamber.
"I won't editorialize," he wrote, "but I'm appalled. Effective tomorrow, I am resigning … for personal reasons."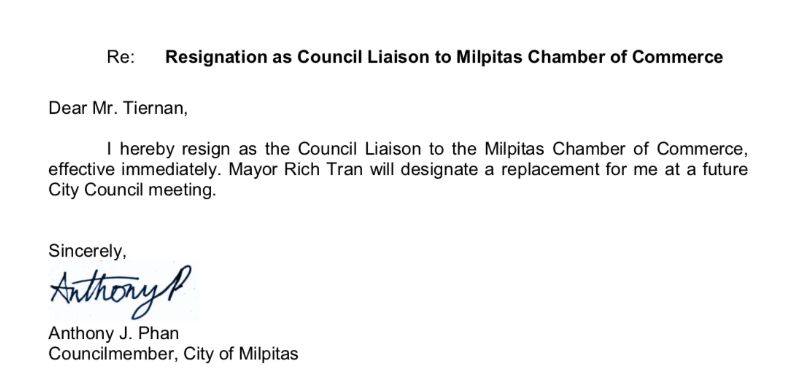 The quibble erupted out of a drawn-out debate over Nguyen's policy to ban the flag of the Socialist Republic of Vietnam from all flagpoles owned by the city of San Jose. Though largely symbolic, the ban was a way for the local Vietnamese community to condemn the totalitarian regime from which many people fled as refugees.
Le initially endorsed the flagpole ban, but later changed tack to say that it should have extended to all flagpoles citywide. However, the city attorney, Nguyen and the rest of the council said such an extensive ban would flout First Amendment rights.
In July, Nguyen hosted a forum of his own that was broadcast on Bay Area Vietnamese media. At this time, he apparently brought up Le's shifting stance on the subject.
"At this press conference, Councilmember Nguyen attacked me and falsely linked me with a letter from the General Consulate of Vietnam in opposing this resolution," Le said. "I have never supported the communist government in Vietnam, and my record reflects my strong anti-communist position since I came to this country over 42 years ago. These accusations were intentionally made to destroy my integrity, damage my business and my family well being."
Le also criticized Nguyen for filing a lawsuit against a pair of writers for calling him a communist, another attack that came in response to the flag policy. The school trustee threatened to sue Nguyen unless he stops allegedly using the same insinuation about communist ties against her.
"Otherwise," Le said, "I have no choice but to pursue legal actions regarding libel and slander against the disbarred and disgraced attorney Nguyen."
Meanwhile, Nguyen has been trying to pressure Le into a televised debate on the issue. Some of the signs Nguyen and his supporters waved around at Tuesday's dramatic press conference demanded that Le accept the challenge.
Le, who's rumored to plan a run against Nguyen for his District 7 seat, has so far refused to hash it out with her opponent in a moderated one-on-one discussion.
Nguyen told San Jose Inside that he's frustrated by the rumors and name-calling.
"She's trying to blow smoke to cover her own past," he said. "She's the one who's been intimidating and badgering and maligning me. Some people do this for political motives, including her. My question is why?"
Fast-forward to about 33:15 in the below video to watch the incident unfold.