UPDATE: The San Jose Police Department issued the following statement in response to a request for more information:

We have received numerous media inquiries regarding the social media comments Officer White posted on his Twitter account. We want to first stress that we are taking the matter very seriously. Upon receiving the information, we immediately forwarded the matter up the chain of command for review.

Chief Esquivel provided the following statement, "It is extremely important for the community to know the comments made on Officer White's private social media account do not reflect the thoughts or feelings of the men and women here at the San Jose Police Department. Nor do we condone this type of behavior."

The San Jose Police Department recognizes the sensitive nature of this matter.  Therefore, effective immediately, Officer White has been placed on Administrative Leave as we conduct the investigation.  We appreciate your patience and understanding as we conduct a thorough and thoughtful review of the matter.
Free speech doesn't mean that speech is free from consequences. A San Jose police officer is learning that lesson now, as the department investigates threatening comments he made online against people protesting the deaths of unarmed black men at the hands of police.
"Threaten me or my family and I will use my God given and law appointed duty to kill you #CopsLivesMatter," Officer Phillip White tweeted over the weekend, riffing off #BlackLivesMatter, a tagline adopted by the movement.
That tweet came right after another taunting protesters using Eric Garner's last words, "I can't breathe," as a rallying cry.
"By the way if anyone feels they can't breathe or their lives matter I'll be at the movies tonight, off duty, carrying my gun," the 20-year SJPD veteran tweeted Saturday night.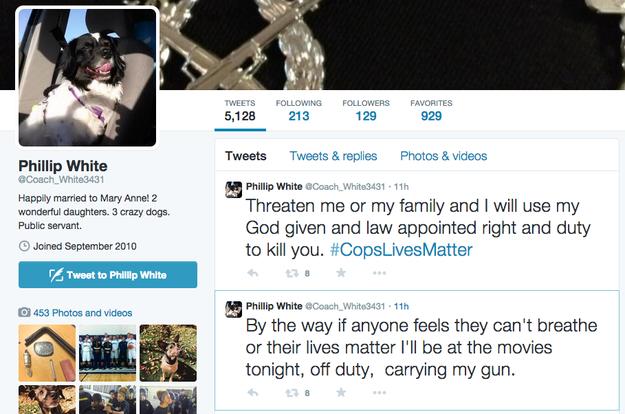 BuzzFeed published screenshots of White's Twitter account Sunday, setting off a sharp backlash in the community. By Monday afternoon, more than 6,200 people had signed their names to a petition to fire White. The petition says White's threats undermine police-community relations:
The San Jose community is appalled by Officer Phillip White's threats to protesters through his twitter account. His words, if tolerated, make the notion of positive police-community relations impossible. Every second he has a badge and a gun, our community is at risk. He must be fired.
White's Twitter account was set to private after a BuzzFeed reporter contacted the SJPD.
Raj Jayadev, who heads Silicon Valley De-Bug, a nonprofit group that has worked to build trust between police and minority communities, wrote in an email to SJPD Chief Larry Esquivel that he was "appalled" by White's sentiments.
After reading the BuzzFeed coverage of Officer White's comments, I am speechless. If these comments are his, he must go, immediately.

I know Chief you must be as appalled as I was reading his tweets. I am certain his words do not represent what the SJPD wants to reflect, and every second he has a badge and a gun, our community is at risk.

Please do confirm if these comments of his conveyed on buzzfeed are indeed his own. If they are, we will be calling on our friends and the larger community of San Jose who are concerned about issues of justice and public safety to join us in calling for his removal from the SJPD.

Please do respond. thank you - Raj Jayadev (Silicon Valley De-Bug)
White has been expressing anger about the protests for several weeks, according to screenshots caught by BuzzFeed. In one, he criticizes women's basketball players at University of California, Berkeley, who took part in the protests and tweeted a photo of themselves wearing shirts that say, "Black lives matter."
Officer White responded: "This is BS. Free education. Don't forget who is paying for your school ... me & other CA tax paying cops."
White was recently profiled in the Mercury News in an article about a gang prevention program.
"I think we all sign up to help people and put bad guys in jail," he told the newspaper. "Having an opportunity to help the community in a manner in which we're doing with this program is very rewarding."
Police told Jayadev that they are looking at White's case both "criminally and administratively." Meanwhile, the officer has been placed on paid leave.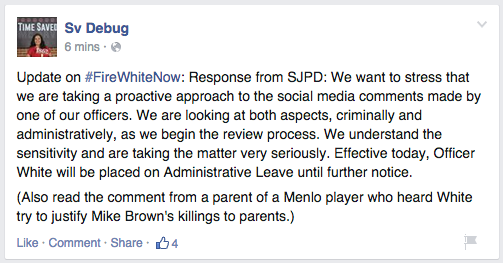 White's comments also got him fired from Menlo College, where he was recently hired as an assistant basketball coach. Here's the message the school posted on Facebook Monday: