San Jose's police department has a White privilege problem.
This isn't the insidious issue in which white people blithely advance and prosper at the expense of non-white peers. The problem starts and ends with SJPD officer Phil White, and the issues at play include free speech, hate speech, union contracts and the expectations we place on individuals given the ultimate authority.
Let's start from the beginning:
In December 2014, officer White, a 20-year  SJPD veteran, sent out threatening tweets directed at sympathizers of the late Eric Garner and the #BlackLivesMatter movement. White informed the social media public that he would be off duty at the movies, carrying his gun, and if anyone had a problem with that, or threatened him or his family (whatever that means), he would use his "God given law appointed right and duty to kill you."
He ended with the hashtag #CopsLivesMatter.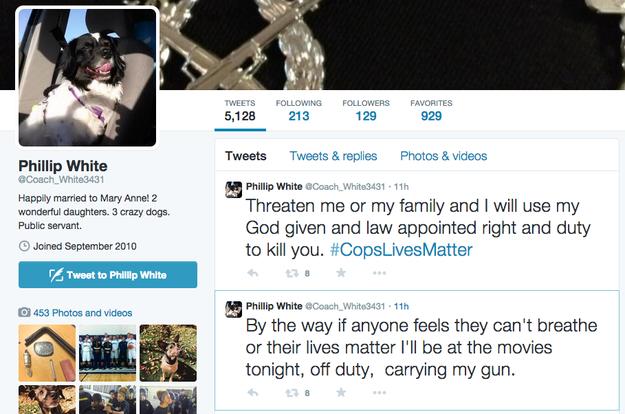 This was the culmination of several weeks of Twitter screeds in which White used his First Amendment right to take aim at the free speech of others, such as the Cal women's basketball team, which posted a photo of players wearing "Black Lives Matter" shirts.
"This is BS," White tweeted. "Free education. Don't forget who is paying for your school ... me & other CA tax paying cops."
Putting aside the absurdity of criticizing college kids for protesting, or some other garbage about taxpayer money equaling ownership over young women in high-tops, White showed his true colors over the course of weeks—not two tweets—and, as a result, the department fired him in October 2015. He was also let go as an assistant coach of a small college basketball program.
Fast forward several months, and this week the department announced that White was reinstated through an independent arbitrator's ruling. The contract structure between the city and its Police Officers Association allows all personnel disputes to be taken to the civil service commission or an independent arbitrator. All documents related to arbitration are confidential, and the ruling to reinstate White is binding.
That is officer White's privilege, and it's now San Jose's problem.
Police Chief Eddie Garcia and Mayor Sam Liccardo both expressed their disappointment in the decision to reinstate, but that failed to appease the very people officer White intended to intimidate.
On Wednesday, community activists and the NAACP held a press conference calling on the city to challenge the arbitrator's ruling in Superior Court. The city of San Jose has 30 days to respond, and communications director David Vossbrink tells San Jose Inside that the city attorney's office is currently conducting a review to present to the City Council in closed session. It doesn't appear on this coming week's agenda.
"There are very, very narrow grounds to overturning an arbitration decision," Vossbrink says. "You have to find that there was some sort of major fault in how the process went, or some sort of fraud involved that really calls into question the integrity of the process."
The chances of winning the challenge are slim, but in no way should that prevent the city from exploring every option to challenge the arbitrator's ruling.
White may have had an impeccable record leading up to his social media meltdown, but his words were hateful, dangerous and sustained over a period of time. And let's not fool ourselves into believing officer White is alone in his opinion.
Some of the law enforcement officials I've spoken with in candid conversations have felt targeted as a result of the Black Lives Matter movement, right or wrong. As a result, though, valid claims of institutional bias and racism have been discounted or appropriated under the disingenuous umbrella of arguing all lives matter. Such attempts only serve to sidetrack focused discussions on people of color being mistreated in public, incarcerated at alarmingly disproportionate rates and/or killed while in custody.
I asked Chief Garcia if officer White had learned anything from this process, and the chief couldn't say.
"I can't speak for him," Garcia said. "I would hope so."
Judging by his online comments, Officer White's remorse might center primarily on the fact that he lost four months of pay and benefits in between his firing and reinstatement. He's back with the department in an administrative role assisting with the body-worn camera program, which Garcia has described as a chance at "redemption."
Does officer White even believe he needs redemption? Are their factions in the department who actually consider officer White to be a victim? Who knows.
What we do know is that San Jose's top officials believe they have a cop unfit to serve on the force and a carry a service weapon on his off-duty hours. And this is exactly why the city needs to challenge the arbitrator's decision.
It sends a message to every other San Jose police officer that they do not have a "God given and law appointed right to kill you." It sends a message that words matter. It sends the message that men and women granted the ultimate authority under the law—to take a life—cannot threaten the very citizens they've sworn to protect.