Silicon Valley prides itself on innovating products and culture, but the industry's growth in the Bay Area perpetuates suburban sprawl and drawn-out commutes.
That's according to a new study by SPUR, a local nonprofit that studies urban planning. The report titled "Rethinking the Urban Campus," found that barely 20 percent of the region's tech companies lie within a half-mile of public transit. As a result, more than 86 percent of people in Santa Clara County—the most populous and job-rich part of the Bay Area—drive alone to work.
"Recent growth is not reshaping the region," the authors write. "It is reinforcing existing patterns … where most jobs are in auto-dependent places away from rail."
From the 1950s on, low-rise office parks replaced fruit orchards and pastures, turning Santa Clara Valley into the interminable sprawl of the present.
"This environment emerged in an era of wide-open spaces, cheap land and easy mobility by car—an era that is long past," the study notes. "Today that same environment, built for near-term expedience, is expensive, congested and ubiquitous. Nightmarish commutes and soaring home prices are taking a toll on the Bay Area's prized quality of life, challenging its long-term competitiveness."
Despite policy efforts to cluster jobs near transit hubs, recent development largely takes the same shape of a 20th century corporate campus or cloistered office park surrounded by expansive parking lots. Apple in Cupertino, Facebook in Menlo Park and Google in Mountain View all lie more than three miles from the closest train station.
"The result is familiar and disappointing for the region's performance on transportation, health and environmental measures as consumption of land, car congestion and time wasted in traffic all continue to rise," the study notes.
Though it's the largest city in the nine-county region, San Jose has added relatively little office space—virtually none of it near train stations. However, the study does cite Samsung's Silicon Valley headquarters in north San Jose as an example of smart growth. The two 10-story towers with ground-flood shops and cafes sits adjacent to a light rail station on North First Street.
"Because Samsung owns the property, it was not subject to the speculative calculus that has prevented many other projects from embracing the urban ideal," according to the SPUR report.
North San Jose overall ranked poorly in terms of walkability, however. With only three transit stops, 84 percent of the 14,500 workers in that area still commute by car alone.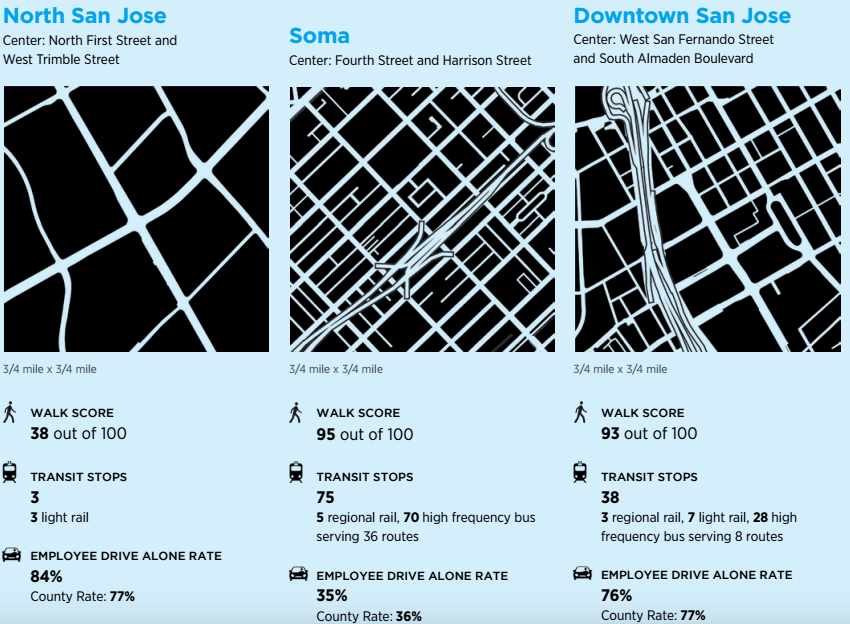 With so many tech workers commuting from San Francisco to offices in the South Bay or along the Peninsula, many of the biggest companies offer free shuttles that span the distance or simply ferry people to and from the nearest transit hub. But those private buses get bogged down in traffic, making the train a more convenient alternative. Another option: convince people to relocate.
After adding 20,000 hires this spring, Google announced plans to move 6,000 workers from Mountain View to Sunnyvale because of traffic concerns. Like other leading tech companies, Google also rewards employees for ditching their cars.
But incentives alone cannot overcome decades of haphazard development. Silicon Valley cities haven't built enough housing to meet demand. Builders as well as the California Department of Housing and Community Development blame the shortfall on regulations, permitting costs and diminishing public resources. Another challenge is community opposition and legal opposition to more sprawl and increased density.
Meanwhile, trains grow increasingly crowded and funding to modernize them remains uncertain. Plans to electrify Caltrain hit a snag when the U.S. Department of Transportation held off on approving federal funding for the upgrade.
BART, which connects the Tri-Valley and East Bay to San Francisco, is stretching southward. A station in San Jose's North Valley is close to complete and two more stops are expected to open by 2026.
Click here to read the SPUR study.