Regional transit officials announced this week that it would bring BART to the South Bay by way of one tunnel, not two. The decision was applauded as a victory for downtown San Jose, where businesses worried that a double-bore design would cause more disruption and take an economic toll on the community. Here's a look at the cost and impact of BART's Silicon Valley extension.
The number of tunnels BART plans to bore under San Jose, the agency made last week with its project partner, the Santa Clara Valley Transportation Authority (VTA). For years, local stakeholders worried that the agencies would opt for a double-bore tunnel, which would have been more costly and more disruptive.
The number of feet below ground the single-bore BART tunnel would lie. That's about 30 feet deeper than the double-tunnel design.
The number of miles the BART tunnel would traverse under downtown, completing a 16-mile extension from Fremont.
The total cost of bringing BART from San Jose's under-construction Berryessa hub to the Diridon Station in downtown. That's on top of the $2.3 billion to build the BART line from Fremont to north San Jose. Of the $4.7 billion projected for the final Berryessa-to-Diridon extension, $1 billion comes from a sales tax passed by voters in 2000, $1.5 billion from another voter-approved sales tax in 2016 and the rest from federal, state and regional allocations.

The estimated average daily ridership boost from BART's six planned Silicon Valley stations by 2035, according to the VTA. Current daily BART ridership averages about 430,000 for the Bay Area as a whole.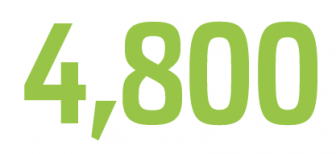 The number of parking spaces transit officials plan to build by 2035 to accommodate the influx of Silicon Valley's BART passengers.
Sources: VTA, BART