San Jose's City Council will discuss a number of different revenue measures on Tuesday, including one that would levy a tax on businesses and others that would increase the local sales tax.
One measure slated for a June 7 special election is a nine-year, quarter-cent sales tax, which would annually raise $40 million. As a general tax, it would need a simple majority to pass.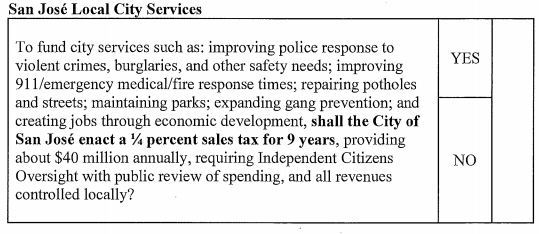 A few council members want to replace that measure with a special tax, which requires a two-thirds majority to win. But it would also guarantee that the money is spent on intended purposes: public safety and roads.
"We have no doubt that a super-majority of voters will turn out to support a local tax to adequately fund core city services," council members Johnny Khamis, Manh Nguyen and Pierluigi Oliverio wrote in a shared memo.
Also on Tuesday, the council will hear a report about a citizen-led measure that would update the city's business tax. The initiative proposed by San Jose State University sociologist Scott Myers-Lipton would tax businesses based on their gross revenue in the city.
San Jose's current business tax, which hasn't been updated in decades, charges a flat rate of $150 a year plus $18 per employee a year for companies with more than eight people on staff. But there's a cap of $25,000 a year, even for companies making tens of millions of dollars.
The proposed gross receipts tax would charge based on a company's total annual gross revenue. According to an independent analysis by city-hired consultants Keyser Marston, that would quadruple the city's business tax revenue. It would also chase away businesses, opponents argue.
San Jose's existing 30-year-old model nets about $12.7 million a year. Myers-Lipton's measure would add another $40 million annually to restore public services slashed during the Great Recession.
Mayor Sam Liccardo opposes the measure, which he said would penalize midsized businesses. Myers-Lipton, however, pointed out that about 88 percent of businesses would remain unaffected or pay less.
A recent poll of likely voters shows overwhelming support for the measure, which will likely end up on the November ballot.
Keyser Marston will discuss the city's existing business tax, present an analysis of the proposed measure and review the city's options for updating the tax. Some of those options include updating the definition of "employee," removing the $25,000-a-year cap, expanding the tax base or adding inflation-based adjustments over time.
To view a copy of the presentation, click here.
More from the San Jose City Council agenda for March 8, 2016:
The city may start cracking down on memorial shrines for homicide victims to discourage loitering, vandalism and secondary violence. According to a draft policy up for consideration, the city reserves the right to remove them after 10 days—or sooner, if there are safety concerns.
WHAT: City Council meets
WHEN: 1:30pm Tuesday
WHERE: City Hall, 200 E. Santa Clara St., San Jose
INFO: City Clerk, 408.535.1260