Santa Clara County may extend its moratorium on medical marijuana collectives until it comes up with a plan to regulate them—or ban them altogether.
The Board of Supervisors enacted a moratorium in June in the wake of San Jose's new regulations that threaten to shutter most of the city's 78 pot clubs. The fear was that those dispensaries would move to unincorporated parts of the county instead.
On Tuesday, supervisors are expected to recommend an all-out ban for unincorporated areas.
Currently, Silicon Valley has a higher per-capita ratio of pot clubs than Berkeley, San Francisco and Los Angeles, according to the county.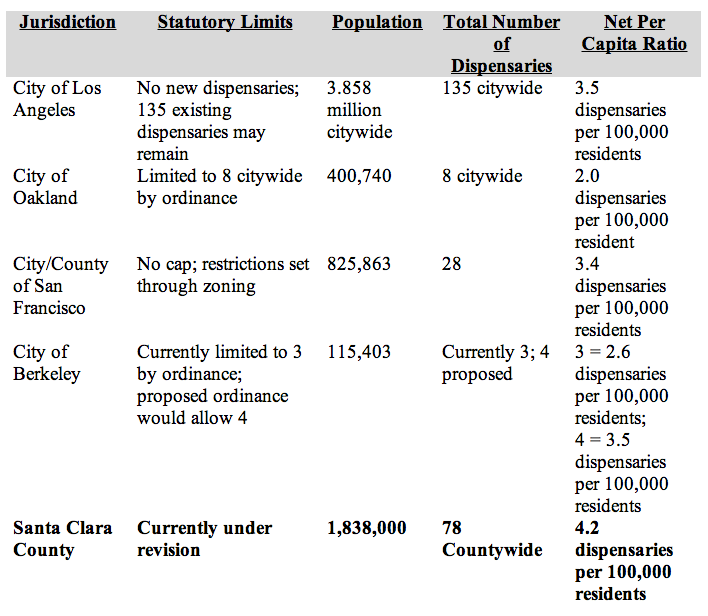 About 200 cities in California have enacted a total ban, including Gilroy, Sunnyvale, Los Gatos, Morgan Hill and Milpitas.
County officials say they want to watch how the new ordinance plays out in San Jose. If the number of clubs falls too low to keep up with patients' needs, supervisors could roll back the ban and come up with a slate of strict regulations instead.
Meanwhile, supervisors may direct the county to come up with a regulatory proposal for cannabis-infused edibles. The county's Weights and Measures Division is looking to bring pot clubs under its purview, to monitor scales and scanners and send an inspector to make sure marijuana products are accurately labeled with weight, measure and count.
Health officials are developing a public health campaign to educate various audiences—patients, parents and youth—about marijuana. Analysts will also continue to study federal, state and local marijuana policies to present at future board meetings.
One such policy proposal, SB 1262 authored by Sen. Lou Correa (D-Santa Ana), would reinforce authority of local law. It would expressly require counties and cities to pass their own regulations or ban. It would create a Bureau of Medical Marijuana Regulation to license clubs already approved by local municipalities.
The bill is expected to arrive on Gov. Jerry Brown's desk by the end of the month.
On a federal level, the Food and Drug Administration (FDA) is reviewing cannabis for potential re-classification. The agency employs an eight-factor analysis to decide whether a drug meets criteria for its designated schedule, in this case a Schedule I controlled substance, the most dangerous classification.
The FDA re-evaluated marijuana's classification in 2001 and 2006—recommending both times to maintain the drug's Schedule I classification, which limits research into medical use.
More from the Santa Clara County Board of Supervisors agenda for Aug. 5, 2014:
WHAT: Board of Supervisors meets
WHEN: 9am Tuesday
WHERE: County Government Center, 70 W. Hedding St., San Jose
INFO: Clerk of the Board, 408.599.5001