UPDATE: The San Jose Police Department released the following statement over the weekend:
"We take all allegations of misconduct very seriously and are thoroughly investigated by our Internal Affairs Unit. Misconduct will not be tolerated and will be dealt with accordingly. There are checks and balances, all formal discipline recommended by this Department is reviewed and approved by the Office of Employee Relations and our City Attorney's Office. We can not discuss these specific cases because they are personnel matters but it is truly unfortunate that some choose to highlight these without knowing all the mitigating circumstances surrounding each case.
"Our men and women are held to a higher standard and do a great job in being professional and protecting our citizens everyday! Out of the approximate 500,000 citizen contacts we had last year, we received only 357 citizen complaints or concerns, less than 1%, and the IPA agreed on 90% of the Internal Affairs investigations she audited."
Two San Jose cops had sex while on duty, lied about it and still kept their jobs, according to an audit released Friday.
In her year-end report, Independent Police Auditor LaDoris Cordell said that the San Jose Police Department should adopt a zero-tolerance policy when officers lie to Internal Affairs. Many law enforcement agencies axe officers for perjury, she said, and that should be the local policy, too. The two officers who had sex on duty—in separate incidents—were merely suspended.
"It's not the sex as much as the lying I'm concerned about," Cordell told San Jose Inside. "The integrity of the department is based on the honesty of the officers. You can't build trust with the community if we have officers lying and getting away with it. Honesty is critical, absolutely."
One of the officers was working a side security job at a local school and violated policy by wearing a windbreaker emblazoned with "San Jose Police" on the back and a polo shirt with a colleague's name and badge number. His secondary work permit was expired and he failed to report all of his hours.
The report says he was having an affair with a school employee and, one time, had sex with her in a room on campus while on the clock. The woman later claimed the officer sexually assaulted her. During the criminal investigation, the officer lied about some details of the case, the audit found.
Another officer was found to have repeatedly ditched work to go home and have sex.
The report names neither of the officers, citing state law that entitles them to confidentiality.
"We take allegations of misconduct seriously," said police spokeswoman Sgt. Heather Randol. "There is a due process that must occur when addressing misconduct investigations."
Though the vast majority of complaints logged with the independent auditor end up being unfounded or exonerated, there was a 28 percent jump in the number of allegations against San Jose officers in 2013. Thirty-five complaints, or 6 percent, were sustained, which means investigators found enough "evidence to prove clearly the allegation made."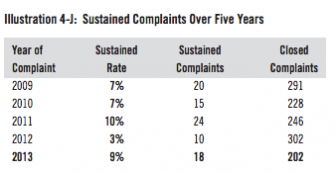 In other cases, officers failed to document violated restraining orders and used profanity. One officer botched a report from a man who ran into the police lobby claiming to have just been sexually assaulted.
"The [officer] was assigned to the desk at the main lobby … when a male entered and reported that he had been sexually assaulted by another male," the report says. "He also reported that he had visible bruising on his body. The [officer] interviewed the male in the lobby, did not photograph the injuries and did not record the statement … [or] notify the Sexual Assault Investigative Unit nor did he submit his written report to be signed off by a supervisor."
Firing untruthful officers was one of 15 recommendations in Cordell's report. She also suggested the agency update the officer handbook to include information about how to better interact with minorities and require training on how to deal with mentally ill suspects.
"Crisis intervention, especially dealing with the mentally ill, is very important," Cordell said in an interview Friday. "In San Jose, in the recent past, there have been three office-involved shootings resulting in death … all crisis situations. We think our officers should be better equipped to deal with that."
Right now, crisis intervention training is voluntary.
Another key aspect of the report, Cordell said, is a recommendation to train officers how to interact with people of color. The language in the agency's training manuals "is really bad," she said, "woefully insufficient." In one section, it instructs cadets that if they're hesitant to approach someone of a certain ethnicity that they should learn more about their culture.
"But why would we want a recruit who shies away from a certain culture?" Cordell asked. "We need to fix that."
Police should also learn to respect minorities during routine traffic stops.
"We hear numerous complaints from people of color who say this happens quite frequently: that if you're brown or you have a tattoo, the first thing an office says to you is, 'Are you on probation or parole?'" Cordell said. "We have people calling us all the time about that. They're offended."
The City Council will review the audit when it meets April 29. In past years, the city has been very responsive to her direction, Cordell said.
In January, following up on a prior year recommendation, police began documenting all traffic stops after years of complaints that officers disproportionately targeted black and Latino residents. That data becomes available for the first time in June, Cordell said. She would also like officers to wear lapel cameras, a plan that's in the works and should roll out by the end of the year.