UPDATE: Dave Cortese told San Jose Inside in a text message Wednesday afternoon that he has fired Jay Reed, his spokesman of three weeks in the San Jose mayor's race. "Jay Reed is no longer employed by our campaign," Cortese said. "I have no further comment."
Dave Cortese's campaign in the San Jose mayor's race has a couple new faces—and one unusual new storyline. In addition to moving Lara McCabe out of his county supervisor office to take over as campaign manager, Cortese also hired Wheelhouse Strategy consultant Jay Reed to be his new spokesman.
Fly made an innocuous call to Reed last week welcoming him to the campaign and hoping to learn a little about his political background. In addition to helping Republican Kevin Faulconer get elected mayor of San Diego earlier this year, Reed said, he also worked in 2008 on a land use ballot measure in Redwood City. But a little follow-up research found Reed omitted one controversial stop on his resume.
For more than a year Reed handled PR for Bullis Charter School in its nasty, multi-million dollar legal battle with Los Altos School District. During that time he sent out several disturbing Tweets from his personal Twitter account. In one message, almost exactly a year ago, he noted that his daughter would be getting a good education this year because, "Her teacher is hot." Four hours before that Reed made a weird joke about cars providing "oral satisfaction."
Perhaps most cringe inducing of all the Tweets was a joke he retweeted about women being prudes if they're uncomfortable watching men masturbate next to them on the bus.
"If a woman is uncomfortable watchin u masturbate
A – She has intimacy issues
B – She's a prude
C – She needs to sit somewhere else on the bus"
Facing a minor backlash, Reed then tweeted a couple apologies that explained the Tweets were his own views and not that of his "client." Then he deleted his account.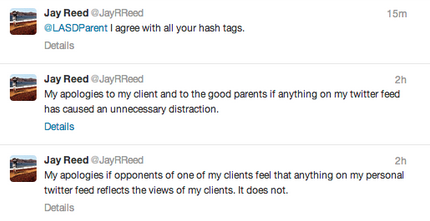 Screenshots posted online by an appalled parent in the Bullis-LASD fight saved the Tweets for posterity. In a follow-up call, Reed told Fly he doesn't understand "the whole Twitter thing," which isn't exactly a ringing endorsement for a communications pro, but kept his job after apologizing to his Bullis bosses.
He also admitted he didn't tell Cortese about the Twitter meltdown before getting his new gig. "I was out there to try to get a few laughs, but I guess it was inappropriate," Reed said. "It was nothing malicious. It was nothing."
It's worth noting that top campaign staffers oftentimes receive job offers after a successful race. Safe to say it wouldn't be "nothing" if this was how the communications director for the mayor of the 10th largest city in the country spent his free time.