And we thought 2016 was bad. The last 12 months have been record setting in all the wrong ways. The largest wildfire in California history leveled Santa Rosa like a nuclear bomb. A single shooter in a Las Vegas casino suite killed more people in a single incident than anytime before in our nation's history, which is saying something for gun-loving America. Hurricane after hurricane pummeled Houston and Puerto Rico in a devastating loss of life and property. And Nazis are actually a thing again!
Thank goodness we had a steady leader in the White House sending out thoughtful tweets regarding a potential nuclear war with North Korea …
But let's kill the noise on catastrophes and national embarrassment. There were some incredible moments this year, like the Women's March on Washington paving the way for the #MeToo movement. Brave survivors of sexual assault stood up and broke their silence, creating a real dialogue and actual change across all industries.
There were also more than a few dubious achievements that brought a smile to our crooked faces. From a millennial mayor in Milpitas plagiarizing Jay-Z and Barack Obama to the sheriff ironically reigniting a jail hunger strike by fat-shaming her prisoners, there was no shortage of surprises as the months flew by like confetti.
The world is spinning so fast it's hard to keep track of the news and the so, so many bad hot takes. Here's what we'll remember from 2017, at least until tomorrow.
JANUARY
Women Strike Back
The Dark Lord of the Sith looked out across the bigly crowd—well, kind of bigly, as many folks were surely stuck in traffic (period)—and proclaimed that, finally, the empire would be great again. Proving the world has surely fallen off of its axis, former President George W. Bush summed up the moment by exclaiming, "That was some weird shit." The resistance to Donald Trump's inauguration was swift, as two days later millions of women took to the streets and marched in support of equal rights and maintaining control over their bodies.
Sidewalk Hogs
DoorDash began a test trial for robot food deliveries where the cute little tugs were given a human chaperone. Sadly, these will be the last people jobs in 20 years.
Buggin' Out
The district attorney's office charged 45-year-old Julio Pino Reyes, of San Jose, with making and selling illegal cockroach powder, after he started advertising his mystery insecticide dust on Facebook and Spanish-language magazine El Avisador. Exposure to the powder apparently caused nausea, shaking and dizziness. Reyes called his wonder drug: The Year 2017.
Don't Cut This
Santa Clara County filed a lawsuit to stop Trump after 45 signed an executive order to defund "sanctuary cities," a term for places that refuse to help with the deportation of nonviolent undocumented immigrants. In November a judge ruled that Trump's cut in funding went beyond the president's authority and made the block permanent.
Captain America Sworn In
San Jose Councilman Lan Diep was sworn into office while holding his replica Captain America shield, proving that sometimes government can be fun. Or corny. We still can't decide.
A Case of the Virals
In his first month in office, Milpitas Mayor and strident millennial Rich Tran vowed to go viral after plagiarizing Barack Obama and Jay Z, violating the Brown Act on public meetings and commissioning a documentary on the inspirational story of Silicon Valley's youngest mayor (a.k.a. him). Proving the boy mayor keeps it trill, Tran got a tattoo that says "Milpitas" on his forearm.
Be Good, Bedgood
Frank Alexander Bedgood, 48, was arrested in Gilroy after he stole $5 from a 6-year-old boy who'd just bought a cookie, drink and donut for his sister. In Bedgood's defense, the kids were totally going to ruin their appetite before dinner.
FEBRUARY
Septuagenarian Swindler
Mario Landino, a 74-year-old Sunnyvale man, was sentenced to just probation after embezzling roughly $350,000 from Giovanni's New York Pizzeria. The lesson: If you're going to steal, do it when you're old.
Yeah, Sure
The daughter of Milpitas Councilman Garry Barbadillo sent police on a wild goose chase after claiming she'd been kidnapped, released and then kidnapped again. Oh, kids.
The Capital of Silicon Valley
Apple stunned Silicon Valley—wherever that is these days—by selecting San Jose to host its annual developer conference over San Francisco. The party was intense once everyone got on their phones.
On a Positive Note, No One Died
An overflowed South Valley dam soaked homes and businesses east and south of downtown, prompting San Jose to blame the water district for the fact that many residents only realized their homes were in danger when sewage-infused water flowed into their living rooms. The district shifted the blame to God, noting that it was actually heavy rains, not their poorly designed dams and inadequate pumping systems, which caused the flooding.
Bust Out the O
Jasvir Singh and his wife, Donna Santo, were nabbed by cops in Mountain View for running an opium ring. A search led to the discovery of more than 4,000 pounds of the stuff, which was being ground down to make a potent tea.
Art History
A brouhaha broke out at the East Side Union High School District offices after Jeff Moore, head of the local NAACP chapter, helped install several pieces of Mark Harris' brilliantly subversive art, which pairs Norman Rockwell-esque drawings with modern-day photos of police in riot gear and Black Lives Matter memes about "killer cops."
Bad Intel
Intel CEO Brian Krzanich kissed the ring in Trump's Oval Office before announcing the creation of a $7 billion manufacturing plant in Arizona. The free advertising from a laudatory Trump tweet was apparently worth Krzanich saying nothing about the president's Muslim travel ban, despite Intel opposing it in a court brief.
Doc.Con
Ex-Justice Department attorney Jeffrey Wertkin tried to sell a sealed court doc for $300,000 to a tech company in Sunnyvale. Defense attorneys claimed he was going through a rough patch.
Fishy Business
Morgan Hill restaurant Odeum had to pay a $120,000 fine and distribute credit coupons after the upscale Mediterranean eatery was caught substituting tilapia for pricier petrale sole.
MARCH
Hey, Mr. Spaceman
A digital billboard in Milpitas asked Elon Musk to "dump Trump" and quit the president's business advisory council, leading the Tesla and SpaceX founder to note that The Donald needed "more moderate" voices in the room, not fewer. Three months later Musk and others quit after Trump pulled the U.S. out of the Paris Climate Accord.
Caulk Naked
San Jose police shot and wounded a naked man after he led them on a high-speed chase and pointed a "caulking gun" at officers. Because what other kind of gun would a naked guy have?
Trump Visitor No relation to Milpitas Mayor
The Secret Service arrested Jonathan Tran, a 27-year-old Milpitas man, after he tried to break into the White House. When asked if he had the proper clearance, Tran reportedly told security, "No, I am a friend of the president. I have an appointment." It probably would have worked if he'd said it in Russian.
Oh, Snap!
Mountain View parochial school St. Francis saw its $15,000 startup investment in Snapchat jump to $40 million when the video-sharing service made its Wall Street debut.
Jesus, Take the Wheel
Wannabe youth pastor Rajeev Sanhi touted his tight relationship with Jesus while offering underage girls "relationship makeovers" in between offers of gifts, money, show tickets and other trinkets. Sanhi apparently failed to ask WWJD. (See: he would wait until they're 18.)
APRIL
Fat Chance
Hundreds of people fruitlessly waited in line for hours to snag free tickets to a Chance the Rapper concert in San Jose put on by Facebook for its F8 Conference.
Poor Al
A couple of weeks after the Oakland Raiders announced they will move to Las Vegas, Stanford economist Roger Noll called it the "worst stadium deal in the world." Al Davis must be rolling in his grave knowing he couldn't get over on Sin City.
Park It Like It's Hot
For a company so hellbent on ingenuity, employee parking is but an afterthought at Tesla. The company's Fremont and Palo Alto parking lots were put on blast via an employee's Instagram account, @teslaparkinglot, which gained 10,000 followers as it chronicled nightmarish attempts to find a spot.
Word Is Bonderman
Uber board member David Bonderman decided an all-hands-on-deck meeting about rampant sexual harassment within the company was the perfect time to joke about women talking too much. He would later resign.
MAY
Smile, Sarah
Helen Mirren came to San Jose to film the Sarah Winchester biopic based on the haunted owner of the Winchester Mystery Mansion. The movie is set for release in early February.
Crop Top King
The Thai government demanded that Facebook remove dozens of pages from its servers after a video showed its new king strolling through a shopping mall in a skimpy tummy-exposing sleeveless t-shirt.
Not Hotdog
A hotdog-identifying app in HBO's Silicon Valley is a real thing, apparently. Why do we need an app to tell us if something is or is not a hotdog? Shut your face.
Johnny Boys
Twenty-one men were arrested in a prostitution sting in San Jose near an area littered with liquor stores and car dealerships. Officers knew something was up when the men asked for tuneups after removing their trousers.
Sign Him Up, Niners
Yousef Youkhaneh, an 82-year-old San Jose man, came to his wife's rescue by tackling a 30-year-old woman who had broken into the house and beaten his spouse.
JUNE
Darwin Award
Some genius stole cutting-edge tracking devices from a startup in Santa Clara, which gave away his whereabouts and led to a quick arrest.
Why Bother Calling the Cops?
Two teens entered the back door of Mayor Sam Liccardo's home in a burglary attempt. The credit for stopping the thieves in their tracks, however, belongs neither to Liccardo nor the San Jose Police Department, but to first lady Jessica Garcia-Kohl.
Google Deal
San Jose's elected officials held a fist-pumping news conference to announce that the city is in negotiations to have Google build an 8 million-square-foot office complex next to Diridon Station that will create 20,000 jobs. Longtime residents and businesses expressed concerns that they'll be pushed out, which led Mayor Sam Liccardo to step in by noting that "the only revered occupant who's being displaced by Google's arrival is the dancing pig on the Stephen's Meat sign."
Sticker Shock
An 825-square-foot cottage in Mountain View was priced at $1.9 million, leaving many to wonder how a closet could cost a quarter-million.
Life Behind Bars
Antolin Garcia Torres was sentenced to life in prison without parole for the murder of Morgan Hill teen Sierra LaMar. The verdict offered some closure to Sierra's family despite her body never being found.
JULY
What a Dump
Residents in Mountain View started complaining after a string of colorful Google bikes were being dumped into local creek beds. Google employees were the main suspects, but the company said bike thefts had increased and it had an "active team" working to resolve the issue.
Dire Wolves
Local shelters sounded alarms that "Game of Thrones" fans were irresponsibly adopting and then abandoning huskies. Pet owners adopted the dogs because of their resemblance to the show's dire wolves, but soon learned that the breed is highly energetic, tough to train and rarely eats people's faces on command.
Uncool Cat
Serial cat slayer Robert Farmer, the son of a former San Jose police officer, was sentenced to 16 years—one for each cat he killed.
Bomb Buyback
A man in Sunnyvale tried his best good Samaritan impersonation by bringing in a cache of ammunition and grenades for disposal. Cops thanked him by urgently evacuating the building and calling in the bomb squad.
AUGUST
Disrupted
Google fired engineer James Damore after he penned a novella-length screed against the company's efforts to improve gender parity in the ranks, turning him into a men's rights cause celebre.
Virtual Private Spaceship
Apple's new spaceship campus opened its large glass doors in Cupertino. Apple CEO Tim Cook hoped its unveiling would draw attention away from the controversy over its removal of VPN products from the app store in China. Anti-censorship advocates called the move a cave-in to the Chinese government's suppression of dissent.
Love Takes Work
Supercouple Elon Musk and Amber Heard broke up, citing "work schedules." Musk said he downed Red Bulls to overcome the "severe emotional pain" and get through his Model 3 launch event. Despite his success as a serial lover of beautiful actresses, the electric car billionaire complained to Rolling Stone, "It's so hard for me to even meet people."
Pong and Space Invaders Are Next
A Milpitas family and three associates at a Santa Clara arcade game manufacturer CoinOpStore were charged with selling Pac-Man forgeries, according to the District Attorney's office.
Son of a Beach
Venture capitalist Vinod Khosla lost a legal battle keep the public off Martins Beach, near Half Moon Bay. The billionaire can still appeal, but in the meantime must open the gates.
Like Father, Like Son
Mark Espinoza Sr. and his son, Marcos, were arrested in Alviso for possessing more than half a ton of fireworks. Their excuse: who cares?
Sally the Salad Robot
Palo Alto's Calafia Cafe & Market a Go-Go hired an unlikely employee when "Chowbotics" chef Charlie Ayers and CEO Deepak Sekar created the world's first salad robot. What kind of world are we living in when a man can't even toss his own salad?
On the Road
A San Jose State professor went public about having to live out of her car because of the valley's skyrocketing housing costs. If that sounds bad, consider that her TA spent most of his nights in the trunk.
Good Boy
A German shepherd in Milpitas was caught on video pushing a shopping cart around. The store's manager complained that the customer violated the shirts and shoes policy, but was otherwise a very good boy.
Never Crane
A crane that had been extended 200 feet in the air toppled over and fell on the roof of a house in Campbell, leaving significant damage. Police treated the incident like an accident, because paperwork, man.
Street Smart
Tina Lam and Michael Cheng, who live in San Jose's Berryessa neighborhood, bought a street in one of San Francisco's most exclusive neighborhoods. The couple paid $90,100 for the property at an auction after the Presidio Homeowners Association neglected to to pay $994 in back taxes, penalties and interest. They were in a position to charge the 35 mansion owners, including Sen. Dianne Feinstein and House Democratic leader Nancy Pelosi, to park in front of their own homes, until the city revoked the sale and returned the street to the HOA.
SEPTEMBER
Poor Patsy
Dominic Shamo and Juan Arzate were charged with using a mentally disabled teen as a surrogate jewelry thief to rob Asian women in San Jose shopping center parking lots.
Columbus Called Out
A woman vandalized the Christopher Columbus statue at San Jose's City Hall, after a public hearing in which no defended keeping the depiction of the genocidal explorer. Aw, poor Columbo.
Equifaxed Up
On Sept. 7, the credit behemoth Equifax announced it had been hacked and almost every American's credit information was at risk. A lawsuit was filed a week later in federal court in San Jose.
Facebook Friends
Facebook admitted to congressional investigators that a Kremlin-linked "troll farm" sought to influence voters by purchasing $100,000 in ads during the U.S. presidential campaign. It initially refused to turn the information over to investigators, citing privacy concerns, but gave its commitment to confidentiality a rethink after public outcry.
Fresh Outta Juice
Juicero—the venture-backed startup behind a famously useless $400 juicer—shuts down. The closure came months after Bloomberg reporters found out that they could squeeze the juice packets by hand without a fancy machine, which goes to show that not all press is good press.
With Friends Like These
Alum Rock school trustee and congressional hopeful Khanh Tran touts endorsement from felonious former pol George Shirakawa.
Mount Umunhum Opens to Public
After 37 years, Mount Umunhum opens gates to visitors as a public park. Look past the stories of the albinos on Hicks Road and hike up to the Cold War radar tower, to take a look at the 360-degree view of the Bay Area.
Bovine Beats the Heat
As a Bay Area heat wave scorched cities, one Gilroy cow decided to wade into a pond. Chest deep into the watering hole, the ranch owner thought the cow was in trouble, but to his amazement his cow simply took a dip to cool herself off. He couldn't help but laugh.
OCTOBER
Slimy Scoble
"Tech evangelist" Robert Scoble admits to groping and otherwise sexually harassing numerous women.
Hangry Strike
Santa Clara County inmates announced that they would call off a planned hunger strike over jail conditions but began refusing food anyway to protest Sheriff Laurie Smith's remarks to San Jose Inside about how "some of them could stand to lose a little weight."
Coldplay Don't Play
The band enraged Santa Clara officials for performing past the 10pm Levi's Stadium curfew.
Shame on Shaian
Local political consultant Shaian Mohammadi sued Metro (San Jose Inside's parent company), San Jose Councilman Don Rocha and a former City Hall staffer for libel after multiple women came forward with claims of harassment and even an allegation that Mohammadi posted revenge porn of his ex on Twitter. Mohammadi admitted to San Jose Insie that he posted a topless photo—inadvertently—but screenshots of Facebook chats suggested otherwise. Mohammadi then changed his story and sued but never bothered to serve any of the parties with the lawsuit, leading a judge to throw it out with prejudice.
RoboDoc
The Sunnyvale-based manufacturer of surgical da Vinci robots got slapped with a number of lawsuits following reports of death and injuries.
NOVEMBER
Higher Power
Coachella Valley Church, which considers cannabis consumption a sacrament and sells the stuff out of a little shop outside its sanctuary, opens in San Jose. But could it be just another dispensary trying to test a loophole in the city's moratorium on new pot clubs?
Jailbreak
Two inmates make a daring escape from the Palo Alto courthouse. Santa Clara County Sheriff's Office put a positive spin on the incident, noting that it would reduce jail overcrowding and bring down costs.
Deadly Las Vegas Shooting
San Jose native Michelle Vo was among the people killed at the country music concert mass shooting, the deadliest in American history.
Creepy Colleague
A woman led Sunnyvale police to an alleged meth maker by reporting her alleged stalker, an increasingly aggressive, obsessive co-worker named Christopher Todd Oicles. The woman's call for help on Nov. 22 prompted officers to search the guy's home, where they found guns and a meth lab. In addition to drugs and weapons charges, Oicles was booked in jail on suspicion of stalking and attempted kidnapping for rape.
DECEMBER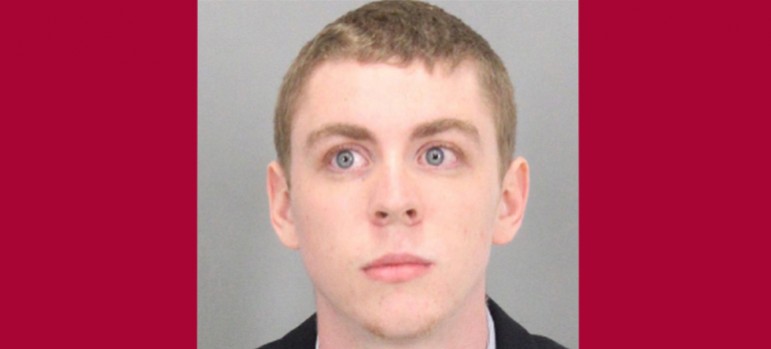 Buck Frock Turner
An attorney for former Stanford swimmer and convicted sexual predator Brock Turner, who was found raping an unconscious woman at an on-campus party in 2015, filed an appeal to have the case retried. Turner apparently believes he was deprived a fair trial after being found guilty on three felony counts—he only spent just three months in jail. On the bright side, the appeal brought attention to a year-old YouTube song called "Fuck Brock Turner."
Lotto Looters
The week before Christmas, Santa Clara detectives trekked all the way up to Travis Air Force Base to bust a group of guys suspected of pilfering lottery tickets at various gas stations and liquor stores. Cops followed the suspects from the South Bay to Fairfield, where the accused thieves crashed their Chevrolet through a manned gate at the military base and tried, unsuccessfully, to escape on foot.
To Catfish a Predator
San Jose cops reportedly nabbed a would-be pedophile last week by posing as an underage girl. Thirty-three-year-old Joe Nanez allegedly showed up to the rendezvous expecting to meet a 14-year-old girl, but was greeted with handcuffs instead.
Up a Creek
Salmon making their annual winter run from the Pacific Ocean to the Guadalupe River to spawn encountered more than the usual obstacles this season. Man-made traps—nets, stacks of rocks, other makeshift snags—have been placed on the migratory path of the king salmon, presumably set by people living along San Jose's creeks.
Bad Apple
Apple finally admitted what people have long suspected: that the company purposely slows down old iPhones to force people to buy a new one.
Half-Step Theft
Four executives for Applied Materials in Santa Clara were charged in a conspiracy to steal trade secrets from their employer to benefit their competing startup in China. Unfortunately, the plot failed because they didn't … apply themselves. (Thank you, we'll show ourselves out to 2018.)