Two men died after a pair of unrelated officer-involved shootings took place over a six-hour stretch in San Jose.
The most recent shooting happened minutes after midnight Monday, when San Jose police rushed to a home on San Marcos Street after a woman called about her brother showed up drunk with a shotgun. Two officers shot at the man, who retreated into the house.
Police surrounded the building and called in the SWAT team. After five hours, they used a flash-bang to break in and found the man dead. No officers were hurt. It's unclear whether the man died by police fire or turned a gun on himself.
Hours earlier, at about 6:20pm Sunday, police responded to a stabbing at Virginia Avenue and South 34th Street. The suspected attacker bolted before cops arrived, leaving the victim behind.
Officers tracked down the suspect at San Antonio Avenue and Packing Place, where, "fearing for their safety and the safety of the public," they shot and killed him, according to the San Jose Police Department. An ambulance rushed the victim to a hospital, where he was treated for serious injuries.
Last night brings the number of fatal officer-involved shootings to three this year. The first happened little more than a week ago. According to the Mercury News, the shootings come during a spike in violent crime that led to heightened police presence in downtown and the East Side.
SJPD sent the following tally of officer-involved shootings:
YTD 2015 cases: 6
3 Non-fatal
3 Fatal
Total 2014 cases: 5
3 Non-fatal
2 Fatal
UPDATE: San Jose police on Tuesday released names and photos of the two men who were shot and killed over the weekend, as well images of the weapons they allegedly possessed.
AJ Phillips, 30, shot and killed himself inside a San Marcos Street home, after brandishing a handgun and shotgun as two officers approached the building, according to police.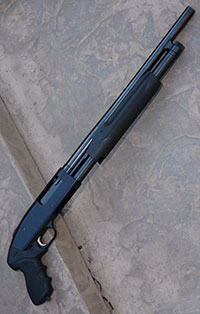 In a separate incident later that evening, police pursued Edrian Rivera following a reported stabbing that led to a person being transported to the hospital with life-threatening injuries. Rivera, 22, fled the scene in a car and later on foot, leading to a short chase on the 200 block of Packing Place. Rivera allegedly brandished a meat clever, which is when two officers opened fire and killed him.
Police are asking anyone with information regarding the above cases to contact Detective Sergeant Milliken #3591 or Detective Corral #3469 of the San Jose Police Department's Homicide Unit at 408.277.5283. Anyone wishing to provide information anonymously can also call Silicon Valley Crimestoppers at 408.947.STOP (7867) or visit http://svcrimestoppers.org. Police say tipsters may be eligible for a reward.