Amid national outrage over police violence and its inequitable toll on black lives, San Jose has committed to ramping up anti-bias training for its own officers.
Current events, as well as substantial prodding from activists and the former independent police auditor, prompted the San Jose Police Department to re-examine the way it trains sworn staff in cultural diversity and discrimination.
The department will begin meeting with community leaders to talk about how to enhance diversity curriculum for academy recruits, Chief Larry Esquivel said Tuesday. It will also send all officers from the rank of captain and above for training at the Museum of Tolerance in Los Angeles.
In addition, the department's chief officers—ranked lieutenant and above—will attend a two-and-a-half-day training on fair and impartial policing in April. The course, taught by University of South Florida criminologist Dr. Lorie Fridell, addresses the science of prejudice.
In a memo announcing his plan, Esquivel said he chose Fridell after reading an article she penned for the June issue of Police Chief magazine. Her piece, co-authored by retired Palo Alto Lt. Sandra Brown, explains the distinction of explicit and implicit bias. The former associates various groups with negative stereotypes out of hostility. The latter also relies on stereotypes, but on a subconscious level as a mental shortcut.
"Even the best officers—because they are human—can perform biased policing," Fridell and Brown wrote. "And even the best agencies—because they hire humans to do the work—must be proactive to produce fair and impartial policing."
In her train-the-trainer course, Fridell aims to teach SJPD's command staff how to recognize the biases they don't realize they have. She also talks about how biased policing can be unsafe and unjust. According to her website, the program will cost the city $16,500.
Dozens of law enforcement agencies have turned to Fridell in recent years as high-profile police violence—particularly against unarmed men of color—has shaken the public trust.
In San Jose, two federal lawsuits filed this year accuse police of racial profiling. The most recent, filed in July, claims an officer pulled his gun on an African American man at his own home in front of his wife and kids.
Meanwhile, data collected on last year's traffic stops showed that San Jose police are more likely to treat black or Latino people as potential suspects. Black and Latino residents comprise a third of the city's population but accounted for two-thirds of traffic stops in 2014. The city will hire an independent analyst to study those findings.
Yet citizen complaints about police bias have never once been upheld, according to a report earlier this year from recently retired Independent Police Auditor LaDoris Cordell. Before she stepped down last month, she urged police to re-evaluate the way they reviews those claims.
Esquivel's predecessor, Chief Chris Moore, had some of his officers participate in a study on implicit bias in 2011. The report issued by the Consortium for Police Leadership in Equity raised awareness of subconscious bias and called for more targeted training to address it.
That same year, Moore updated the department's duty manual to make biased policing a policy violation. The revised language holds that: "Officers will not engage in biased and/or discriminatory-based policing as this undermines the relationship between the police and the public and is contradictory to the department's mission and values."
Currently, SJPD puts academy recruits through 24 hours of cultural diversity training that addresses racial profiling and hate crimes. Officers have to take additional two-hour diversity trainings every five years.
Esquivel said he hopes to develop a more robust anti-bias curriculum in time for the March 2016 police academy.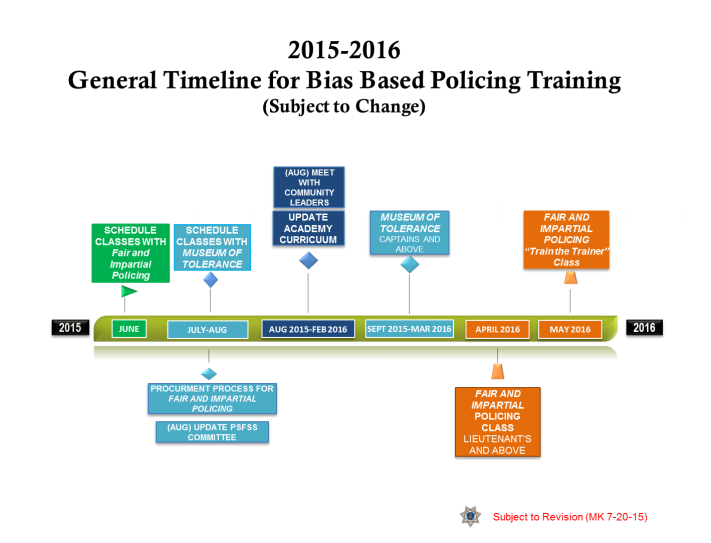 This story has been updated.