Jason Baker led his candidate statement with his strongest bona fides: that he was mayor of Campbell, that he went to Santa Clara University School of Law and that he was a firefighter for the U.S. Forest Service.
But when he got his voter guide in the mail last Friday, all three of those credentials were missing. And it wasn't for a lack of space—other contenders in the June 5 race for Santa Clara County's District 4 supervisor seat ran statements several lines longer than Baker's.
"It's disappointing because it's missing some pretty important pieces of information," Baker said. "That's why we put it at the top."
He went back to review the emails he exchanged with the county's Registrar of Voters (ROV), which gave him a chance to proof the statement before it went to print. But there was no mistake there. Those lines were included in the draft he approved back in March.
ROV spokesman Eric Kurhi said the misprint was a vendor error, affected 174,000 voters—every voter in the supervisor district—and that his office is acting quickly to correct the mistake. An errata letter will be sent out with the full statements of all seven candidates in the D4 race and will be posted online and at all early voting centers.
"We are doing everything we can to make sure that voters are made aware of the issue and receive the complete information," Registrar of Voters Shannon Bushey said.
The vendor will bear the cost of the reprinting, Kurhi said.
Baker noted that the ROV has a well-documented history of missteps. A state audit in 2017 found 26 errors in election materials provided by the ROV for review, including ballots sent with missing information.
Baker said the omissions from his candidate statement could potentially lose him votes.
"I put those things in there because wanted to let people know that I'm proud of my Santa Clara roots," he said. "I tried to highlight that by mentioning law school at Santa Clara University, which is where I met my wife."
But now voters won't know unless the ROV re-issues the statement.
"I just wish these things wouldn't happen," Baker said.
Baker is up against six candidates in the race to succeed county Supervisor Ken Yeager: San Jose Councilman Don Rocha, former San Jose Councilman Pierluigi Oliverio, San Jose Unified trustee Susan Ellenberg, Santa Clara Councilman Dominic Caserta and grassroots candidates Mike Alvarado and Maria Hernandez.
Chris Roth, a political observer who ran for San Jose City Council in 2016, thought the ROV error seemed "quite suspicious" and a boon for one contender in particular.
"Given the fact that the final print proof had already been approved by Baker's campaign, one would have to wonder next: which candidate would benefit the most from the county omitting this info?" Roth said. "That line clearly points to Don Rocha, who was endorsed by two firefighter unions. Additionally, Rocha's endorsements by three members of the [Board of Supervisors] reveal how easily this omission could be stealthily executed within the confines of the county's offices."
Sources working on some of the other campaigns balked at that suggestion as accusatory, outrageously conspiratorial and not even worth a public response.
Baker's campaign consultant, Derek Jansen, who worked on Roth's campaign two years ago, said he's more concerned about how the ROV plans to remedy the situation.
"We're very concerned that Jason is the only candidate that was hurt by their mistake," he said, "and now every other candidate will benefit from their proposed remedy."
Later in the day Monday, Baker commended the ROV for agreeing to include in the errata letter an indication of how the omission affected his campaign specifically.
"The office was helpful, cordial and decisive," he said,"and I appreciate their help trying to make this right."
Here's the draft statement that Baker OK'd in March.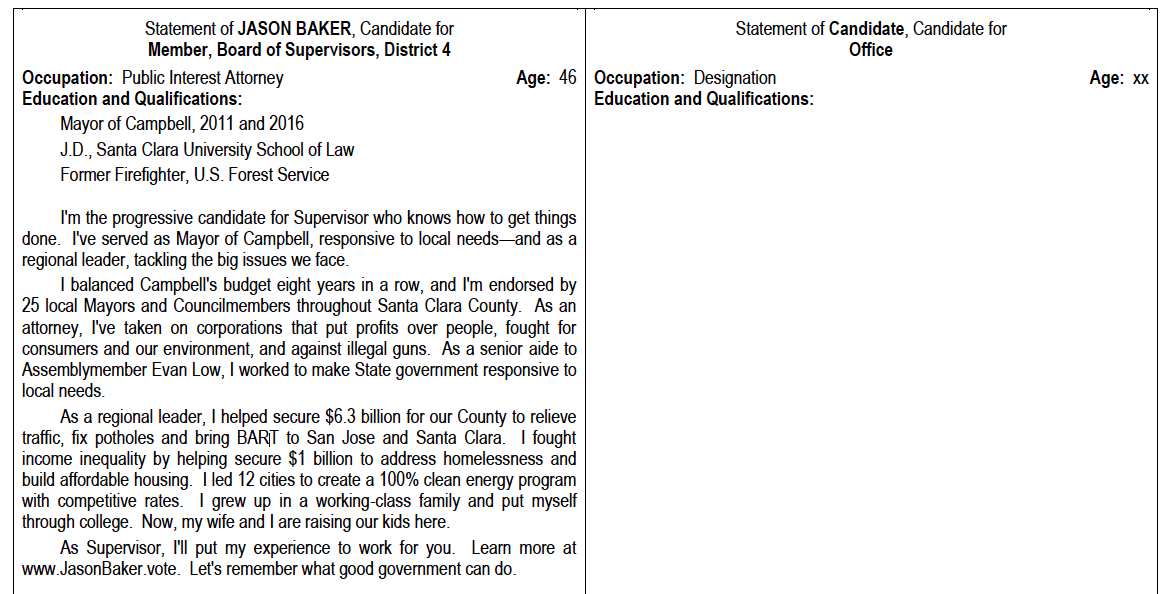 And here's the statement that landed in voters' mailboxes last week.
This article has been updated to include a response from the ROV.