San Jose's police watchdog has called for greater transparency about officers' use of force.
A just-published yearly report by the Independent Police Auditor's (IPA) Office shows that complaints about excessive force dipped slightly from 2015 to last year, but there's no way of knowing how often or why police resorted to physical aggression.
The police auditor can only investigate incidents of force if someone files a formal complaint. Grievances about police use of force (108) fell by 10 percent compared  to 2015, according to the annual IPA report. But it's virtually impossible to put the use-of-force numbers in context, because the San Jose Police Department hasn't released comprehensive data since 2009.
The annual review comes up for discussion at Tuesday's City Council meeting—the last council session until August.
"The IPA does not have the authority to review department use of force when no complaint has been filed," the report states. "This is the case even when the use of force is serious and results in loss of consciousness, broken bones, hospitalization or death."
Overall, complaints fell slightly from 303 in 2015 to 292 in 2016. They include allegations of not only force, but of conduct unbecoming of an officer and procedural violations.
For the first time in San Jose history, more complaints were filed with the IPA than with the police department. Grievances lodged with the IPA made up 54 percent of the overall number last year, up from 39 percent in 2015.
The department's Internal Affairs division sustained 11 percent of all complaints in 2016, nearly twice the rate from the year prior. Most of the validated complaints involved procedural violations and only one involved excessive force.
The IPA raised concerns about the department's tendency to give officers the benefit of the doubt in use-of-force cases. Out of thousands of use-of-force incidents between 2010 and 2015, not once was a supervisor prompted to open an investigation into whether it was justified.
The report was published by interim IPA Shivaun Nurre and staff, but much of the policy recommendations are noted as coming from former IPA Walter Katz, who left in March—after 15 months on the job—to take a position with the city of Chicago.
Another issue identified by the IPA report is that SJPD treats all force incidents the same, regardless of severity—with exceptions when someone dies in custody or an office fires a service weapon.
"As such, the department has little ability to analyze use of force trends, including data arising from significant use of force incidents," the report reads.
The report cites Baltimore as a comparison. The city of 600,000 recorded more than 2,800 incidents of force and took the initiative to investigate 10 of them. In San Jose, no complaints about force came from within the department.
It's also impossible to know whether certain demographics are being disproportionately affected. Because SJPD hasn't released its use of force data for eight years, there's no way to study racial disparities in how force is meted out.
Research from Santa Clara County's District Attorney's Office offers some clues, however. The IPA points to a 2016 study that found a racial disparity in people accused of resisting arrest, a charge that tends to follow use of force.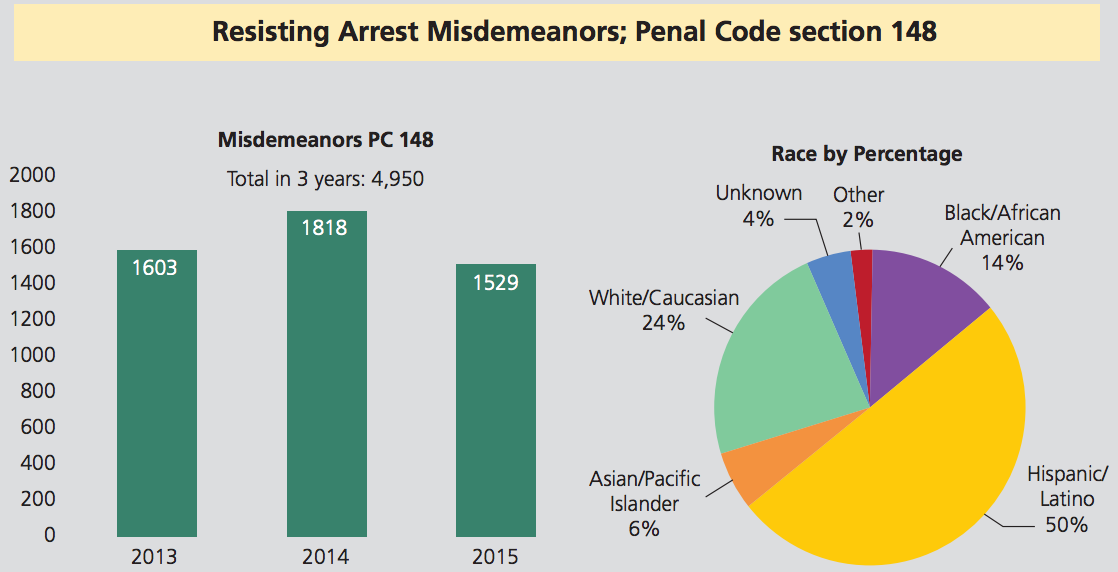 "A disparity does not necessarily mean that there is discrimination by law enforcement or the prosecution," the IPA report conceded. "It does mean, though, that further exploration is critical to understand why the disparities exist. Being transparent about such an inquiry would go a long way to improve relations with communities of color."
Another key recommendation involved the way SJPD responds to mentally ill people. Though the department recently began requiring crisis intervention training, it's unclear how effective that training is at de-escalating confrontations.
Of the five people shot by San Jose police in 2016, one was mentally ill. So far this year, however, every single civilian struck by police gunfire had a psychiatric diagnosis.
"[W]e do not believe that the SJPD has taken any steps to better understand the role of mental illness and the effectiveness of crisis intervention training regarding the use of lethal force," the report states.
Click here to read the full report.
More from the San Jose City Council agenda for June 27, 2017:
WHAT: City Council meets
WHEN: 1:30pm Tuesday
WHERE: City Clerk, 200 E. Santa Clara St., San Jose
INFO: City Clerk, 408.535.1260