An oversight board tasked with examining Santa Clara County jails decided against disbanding, despite concerns that a parallel probe would undermine its work.
Retired judge LaDoris Cordell, who chairs the "blue ribbon" commission, threatened to quit the group ahead of its inaugural meeting Saturday upon learning that the county hired a private consultant to conduct a separate, potentially confidential review.
"It is hypocritical for the county to want a transparent inquiry into the jails while funding a secret one," she told the group.
If taxpayers are paying for an investigation of the Santa Clara County jails, we should be able to see the findings, at the least.

— SVDebug (@SVDebug) November 7, 2015
The rest of the 26-member panel voted to continue its work, though several urged the county to be more transparent. Others said they would rather have multiple inquiries, even if they examined similar issues.
"I welcome that there's another consultant," said commissioner Pablo Gaxiola, a former inmate who works for the Goodwill of Silicon Valley Re-Entry Program. "If there's an overlap, I don't think that would be redundant."
County leaders assembled the panel in the wake of an inmate's fatal beating—allegedly by three correctional officers. Michael Tyree, 31, was found lifeless on the floor of his cell in late August. Days later, the District Attorney charged jailers Jereh Lubrin, Matthew Farris and Rafael Rodriquez with murder and assault under color of authority.
The special commission was assigned to conduct a top-down review of the county's two jails, Elmwood in Milpitas and the Main Jail in San Jose. But leading up to Tyree's death, and in the weeks following, the county also asked for outside help to improve jail conditions.
Threatened by litigation from inmate advocates at the Prison Law Office, the county hired Sabot Consulting in June to evaluate jail accommodations for disabled inmates. The Board of Supervisors expanded that contract in  late September to address compliance with the federal Americans with Disability Act. contract
A second contract with the same firm tasked the risk management experts with reviewing medical and mental health services, as well as use of force policies. Together, those contracts will cost upward of $400,000. According to a report presented to supervisors earlier this month, the consultants plan to submit a report on their findings by early 2016. Cordell is concerned that the contents of that report will be withheld from the public.
The county plans to issue a third, or expanded, contract with Sabot, though they have yet to work out the terms, according to Department of Corrections Chief John Hirokawa.
"The role of this commission is important to me," said Hirokawa, who oversees both jails for the Sheriff's Office. "But it will not be the only source of input. … I need as many sets of eyes and to engage as many stakeholders as possible to improve our operations."
Supervisor Cindy Chavez, a non-voting member of the committee, said it's difficult to know whether the panel's review will overlap with the paid consultant's until they have a set work plan.
The Blue Ribbon Commission on Improving Custody Operations commenced its vital work today: https://t.co/GEDkDTP9Gp pic.twitter.com/BNbASsigXI

— Cindy Chavez (@SupCindyChavez) November 7, 2015
The board will decide how to focus its inquiry when it meets again in two weeks. Members said they want to look at the complaint process, training for deputies and the mental and physical health of inmates.
Commissioner Wes Mukoyama, who spent 45 years as a social worker and now volunteers as a Buddhist chaplain at the county jails, said he wants to address gaps in service and reduce recidivism.
"There are plenty of people I see going out and coming back within two weeks," he said. "They're let out at midnight or different times and they're very afraid of what would happen to them when they leave."
The jails need a team to plan each inmate's discharge, he said. Another issue he's concerned about after years of working inside the jails is how guards are trained to use force.
"I saw a takedown in the jail and I was astonished," he said. "I really wonder what kind of training the guards have. … There are the good guards and there are the rotten apples."
Commissioner Judge Stephen Manley, who presides over the county's mental health court, said he hopes the panel will take a broader focus and consider how to reduce recidivism.
"We need to look beyond the jail and into the community," he said.
Though the details of the new Sabot Consulting contract have yet to be disclosed, Hirokawa said the review would touch on several issues. He wants to re-evaluate how inmates are classified by security level, which determines whether they have access to certain classes and other programs. The jails also need a new software program to better track Internal Affairs investigations and track employees with disciplinary problems.
The commission will meet within the next two weeks. Each time, the county will set aside a separate room to field complaints from the public. To watch video of the commission's first meeting, click here.
A few weeks after Tyree's death, the county put together a Public Safety Action Plan to double down on jail reforms. That roadmap includes funding for more consultants, new software, new chaplains and psychiatric services.
Below is the budget to bring the jails up to ADA compliance, found on the agenda for that board meeting.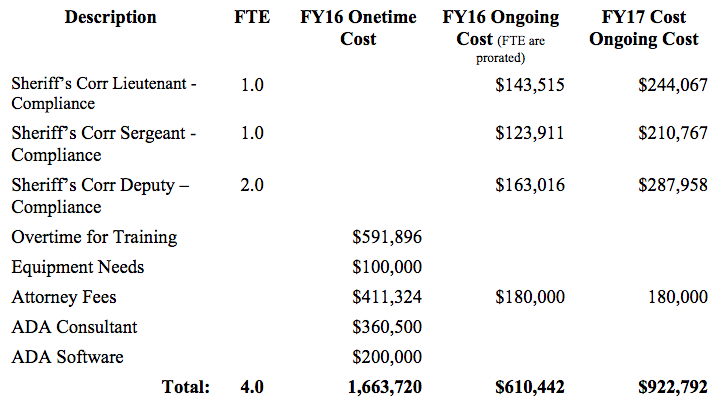 In addition to the above $922,792, supervisors approved the following allocations through 2017.