"Big Hugs Bro :)"
In October, media outlets across the nation picked up on stories regarding the cozy relationship between the San Jose Police Department and San Francisco 49ers. In addition to extensive secondary employment work for the team, which the chief has since suspended, top command staff was found to have repeatedly violated policies that forbid officers from accepting gifts of a certain value, and specifically tickets to sporting events.
In back-to-back years, Asst. Chief Garcia received tickets to 49er games, as did Deputy Chief Jeff Marozick and Police Chief Esquivel. All three officers were forced to reimburse the club for the cost of tickets. Esquivel told San Jose Inside that he and his command staff were "reprimanded in terms of policies," and "little things probably could have been done differently."
But newly discovered emails suggest SJPD top officers continue to misunderstand or outright flout ordinances pertaining to gifts.
In several emails to a department spokesman who handled media requests regarding the 49ers tickets, Garcia wrote he was "so over this … lol," adding that he doesn't "really know where the story is here" because he reimbursed the cost.
Norberto Dueñas, interim city manager of San Jose and a personal friend of Esquivel and Garcia (in one exchange Dueñas and Garcia call each other "brother" in emails), told San Jose Inside that's simply not the case.
"We do training. We have policies in place. We know what the threshold is on the limits of what we can accept. We do that over and over again. That was bad judgment. They should have known better," Dueñas said.
Garcia also accepted luxury suite tickets to a San Francisco Giants game last spring, writing "I'm in!!!! :)" when a representative from NextDoor.com made the offer. For unknown reasons he did not attend.
But tickets to a few sporting events could be worth pennies on the dollar compared to services the command staff has received from Barry Rhein, a management and sales coach who prefers to end his emails with the sign-off, "Bigs hugs bro :)"
Early last year, Rhein met with Chief Esquivel and his command staff to assess their personal and professional goals and discuss how to make them better leaders—here or with other police departments. The back and forth messages are filled with the kind of uplifting marketing-speak one might expect from an Andy Samberg spoof about cops bettering themselves. But throughout the emails no discussion of payment is ever mentioned—except for an email deputy chief Phan Ngo sent expressing his concern to Garcia.
"I think it's great that Barry wants to provide on-going team and individual coaching to us, but if this is done for gratis it may create a conflict of interest because he's a SJPD reserve officer—a subordinate to all of us," Ngo said. "If we were to move forward as is, essentially he will be providing a service for free, that he would charge other people, because this is what he does for a living."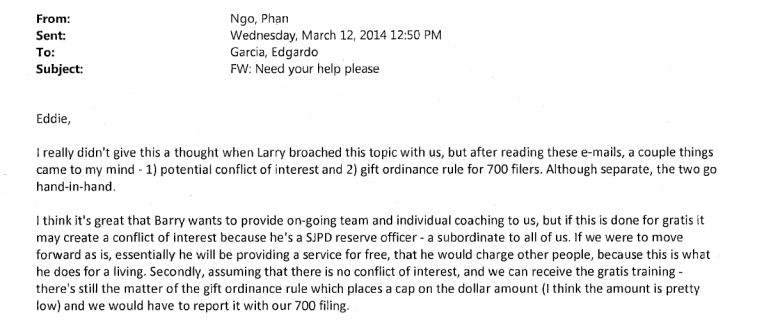 Garcia did not respond to that email, and subsequent messages show that command staff went ahead and accepted Rhein's coaching—although one could argue, based on the emails, that his services didn't exactly improve leadership and communication.
Rhein did not respond to requests for comment, but Esquivel told San Jose Inside that he viewed the meetings as "in-house training" which did not represent a gift. He added that he mentioned the coaching to Debra Figone, the longtime San Jose city manager who retired in late 2013. This would have occurred before Ngo's concerned email.
The problem with the arrangement, however, occurs on several levels: First, Rhein's responsibilities as a low-level reserve officer almost certainly do not include coaching the police chief; second, his services could have been contracted as a city expense but no paperwork exists for such an agreement; third, the coaching would have to be considered a gift as it was not conducted during his time "on the clock" and services were extended only to a select few rather than the whole department; fourth, the services almost certainly exceed monetary limits on acceptable gifts, as Rhein's client list includes multi-billion dollar corporations such as HP, SAP, IBM and Oracle; and finally, there is potential that a quid pro quo occurred. Esquivel recently approved Rhein's application for a highly coveted concealed weapon permit.
On the weapons permit, Dueñas admitted: "That would be a concern."