There is no honor amongst thieves, especially drug dealers who dabble in thievery.
In the early afternoon of July 24 last year, a man arrived in San Jose with a backpack full of marijuana. He intended to trade its contents for cocaine. But when he met another man in a Safeway parking lot on the south side of San Jose, the drop was squarely on the pot peddler, and he found himself staring down the barrel of a gun. Somehow the weed courier grabbed the weapon and made a run for it. He didn't get far. The suspect who lost his pistol proceeded to get in a car and run down the man in flight, dragging his body approximately 50 yards—half the length of a football field—before fleeing the scene. The victim was transported to the hospital with severe, but not life threatening, flesh wounds.
Dumb criminal stories, in which ill-conceived misdeeds stack up exponentially, can inspire forehead palm prints and website posts. For the top brass of the San Jose Police Department, this sequence of events inspired an amateur comedy hour.
In an email sent to three of the department's highest-ranking officers, Police Chief Larry Esquivel set the tone for the laugh-in with an email time-stamped 8:09am the next morning. Esquivel included the blotter report and the message: "Lol…really?!?!"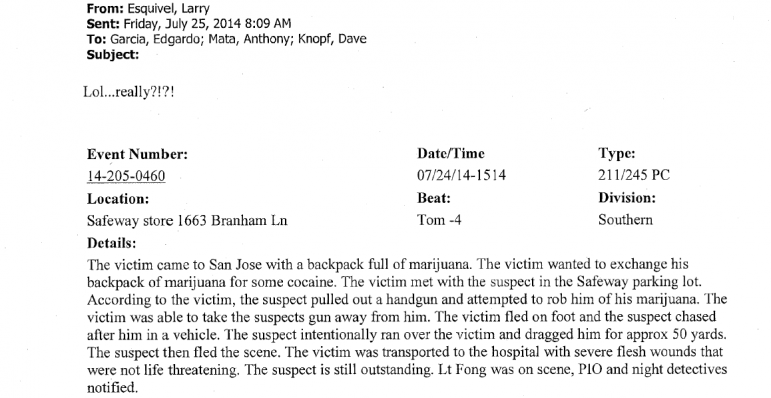 Deputy Chief Dave Knopf, who oversees the department's Bureau of Administrations, took the boss' cue in the first reply by asking Lt. Anthony Mata, who oversees the department's Research & Development unit, to reach out to the victim and advise him about how to register for a city-approved medical marijuana collective.
"There's no cocaine allowed, but at least he can sell his [marijuana] without getting ran [sic] over by a car!" Knopf noted.
Mata responded: "just called the hospital and he checked out...i'l [sic] send a drone to his house," before adding a follow-up email with a since-removed YouTube link and a requisite "munchies" joke.
Assistant Chief Eddie Garcia, SJPD's second in command, couldn't resist getting in on the fun and sent two emails. Perhaps unsure if his first joke hit the mark, Garcia's second message mocked the growing concern among community members that crime is on the rise in San Jose.
"Can you people keep my City safe please!" Garcia wrote.
The exchange might be funnier if it wasn't the latest example of unprofessional behavior in the department. Pop culture tells us to expect veteran homicide detectives to slowly remove sunglasses in the twilight of a grisly murder scene and whisper to their partner, "Guess who ain't coming to dinner?" (Answer: the dead guy.) But there is an expectation for the police chief to be above the fray, or at least know better than to begin his workday using his city-furnished email account to make fun of injured crime victims.
"It's not [appropriate]," Esquivel admitted last week in a phone interview, after initially declining San Jose Inside's request to talk. "It's stuff that we probably could do a better job of. Sometimes humor probably should not be conveyed—that kind of humor at all, in any case. Believe me, there's things we could do better on."
Those "things" are explicitly laid out in hundreds of emails between the city's top crime fighters, which were obtained through a public records request. The missives provide an echo chamber for the bro culture that permeates a department where morale has admittedly bottomed out.
Over the last year, Esquivel and his command staff have sent emails that suggest indifference for rules on accepting gifts while also routinely disparaging civilian oversight by the city manager's office and elected officials—the bedrock of a democracy. Garcia, who is frequently mentioned as Esquivel's inside track successor when the chief retires, has shown a particular disdain for concerns raised by anyone outside the command staff's inner circle.
With police leadership that projects an unflinching face in public but follows a different code when it thinks nobody is looking, officials at City Hall are starting to wonder if the San Jose Police Department is in even worse shape than previously imagined.