'Terrible Way to Lead'
Over the last six years, pay cuts, aggressive pension reforms and a perpetual media battle between the police union and City Hall have facilitated an exodus of nearly a third of San Jose's police officers through retirements and resignations. Amidst this all, reports surfaced of SJPD officers badmouthing elected officials to residents, gleefully passing around a traffic ticket for the former mayor, accepting inappropriate gifts, broadcasting cloaked threats on Twitter and dispensing with community outreach when adding new tools and weaponry to its arsenal. It's a phenomenon by no means limited to San Jose, as America's local law enforcement agencies become increasingly militarized.
Unbeknownst to elected officials and the civilian appointees who oversee the department, the police department's top brass has in many ways set the tone for the culture of disrespect for citizens who pay their salaries, as well as the outright contempt for the representatives whom the voters elect. SJPD command staff has frequently vented frustration over directions from the city manager's office—which suffered its own leadership upheaval last month—but only after removing certain recipients from email chains.
Throughout the past year, emails show, recently elected Mayor Sam Liccardo leaned heavily on Esquivel and Garcia during his time as a councilman to address concerns that ranged from street prostitution south of downtown and recruiting officers from the Vietnamese community to complaints that officers actively politicked on the clock.
In one such instance, Liccardo threatened in a late September email to start sending citizen complaints directly to Internal Affairs, the branch that self-investigates cops, rather than give Garcia and Esquivel a heads-up to ferret out misconduct. Ed Shikada, the city manager Liccardo ousted after winning the mayor's race, instructed Esquivel and Garcia to begin telling staff on a weekly basis to refrain from making political statements to residents.
In a Sept. 20 reply email, Esquivel told Shikada that he'd "already made it a priority for staff discussion." But not everyone was on board. Garcia sent a message that same day fuming, "We're going to reprimand staff no less than weekly, for something that isn't occurring????!!!!!! Terrible way to lead.."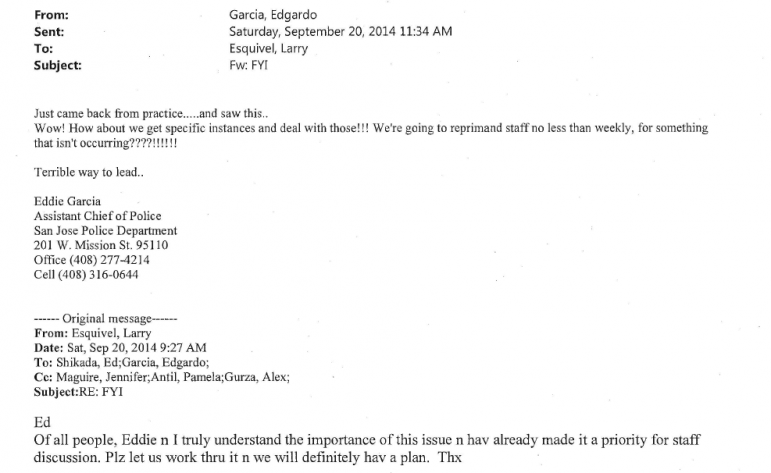 It's worth noting that Liccardo has been grooming Garcia for the chief position, according to City Hall sources. When the mayor-elect began to assemble a transition team in December to streamline his entry into the office, Liccardo made a noteworthy choice by including Garcia as one of just eight members—and the only city employee. But emails appear to show Garcia—described by many as gregarious and an articulate public speaker—is too immature for the top slot.
In the final weeks of the mayor's race, local media latched on to a former cadet's claim that the police union president had encouraged her and other recruits to leave the department. She wrote an op-ed in the San Jose Mercury News stating that the union meant to keep SJPD understaffed and hurt Liccardo's candidacy. In an Oct. 20 email, Shikada told Esquivel and Garcia that the city's new workers comp and benefits communication rep, Roger Hurtado, should be present for all future academy sessions in which police union reps address recruits.
Garcia proceeded to take Shikada off the email thread and vented in a manner consistent to other messages he thought were private—despite using his city email account, which is subject to public records requests.
"Geeeezus!!!!" Garcia wrote. "Can he let us work thru this!!!!"

Garcia told San Jose Inside that he's "embarrassed" and offered an apology "for having vented in that manner on a couple of issues." But emails show he and the command staff often express frustration or outright contempt when they believe no one is watching. Their liberal use of consecutive question marks and exclamation points is gratuitous and juvenile, yet it also emphasizes their dissatisfaction. One could argue San Jose's top cops are in many ways guilty of disregarding the very instructions they're being asked to deliver to the troops—not talking trash behind their bosses' backs on company time.
"It's definitely concerning," said David Vossbrink, the city's communications director. "I think the concern is kind of the tone of leadership and the level of professionalism and respect you've cited."