Family and friends of a man shot dead by San Jose State University police have spoken out against a decision not to charge the officer.
The Santa Clara County District Attorney's Office determined in a 46-page report Friday that Sgt. Michael Santos acted in self-defense when he shot and killed 38-year-old Antonio Guzman Lopez in early 2014.
The incident was caught on video by police body cameras. The DA released stills of the footage, though the family and authorities disagree on the context of what they depict.
Police say Santos and Officer Frits Van Der Hoek responded to a report of a man armed with a knife the morning of Feb. 21 last year.
"I was just over by the print shop and there's, like, a bum over there with some sort of knife, like, stabbing the air and doing a bunch of crazy stuff," a student told a 9-1-1 dispatcher just before 11am, according to the DA's report.
Santos was the first to arrive on scene, at East San Salvador and South Eighth streets, and he was trailed in a separate patrol car by Van Der Hoek.
Lopez, according to the official summary, was walking near the university campus with a foot-long sawblade used for cutting drywall, "acting as though he was mentally unstable or intoxicated." When the two officers parked, Lopez slumped onto his knees. Santos left his patrol car with gun drawn. Van Der Hoek approached from behind, as shown by stills from his body camera.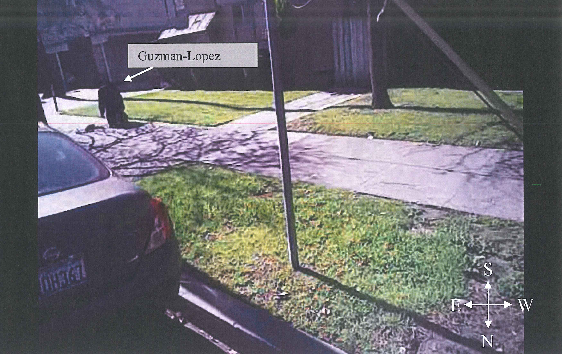 As Van Der Hoek approached the curb, Lopez stood up, prompting the officer to retreat onto the street while positioning himself in front of the suspect. Police say they ordered Lopez to drop the weapon, but he didn't respond to repeated commands to drop to the ground. They said Lopez appeared "catatonic," his face frozen in "a thousand-yard stare."
Police intended to detain him because he had feloniously brandished a knife-like weapon on campus, the report continued. Facing Lopez, Van Der Hoek aimed his stun gun and shouted "Taser, Taser, Taser!" before discharging it while the suspect walked toward him. But the electrical barb didn't pierce his clothing.
Moments later, police say, Lopez charged at Van Der Hoek, who shouted for Santos to shoot. Santos shot Lopez twice in the back.
An autopsy later revealed that Lopez had methamphetamine in his bloodstream at the time of his death and that he had a criminal history of resisting arrest, assaulting a police officer and domestic violence.
But Laurie Valdez, the partner of Lopez and mother of his child, challenges the assertion that he was a threat to police that morning. She says the footage supports her case. That last image, she says, shows him trying to get away, not charge an officer. Further, she told reporters, he was unresponsive to police commands because of a language barrier. She held a press conference last week to decry the DA's decision.
District Attorney Jeff Rosen showed Valdez and Richard Konda, head of the Asian Law Alliance, the video footage the day before the report was released last week.
"I didn't see him (Lopez) make any aggressive move toward any person," Konda told CBS.
Valdez filed a federal lawsuit against SJSU in January, demanding unspecified damages for her partner's death and calling the shooting "unnecessary and excessive." The suit also argues that police violated her partner's Fourth Amendment and 14th Amendment rights.