By the Numbers: $520 Million
Homeless advocates have long held that getting people off the streets is not only the humane thing to do, it makes economic sense. Now, for the first time, a study that bills itself as the most comprehensive of its kind has put a price tag on homelessness in Santa Clara County: $520 million a year.
The estimate comes from a report titled, "Home Not Found: The Cost of Homelessness in Silicon Valley," which was released Tuesday by the Los Angeles-based Economic Roundtable. Santa Clara County shelled out $200,000 for the report, to get a clearer sense of the public cost of homelessness.
Researchers sifted through 25 million records relating to 104,206 county residents who lapsed into homelessness between 2007 and 2012. They found that the region spent $3.1 billion over those six years on medical and mental health treatment and jail stays. The study found that the county spends about $83,000 a year each on 2,800 chronically homeless individuals, who cycle in and out of local hospitals and jails.
Silicon Valley claims 7,567 homeless people—the seventh-highest count of any metro area in the nation, according to a 2014 census, and one of the highest rates of unsheltered homeless.
Someone living on the streets costs taxpayers, on average, $62,000 a year; that figure drops to $20,000 if they're placed in housing.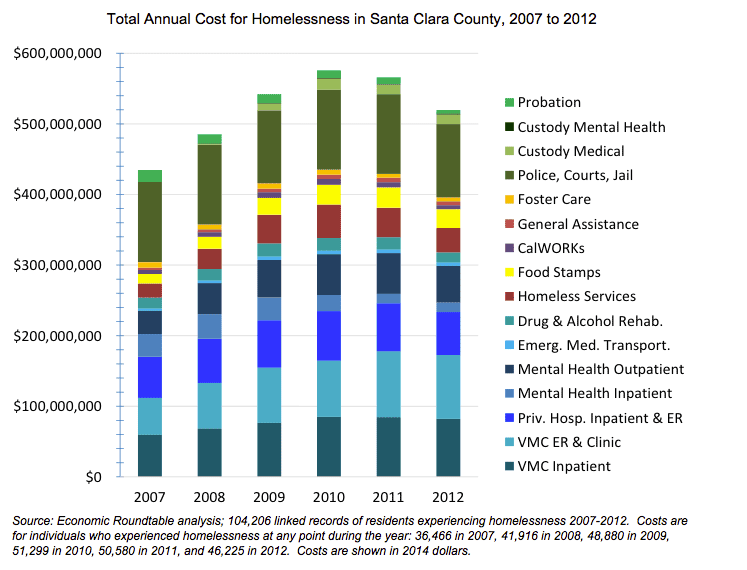 The report recommends that the county prioritize housing for the chronically homeless and strengthen supportive services to make sure people stay housed. It also encourages public agencies that work with homeless residents to maintain detailed records to guide policymakers.
Here's a link to the full report, which the authors claim is the "largest and most comprehensive body of information that has been assembled in the United States to understand the public costs of homelessness."