Donald Bruce Tabler died in spring of last year at the age of 65, fatally weakened by chronic smoking, drinking and squalor. On March 21, 2016, the Army veteran and father of three from Campbell became part of Silicon Valley's soaring homeless death toll.
According to a report released last week, the number of men and women dying on the streets of Santa Clara County rose by 164 percent from 50 in 2011 to 132 last year. Like Tabler, the overwhelming majority of them were white and male. But the death count for un-housed elderly people, also like Tabler, saw a 340 percent increase.
The troubling rise in homeless deaths reflects a national trend as the unsheltered population continues to grow and age. Yet the 13 percent increase in the South Bay's homeless population these past two years fails to account for the rising death rate.
Natural deaths and accidents, including drug and alcohol overdoses, caused most of the county's homeless deaths. More than a third died in a medical setting and about a fifth in an outdoor camp or makeshift shelter. The number of un-housed veterans dying fell from nine in 2015 to three last year—possibly because of a regional push to find shelter for that segment of the homeless population.
While the death review—available here and here—focuses on trends and statistics, San Jose Inside obtained records containing the names and ages of the homeless decedents that provided the basis for the county's research.
Click here for the list from 2016 and here for names from the four years prior.
According to those records, the youngest fatalities last year were two infants: two-day-old Mary Barajas and 22-day-old Emanuel Hurtado. The eldest were in their 70s—well over the typical lifespan for someone living on the streets.
Some of the names show up in obituaries or news reports. There's Paul Iwanga, a 56-year-old father of three, and 58-year-old Dumont Moore, a retired Air Force electrician with dozens of misdemeanor convictions on his record.
There's Melanie Roberta Wright, a 38-year-old Wailaki-Nomlaki Native American who died Feb. 24, 2016, of a drug overdose on the day she got her $1,300 tax refund check. Her father—Round Valley Indian Reservation President Kenneth George Wright, who already lost a son to suicide—took his own life a few months later on Father's Day.
"He lost his son to suicide, then his daughter to the streets," said Russ Flores, Melanie's older brother. "He was ready to join them when I spoke with him at her funeral."
Flores said his sister was staying in a van with a male friend at the time of her death, which the county classified as an overdose from heroin, methamphetamine and PCP.
"She was living day to day and she had to depend on who was in front of her," Flores said. "Unfortunately for my sister, the people who were in front of here weren't good company. I regret not being able to help her."
Though the county report and attendant data offer unprecedented detail about homeless deaths in this county, they fall short of explaining why so many more people are dying.
The county's Medical Examiner-Coroner Dr. Michelle Jorden said she doesn't quite know what's causing the surge in homeless deaths, but hopes that the report will help other people find some answers.
Andy Gutierrez, a deputy public defender who lobbied for the death review after seeing countless homeless clients cycle in and out of jail without adequate medical care, said curbing homeless fatalities requires expanding access to drug and alcohol treatment.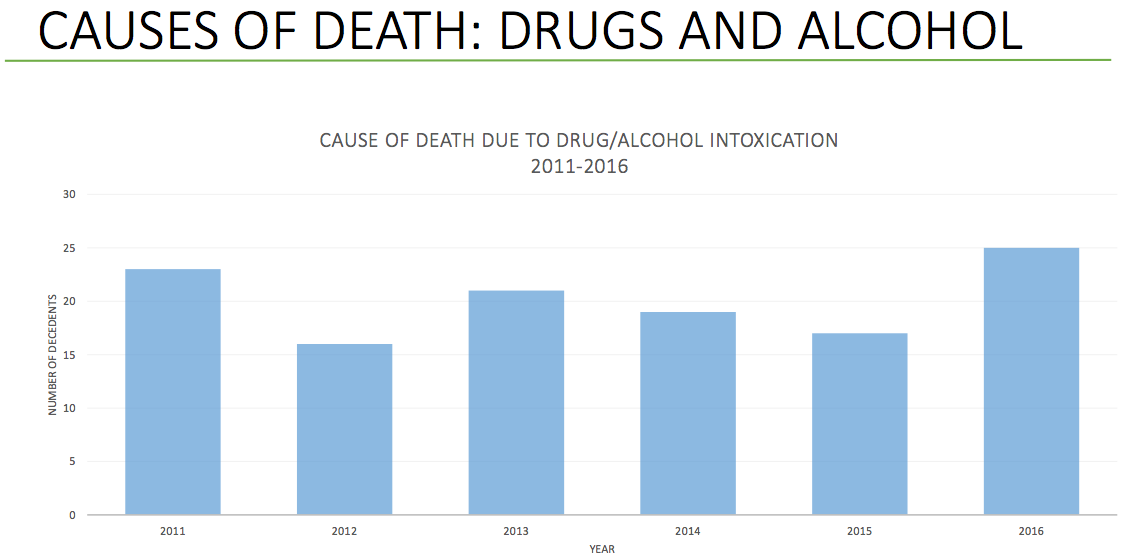 Year to year, he noted, about 40 percent of the region's homeless deaths stemmed from drugs, alcohol or related conditions. The population suffers from other serious chronic medical conditions, such as diabetes and heart disease, he said, but the drugs and alcohol make it difficult for outreach workers and case managers to place them in stable housing.
"Unless we break that cycle of chronic alcohol and drug use," he said, "we cannot even begin on our other supportive measures."