Evan Low Accosted for Sexual Orientation
on Wednesday, October 17, 2012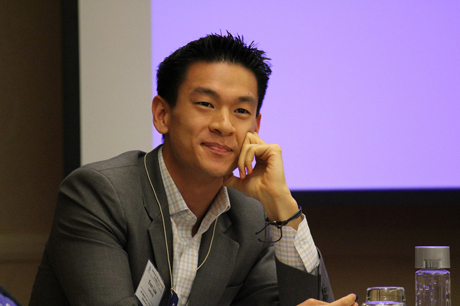 Evan Low, the vice mayor of Campbell, says he was targeted at the annual Oktoberfest festival for his sexual orientation. (Photo by ericawindycitytimes, via Flickr)
Oktoberfest traditionally serves as Campbell's annual reminder that people love an excuse to get wasted. But this year, Campbell Vice Mayor Evan Low experienced a whole new level of belligerence, and it's not clear if alcohol had anything to with an incident that borders on being a hate crime.
Low, 29, and a friend were walking through the Pruneyard on Saturday when Lisa Knox-Smith, a middle-aged meddler in city politics, allegedly approached Low and yelled, "Bang!" while forming her hand into the shape of a gun. Low says she then followed this up by screaming, "Die, fag!" and other obscenities over the next five minutes.
One of the first openly gay Asian American elected officials in the country, Low says he was stunned by the audacity of Knox-Smith, whom Campbell police know well and have yet to serve with a misdemeanor arrest warrant.
"At the time it felt like it wasn't real," Low says. "In hindsight, maybe I should've been more cautious, but it didn't kick in."
Thankfully, as Low gathered his bearings, other lovers of beer weren't having any of it. Several groups of people confronted Knox-Smith for her hysterical hate speech, Low says, while he called police with his cell phone. Possibly realizing she was in the wrong, or maybe fearing what police would say if she admitted pretending to shoot Low for being gay, Knox-Smith then jumped in a white Mercedes and drove off—but not before a woman with a baby stroller spit on her car. Nice job, mom.
Dave Carmichael, a Campbell police captain, says his department has been in contact with the District Attorney's Office and plans to file charges once they locate Knox-Smith.
"The info that we have at this point, and discussing it with the DA's Office, we don't have anything to show that it would fit the parameters of being a hate crime," Carmichael says. "Just because someone makes derogatory terms doesn't mean it will meet that threshold."
Low, who plans to run for the State Asembly in 2014, seems to be fine with the distinction: "It's a fine line between freedom of speech, which I think is important, and causing a public disturbance."
Overall, Carmichael says the number of incidents at this year's Oktoberfest were much higher than average nights but on par with past years' events.
While Knox-Smith has so far proven tough to track down, she was sighted at a recent Campbell City Council meeting on Sept. 4, when two teenagers from Prospect High School's Gay-Straight Alliance recited the pledge of allegiance to begin the meeting.
Low missed that meeting to attend the Democratic National Convention as a delegate. Campbell Mayor Michael Kotowski noted at the time that all 50 states had an LGBT delegate at the convention, adding, "I think that's a sign that we're all growing up."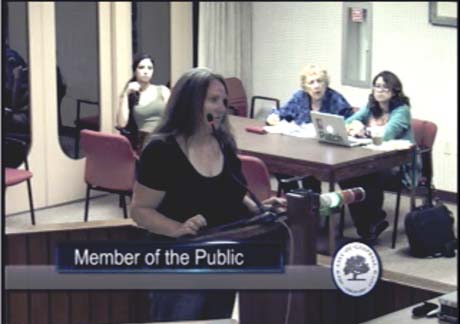 Lisa Knox-Smith, suspected of targeting Campbell Vice Mayor Evan Low for his sexual orientation at Campbell's Oktoberfest last weekend, spoke at a Sept. 4 Campbell City Council meeting. Low was not present at that meeting.
Post a Comment
Mission Statement: This site is designed to encourage political debate, discussion and change in our city, started by people who value San Jose and are interested in her future and in this valley's place in the state and nation.
Disclaimer: All views expressed on this site are solely the opinion of the individual writer.
Comment Policy: Please read our comment policy before posting.
© 2013 San Jose Inside. All rights reserved. Contact us