"Cortese 'not afraid to say no'" to special interests, thundered a polished mailer from the Dave Cortese San Jose mayoral campaign. That might seem like typical candidate-speak, but the mailer actually quotes the Mercury News beneath the daily's blackletter logo to add a layer of impartiality to its claim. That's odd considering Cortese's buddy system with labor is just one reason why the daily has instead gone all-in on Sam Liccardo. As it turns out, the daily never said that, Cortese did, and it was Cortese quoting Cortese, courtesy of the Merc, which published a quote that was subsequently edited. The mailer actually omitted the critical pronoun/verb contraction that began the sentence. Through the magic of political consulting, "I'm not afraid to say no" became "Cortese 'not afraid to say no'." Did Cortese mislead voters?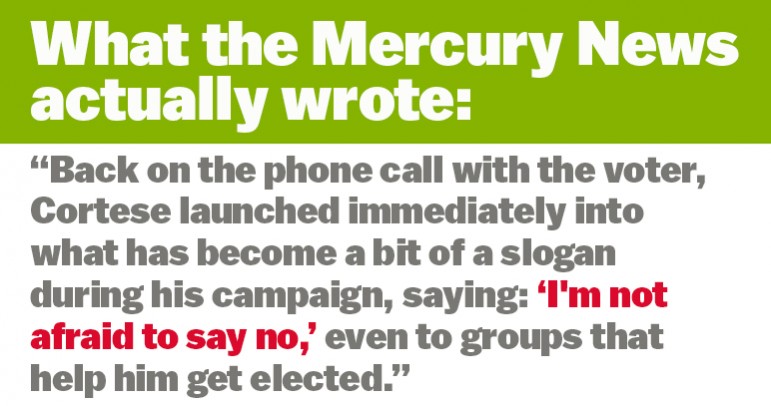 The county supervisor said he uttered his fearless boast in the presence of Merc scribe Mike Rosenberg while speaking with a resident by phone. Cortese says his mailer was essentially repeating the paper's own words verbatim. Merc editor Bert Robinson called the mailer "misleading, and deliberately so," suggesting that the campaign was "lying with the facts."
"It's misleading," Robinson told Fly in an email. "Cortese copied the headline accurately. But removed from the context of the article it accompanied, it makes it look like we're the ones who are saying he's "not afraid to say no." In fact, it's Cortese who says that—as the article makes clear, it's his quote. He's used our headline in a way that obscures that fact. So it's misleading, and deliberately so. A former reporter at our paper used to talk about politicians 'lying with the facts.' This is a good example."
Working with hotshot San Francisco-based consulting firm Terris Barnes & Walters, as well as campaign manager J.R. Starrett (a former field organizer for Hillary Clinton's 2007 presidential run), Cortese says it was a joint decision to frame the wording as such. However, he adds, had the paper not used his own words in a headline, he wouldn't have gone ahead with the meta-quote. "I would agree that that would not be something that I would approve or sign off on, and, honestly, I don't think anyone on our team would do that," Cortese says.
And that, kids, is how you split hairs.