Thousands of students, parents, teachers and allied community members on Saturday endured the rain for the San Jose March for Our Lives rally against gun violence. The local demonstration was one of more than 800 protests nationwide, which collectively drew more than a million people in a call to reform U.S. gun laws.
More than a month after a mass shooting left 17 dead at Marjory Stoneman Douglas High School in Parkland, Florida, the survivor-led March for Our Lives movement has become a force to be reckoned with. And, as evidenced by the rally that traversed from City Hall to the Arena Green this weekend, it's taken hold here in Silicon Valley.
San Jose Inside spoke with some of the marchers. Here's what they said. (All photos by Kristin Lam, unless otherwise noted).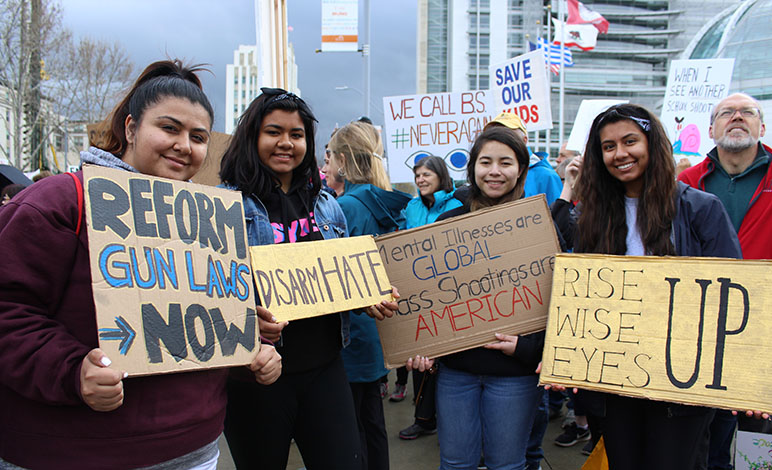 Zarha Ali (second from left) coordinated Silver Creek High School's walkout on March 14 and said it was nice to see the crowd supporting the San Jose March for Our Lives.
"As a student, I think it's really important that we shouldn't be going to school and fearing for our lives," Ali said. "The main reason for this is to stop the nonsensical violence in this country because it's just gotten out of hand."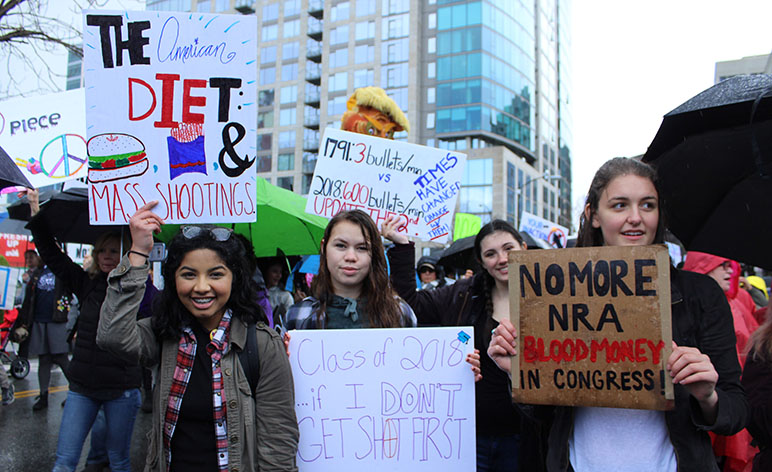 Ankita Bhat (left), 17, came to the march with her friends from Santa Teresa High School.
"We're scared," she said. "We're tired of having to be worried every time there's a loud sound or someone comes into our classroom. And we keep hearing about these things happening and nothing is changing. Reform is not happening. Politicians are being paid by interest groups like the NRA and they continue to be silent. We're so tired of having to worry about being the next victim."
Christopher Tachang (left) and Julie Nishikubo (right) also marched from San Jose City Hall to Guadalupe River Park.
"I feel that this is a multi-faceted issue that's unfair to blame on an already stigmatized and exploited population like the mental health community," Nishikubo said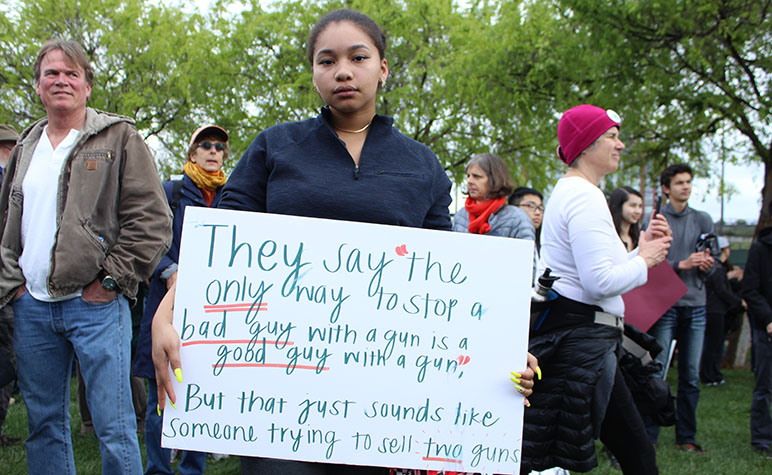 April Craighead, 19, said she joined the march for common-sense gun laws.
"There's no use for AR-15's and semi-automatic rifles in the community other than to kill people," she said.
Wan Chyi (left) and Nicholas Green (right) said they've felt passionately about gun violence for a while.
"There's too much gun violence in this country," Green said, holding a sign that declared #NeverAgain. "This is the first time it feels like there's a movement that's actually meaningful is taking place. So we want to be a part of that."
Elizabeth Kerridge, who teaches at Taylor Elementary in Oak Grove School District, said she joined the march on behalf of her students.
"I'm a little tired of having to do hour-long lockdown drills with my 7- and 6-year-olds in my first grade class," she said. "I don't believe anyone should be armed at my school. It just invites trouble. And I really don't want to worry about who's gonna pay for my gun training when I still don't have enough paper for my class."
Thomas Ngo Aquino (left) and Patrick Ngo Aquino (right) said they feel nothing is being done to address school safety and gun violence.
"I'm so moved watching everyone," Thomas Ngo Aquino said. "It's just so inspiring — even in the rain — everyone is just coming up and showing up. I think we need more voices supporting it, and I want to be one of those voices."
Monica Holzer joined the march with her daughter.
"I just want to support the kids who are speaking out against the use of guns," she said. "And I really want to protect our kids, so I want some changes."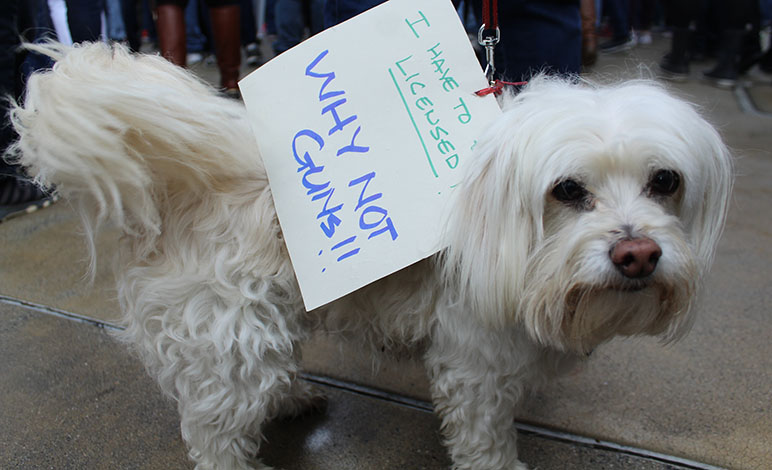 Suzanne Usiskin marched with her dog, Spike Lee (above) because she's "totally for this never happening again. What happened in all the schools."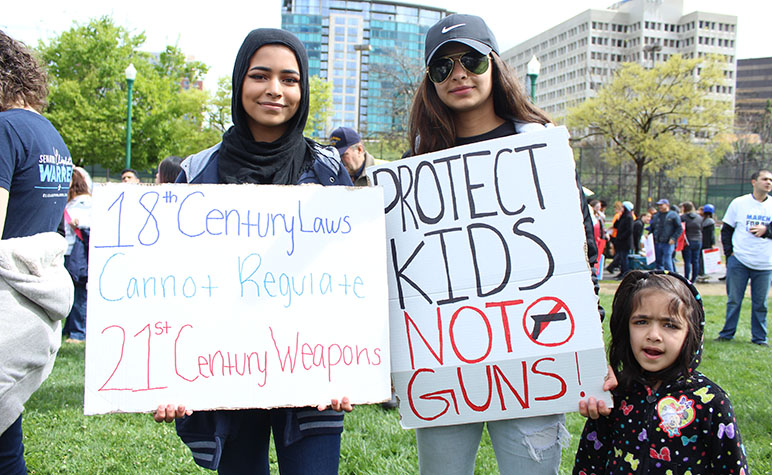 Irvington High School freshman Mashel Khan (left) and her sister senior Mahnoor Khan (center) said they came out partially for their younger sister (right).
"I don't feel like people should be afraid when they go to school," Mashel Khan said. "I don't want to be afraid when I leave my house. And for [our sister]."
Ladonna Silva and 10-year-old Billie Frazzitta said they represent two generations united behind a common cause.
"I am inspired by our young people stepping up and taking a stand," Sila said. "So I'm here in support of making positive change."
"I wanna help and I want to fight too because I am a part of this," Frazzitta added.
"We think that it's very important to stand in solidarity and it's our civic duty to take action and demand change for our fellow students," said Ruchira Rao (second from left), a student at Presentation High School.
"I'm here for children and for Black Lives Matter," Jasmine Calderon said, gripping a smudge stick of burning sage, a sign of cleansing. "For all the women, all the deceased we've lost to guns. I'm here on behalf of my mother who's a teacher and a tutor. For all her children. I'm here for all the friends that I've lost due to gun violence. Family members who have been prosecuted on unlawful guns. I'm here for everybody."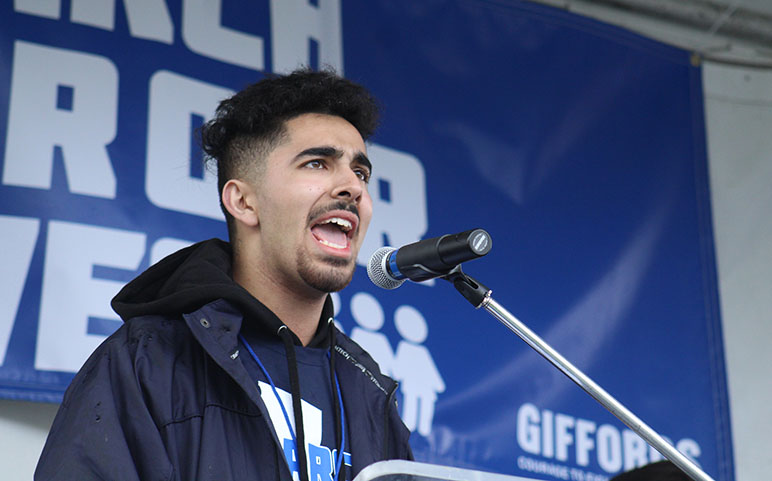 At the end of the rally, Hiwad Haider, Prospect High School senior class president, told the crowd to continue conversations about ending gun violence.
"Let us take the dialogue to our campuses," he said, "our places of worship, our workplaces, our airplanes as they fly above us, our dinner tables, and most importantly, take it to the offices of the lawmakers who are equipped to do something about it."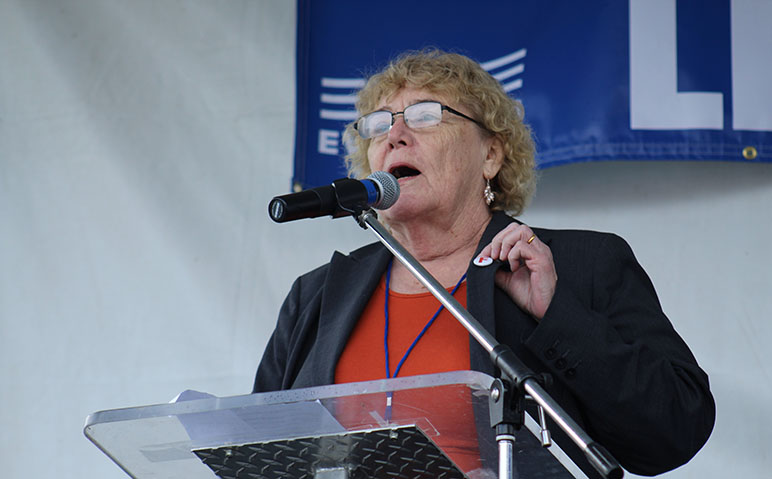 Rep. Zoe Lofgren (D-San Jose) said the student-led movement will "lead our country in a better direction."
She also referenced a pin on a her blazer with a red "F," which stood for her failing grade from the NRA.
"I hear a lot of lame excuses in Congress, about why we can't do something sensible about gun violence," the congresswoman said from the podium. "I hear that the best way to deal with a bad guy with a guy is a good guy with a gun. You would think that after Las Vegas, that they would be ashamed to say that."
"I'm a teacher, and I don't think kids should have to worry about being safe in school," Lia Martinez said. "Gun control is something that we can all get behind."
"We are here to support our students in their fight for safer schools," said Kim McCarthy (second from right), President of the Campbell Teachers Association.
"I'm disgusted that we haven't been able to do anything about gun control," said Julie Still (left). "It's time." "I have two school-aged children and I want them to be able to survive to vote in the next election and every election beyond," said Nancy Becker (right). "It's insane what's happening in this nation at the moment. The government should be able to fix this."
"We are here to protect our kids and fight the NRA," said Kanti Patel (left), who came with Monica Patel (right).
A view of the crowd. (Photo by Mark Sheppard, via Facebook)
Assemblyman Ash Kalra (D-San Jose) braves the rain to stand with students. (Photo via Facebook)
The march was thousands strong. (Photo by Ash Kalra, via Facebook)
The crowd begins to gather at City Hall before the march down to the Guadalupe River Park. (Photo by Gary Singh)
Santa Clara County supervisors Ken Yeager, Cindy Chavez and Dave Cortese (from left). (Photo via Facebook)
Santa Clara County . Supervisor Cindy Chavez (third from left) poses with students at the March for Our Lives rally in San Jose. (Photo via Facebook)