Try as she might to mine her memory of that day, little stood out about the last meal Anneliese Scadden shared with her brother. Five Thanksgiving weekends ago, Scadden and her six siblings met at their parents' Morgan Hill home for their traditional potluck.
Her younger brother, Karl Busch, a handyman by trade, wore his usual garb: frayed jeans, a baseball cap and goatee. He kept quiet, but seemed in good spirits despite a recent breakup.
That night, or sometime soon after—it's unclear when, exactly—Busch took off with nothing but a knapsack and his white Ford Econoline. Few thought much of his departure at first, until a week passed. Then months.
But his sister wasn't the only one trying to find him.
The Scaddens began getting calls from Aladdin Bail Bonds. Busch, who had two prior DUI convictions, got pinched with a third and sentenced to community service. But he stopped showing up, despite a $30,000 bounty to his name.
Over the next year, there were still some signs of life from Busch. Someone went back to his cottage a couple months after he went missing and took his computer and clothing. The following summer, in July of 2013, he closed the Bank of America account he shared with his father since his young adulthood.
"That was the last blip," Scadden says. "After that, nothing."
Right to Disappear
Faked-death conspirators and fugitives aside, missing people generally fall into three categories: runaways, crime victims and those with mental disorders. Amber Alerts are typically reserved for child abductions, while police departments send out press releases for the elderly. "Voluntary missing" adults like Karl Busch go largely unnoticed.
Every year, police throughout the United States field roughly 650,000 missing person reports, according to the FBI's National Crime Information Center. While the vast majority are resolved quickly, about 90,000 cases remain open at any given time. Unless it involves a child, or an adult with dementia or there's reason to suspect a crime, law enforcement does little more than take the report and wait for tips. Far more often, it falls on friends and family to find a missing loved one.
"Missing adults aren't treated with the same urgency," says Roberto Rivera, a South Bay private investigator who takes his searches to remote corners of the world if ever the case calls for it. "When a kid disappears, you know something's wrong. But it's harder to tell with adults, who might be in danger or a danger to themselves, or they might be fine and don't want to be found."
Of the roughly 2,000 adults reported missing each year in Santa Clara County, only 10 are deemed to involve "suspicious circumstances," 70 involve dependent adults and about 220 involve "unknown circumstances," according to the California Office of the Attorney General, which tracks data on missing people. The vast majority of missing adults—about 85 percent in this county—are classified as voluntarily missing, which means few, if any, public resources go into finding them.
People fall off the grid for manifold reasons. In Silicon Valley, stressors such as the high cost of living, family pressures or abuse and aspirations of upward mobility often drive people past their breaking point, according to investigators recruited to track them down. Robert Ferris, who was hired by Scadden to find her brother, says he's seeing a growing number of immigrant families coming to him for help in finding their adult children.
"Imagine you're from a country where families push you to do well in school, and then you come to a country where people are given a lot of freedom to be individuals—sometimes to a fault," Ferris says from behind the desk in his dim North First Street office, where an antique Regulator clock ticks off the seconds across from a "wanted dead or alive" poster of Jesse James. "So what happens is they turn 18, 19 or 20 years old, they get that first taste of freedom, and they check out."
Some of the people who go off the grid become part of the region's burgeoning homeless population. Others take their own life. Only a small fraction of them stay missing for as long as Busch. Many more slip in and out of contact with the people in their lives. Despite a family's best wishes, however, not everyone who goes missing wants to be found.
"I understand that it's inconvenient, but we're guaranteed some freedoms in this country," Ferris says, "and one of those freedoms is the freedom to be left alone."
On certain occasions, Ferris says, the person he's tasked to locate refuses the offer to reunite with relatives.
"When I find someone, part of what happens is I spend some time to try to convince them to contact their family," he says. "Sometimes they say, 'Go to hell, you have no idea what I went through,' and they want no part of their family anymore."
That's their prerogative.
"I warn the families ahead of time," Ferris adds matter-of-factly, "that they may not like the way things turn out."
'Me Time'
When Jelena Pajic went incommunicado for more than a month this past summer, the case captivated local media. The 31-year-old ex-NASA contractor and daughter of Croatian immigrants was strikingly beautiful and, by any measure, successful.
"She's lively and clever, and gave a fuck about people," her friend Brandon Bradford tells me during the fifth week of her disappearance. "That's why so many people care about her and want her home safe."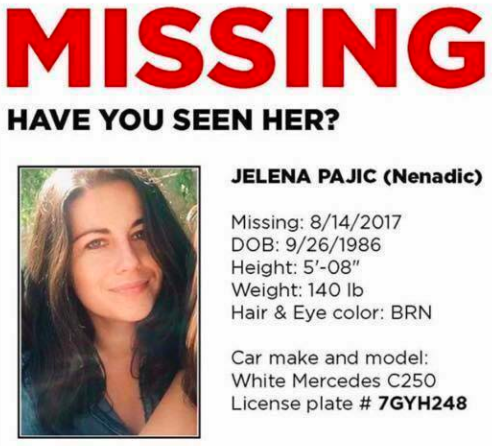 Pajic's disappearance highlighted some of the difficulties faced by police and families when someone leaves of their own volition. With nothing to indicate that she was a victim of crime, the San Jose Police Department's hands were tied. Pajic divorced her husband in 2016, which meant she alone had access to her apartment. No one, not even law enforcement, could log into her social media accounts or ask her phone provider for geolocation data.
In the year leading up to her disappearance, the young divorcee gradually withdrew from friends and family. An avid hiker, she increased the frequency of her trips to Big Sur and other local trails. On Aug. 14, in a phone call to her father, she told him that she was headed "somewhere pretty."
He says he asked, "With who?"
"Just me."
After a week passed with no word, Pajic's family began to worry but held out hope that she may have extended her trip. A second week passed and her rent came due. That's when Pajic's parents filed a missing person report with the San Jose Police Department. Officers walked through her apartment for a welfare check, but without probable cause they couldn't obtain a warrant to search her belongings.
Around the third week, a friend of Pajic hired Rivera, an investigator with more than two decades in the field and a calm, candid demeanor. Stacks of folders clutter his tiny office, a single room in an aging business complex in Santa Clara, where certifications, diplomas and plaques adorn the walls and the shelves hold criminal justice textbooks, cameras, camcorders and surveillance devices. Rivera pulls out a file with all the information he gathered about Pajic up to that point.
"By the time people come to me, they've exhausted all avenues they can think of," Rivera says. "But this case is unique in the sense that she shut off access to pretty much all the personal aspects of her life, even from her close friends and family."
By all accounts, Pajic spent the past year trying to wall herself off.
"She would tell us, basically, that these hikes were her way of having 'me time,' and getting away from everything," says Sami Najafi, Pajic's friend from middle school. "We were somewhat concerned and expressed that to her, but she seemed pretty confident about her decision, and seemed like she could take care of herself. We didn't think there was any reason to worry."
The Reversal
More than a month after Pajic went missing, Rivera gets a tip from San Jose police detective Manny Guerrero—the city's one-man missing person unit. Someone reported seeing police detain her for an involuntary psychiatric hold a few days before her last known contact with family.
Armed with a notebook, missing-person leaflets and a general idea of where in the affluent Saratoga hillside the sighting was reported, Rivera canvasses for clues.
"Excuse me, ma'am?" he says, approaching a woman who pulls up to her driveway in a gunmetal-gray sedan. "I'm looking for a missing person. Have you seen her?"
He holds up an 8-by-11 flyer of Pajic, who smiles softly in the photo, the sun glinting off her coffee-colored hair. The woman squints at the image.
"Does she live here?" she asks.
"No, but she was seen right here before she went missing," Rivera answers.
"I haven't heard from the cops or anything," the woman tells him, her forehead knit with either concern or suspicion.
"Yeah, well the friends hired me to find her," Rivera says. "Can I leave my card with you?"
He moves on to several more houses to repeat the exchange, or to leave his card and a poster by the front door if no one answers.
"It's a slow, painstaking process," Rivera says apologetically while trudging uphill to the next address.
Over the course of a few hours, Rivera gleans some promising details. One of the neighbors saw a car that looked like hers—a white 2012 Mercedes-Benz C250. And an employee at the Le Boulanger a few miles away reported seeing a disheveled-looking woman who matched Pajic's appearance.
"She was pretty," says Yadira Sanchez, an assistant manager at the bakery. "She was young, pretty and did not look homeless."
The woman reportedly came in with two bags, "like she left her house in a hurry after a fight and just packed up really quickly," Sanchez says. She asked about the price of coffee, noting that she only had $10 to spare. She fell asleep in one of the chairs, Sanchez says, and asked for a refill a few hours later.
"That sounds promising," Rivera says as we leave the cafe. "She stood out because she hung out for a while, she wasn't one of the regulars who comes and goes. The fact that she was conserving money—that's an interesting detail to know."
But before he can rally volunteers to conduct a grid search of the area for Pajic's car, something happens that so often does in missing person cases. The parents who desperately implored the public to keep an eye out for their daughter ask everyone to stop looking and stay silent.
Pajic was found, but the reunion was bittersweet.
Seven weeks and one day after she slipped away, her father drove up to a Sonoma County courtroom to witness her arraignment on charges of vandalism and public intoxication.
"Honestly speaking, sometimes that's the hope—that there's an arrest or that they end up in some institution," Rivera says. "At least they're found."
Hope Remains
Anneliese Scadden takes some measure of comfort knowing that her brother, who would be 51 years old by now, had the skills to survive on his own. He knew how to build things from scratch. He could repair cars, fix things around the house and had enough of a reputation in the South Bay to enjoy steady work by word-of-mouth referrals.
"He's such a handyman," Scadden says from a Campbell coffee shop on a recent fall morning. "He could live out in the mountains and get along just fine. One possibility we've considered is that he's living on a ranch somewhere as a ranch hand."
But there's one detail about Busch's disappearance that's both agonizing and hopeful. Nobody ever found his van, which would have been flagged if it ever got towed or pulled over by police.
"That could mean he's out there," Scadden's husband, Michael, suggests. "It at least means that he took the vehicle somewhere it wouldn't be found, where nobody would report it as abandoned."
Of course, Scadden has considered the possibility of her brother's death. But without knowing for certain, she mourns his loss without being able to fully grieve. Experts call the assiduous trauma of such uncertainty "ambiguous loss," a heart-rending limbo experienced by families of the missing.
"It's hard to move on," Scadden says. "I don't know how I would do that."
For the first few years after Busch left, Scadden would revisit some of his old haunts to interview people who may have encountered him. At the Box Seat, regulars had fond memories of her brother, a quiet but affable presence at the Morgan Hill sports bar. He used to come here to cheer on the Giants and Sharks.
The problem with memories of the mundane, though, is that they're hard to recall in much detail. During routine encounters, people don't think to note details such as specific dates, times and what someone wore.
"That's what was so frustrating," Scadden says. "I'd go in there and ask when they last saw him, and people would say, 'Oh, he was just in here a week ago.' But at that point, he'd been missing for six months, or a year. So you can't rely on that."
In 2015, Busch's mother fell critically ill, and family renewed its search. Scadden filed a missing person report with the Morgan Hill police, marking the date of his disappearance as Nov. 26, 2012. With no signs of foul play, the authorities deemed Busch's desertion "voluntary" and limited their investigation to a cursory database search. The family hired Ferris, who retraced some of the steps Scadden took during her initial search.
"We wanted to track him down before my mom passed away," Scadden says. In February of last year, Busch's mom succumbed to her illness. "We never found him, so she died with that sorrow in her heart."
As Thanksgiving approaches, the pain of her brother's absence feels fresh.
"It will be five years," Scadden says. "I want him to know that we're still looking, that we still want him back. He still has a home here."
---
What to Do if a Loved One Goes Missing
Call the cops. Contact law enforcement in the jurisdiction where you believe the person lived or was last seen. Give authorities as many details as possible, including dental and medical records. 
Check with the coroner, jails, hospitals. If you're worried that the missing person is dead, offer DNA samples from a family member to the coroner or medical examiner, so they could compare them to unidentified human remains. Also call jails or search online inmate locators to find out if the person was arrested, and check with hospitals in the area where the person was believed to be.
Reach out to advocacy groups. The National Missing and Unidentified Persons System, known as NamUs (NamUs.gov), will publish case information on an easy-to-search international database. The Bay Area-based Polly Klaas Foundation (PollyKlaas.org) helps families distribute flyers with information about a missing person. The Nor-Cal Alliance for the Missing (Nor-CalAllianceForTheMissing.org) provides resources for families searching for a lost loved one.
Hire a private eye. A private investigator can continue to chase leads so the family can focus on their personal obligations and return to work, if needed.
If the person is a minor, call the appropriate hotlines. Congress finances the National Center for Missing and Exploited Children, which runs a 24-hour hotline at 800.THE.LOST (800.843.5678).