A rowdy dive bar in San Jose may lose its license unless it cleans up its act.
El Tarasco, a ramshackle watering hole on the corner of N. 14th and Mission streets, has "made life miserable for nearby neighbors" for the past five years, according to Councilman Sam Liccardo.
In May, the state's Alcohol Beverage Control (ABC) agency filed formal complaints against the establishment. They accuse the owners of allowing patrons and employees to sell drugs and letting workers solicit drinks from customers.
Folks living around the bar say it's much worse that that. El Tarasco patrons urinate and defecate on the streets, sidewalks and even in people's yards, neighbors say. Fights break out in and outside the bar. People routinely bring their drinks outside. Despite having no entertainment permit from the city, owners allegedly host live music and strippers.
"We are told that the stripping and lap dancing has led to solicitation of prostitution being the norm both in and around the property," Liccardo writes in a report going before the Rules and Open Government Committee today.
In the past year, police have responded to calls of drunken driving, a felony hit and run and assault with a deadly weapon. Two years ago, a bar worker was gunned down right outside.
"Disturbingly, this behavior appears only to be increasing," Liccardo cautioned.
Neighbors reported calling 9-1-1 more than 100 times in the past two months alone for problems such as prostitution, violence, brandishing guns and drunken driving.
"More of the reported illegal conduct appears to have spilled out onto the street in recent months," Liccardo wrote.
ABC delayed a disciplinary hearing for El Tarasco from this week to Nov. 9. An ABC agent said she could provide no further information about the case.
"In the meantime, this drinking establishment will continue to consume undue hours of [San Jose Police Department] resources in response to ongoing complaints of violence, drugs, property crime and disorder," Liccardo states.
The downtown councilman wants the city to take action against the bar and worries that revoking El Tarasco's liquor license might not be enough to boot it from the premises. Even if it did, it wouldn't prevent another bar from opening up shop right after, he said. The best to way to ensure that the property isn't used as a bar is to revoke the building's special permit, which allows the owner to run it as a drinking establishment even though current zoning doesn't technically allow it. Liccardo said the city could revoke that special permit after hearings and due process.
"Despite the flurry of complaints about this property from neighbors and from my council office, however, residents understandably complain that they have seen no indication that the city will take appropriate action to shut the bar down," he wrote.
He's asking city leaders to schedule a hearing, to get the process started and give the bar a chance to make a case for itself or lose its right to operate there.
Calls to El Tarasco were unanswered. The place boasts one-and-a-half stars out of six reviews on Yelp. Many reviewers echoing neighbors' complaints about sex-for-sale, drugs and bar fights.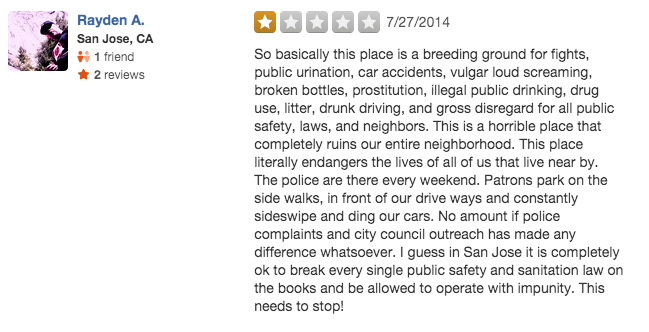 More from the San Jose Rules and Open Government Committee agenda for Sept. 10, 2014:
A local TV station broadcast a program that was "biased, misguided, and trumpeted communist ideologies and denigrated the civil servants and enlisted persons of the former Republic of Vietnam, not to mention the people of the United States of America," according to a Vietnamese coalition.
WHAT: Rules and Open Government Committee meets
WHEN: 2pm Wednesday
WHERE: City Hall, 200 E. Santa Clara St., San Jose
INFO: City Clerk, 408.535.1260