The head of Santa Clara County's Department of Child Support Services (DCSS) was placed on paid leave after reports that he used personal charge cards to rack up rewards and frequent flier miles from county business trips.
NBC's Investigative Unit obtained thousands of documents that show John Vartanian broke county policy by using his credit cards for himself and dozens of other staffers to earn rewards.
"The Board of Supervisors takes these allegations seriously and has placed Vartanian on administrative leave with pay," county spokeswoman Gwen Mitchell announced in a press release Tuesday night.
Vartanian, who was appointed as department head last year, put upward of $55,000 in hotel costs and registration fees on his credit cards since 2008, according to NBC. He apparently paid for travel of at least 30 employees, even for conferences he never attended.
NBC even found footage from another news station of Vartanian at a conference for people looking for tips on how to earn more travel rewards. The practice of charging Vartanian's card became so routine that someone placed a new line item on expense reports to note that the expense was paid by him.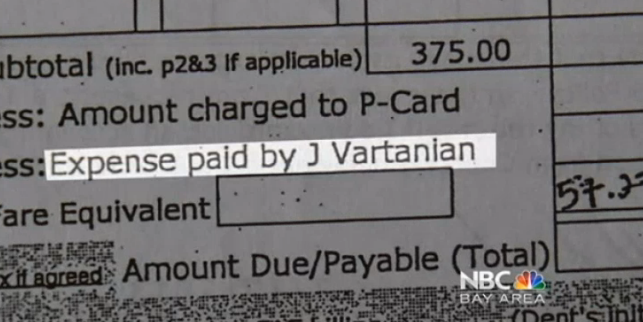 County police states that frequent flyer credits earned by county employees for travel on the county dime "should be applied toward future county travel." It further notes that frequent flyer miles are a taxable fringe benefit and that the county "has no intention to provide such fringe benefits."
Vartanian has worked for the county for 13 years. Eight of those he spent as the Chief Attorney before being appointed by the Board of Supervisors to his current post in 2013.
Deputy County Executive Sylvia Gallegos will provide oversight for the DCSS in Vartanian's absence.
Here's the announcement from the county: