Taking the lead from nearby Bay Area cities, San Jose is poised to enact a developer fee to help pay for affordable housing.
The proposal up for consideration at Tuesday's City Council meeting calls for a housing impact fee of $17 for every square foot of new market-rate housing, with a 2.4 percent annual increase to keep up with inflation.
Several other Bay Area cities have a similar fee, including Mountain View, San Carlos, San Francisco, Berkeley, Daly City, Emeryville and Santa Rosa. Advocates say it's vital to subsidize housing, given the dramatic shortage of affordable units in Silicon Valley. But developers say the added cost will discourage new construction.
Average rents in San Jose have jumped 49 percent since 2010, according to RealFacts. They've increase nearly 11 percent in the past year alone to an average of $2,230 a month. City officials estimate the actual deficit is 16,315 affordable units.
San Jose imposed a similar fee years ago, called the inclusionary housing fee, but that was challenged in court by developer groups.
Before proposing a new fee, the city had to come up with a "nexus study," to verify the link between new market-rate construction and the dearth of affordable housing. The study supported fees at high as $28 a square foot.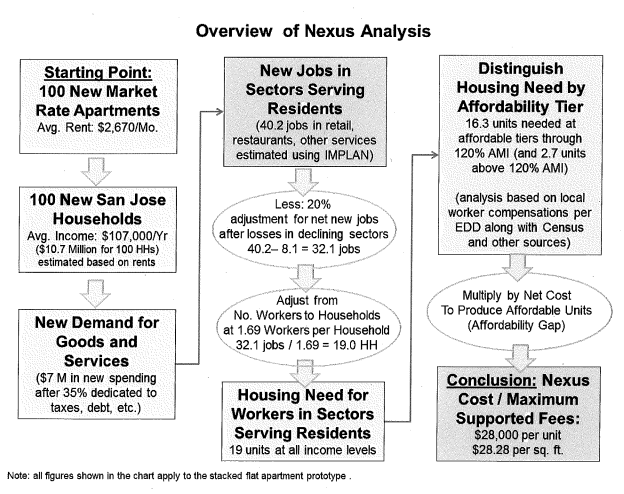 San Jose came up with a similar fee years ago—which required developers to include affordable housing units or pay an in-lieu $17-a-square-foot fee—but that was challenged in court by the Building Industry Association.
Suspension of inclusionary housing fees was coupled with the loss of affordable housing funding from local redevelopment agencies, which the state ordered dissolved in 2012. Combined, that's resulted in a $200 million annual shortfall in affordable housing funds.
Councilman Don Rocha says the city should also look at extending a fee to non-residential development—to lower the rate and broaden the base.
"[I]t seems out of sorts for us to place a fee on housing after constraining its development," he writes in a memo. "It seems that it would be much more logical and fair to place a significantly lower fee on both commercial and residential development."
Another possibility, he adds: look at building micro-apartments to offer even more affordable options for low-income workers.
Council members Sam Liccardo and Madison Nguyen are asking for an exemption for high-rise residential development in downtown.
Mayor Chuck Reed issued a memo later in the day Monday that says the nexus study failed to prove that building more housing causes the need for more affordable housing.
"Without proof of causation, the housing impact fee 'walks like a tax' and 'it talks like a tax,'" Reed wrote. "Why not at least make the effort to prove that there is an impact and avoid the tax fight?"
More from the San Jose City Council agenda for November 18, 2014:
Earlier this fall, Rocha asked for a review of the police department. That report comes up for discussion this week—you can read it here. It shows that the agency employs 892 full-duty sworn officers. The resignation rate is three to four officers a month.

Deploying bomb-sniffing dogs at the Mineta San Jose International Airport will cost the city more than $200,000 a year.
A man who claims he was wrongfully arrested by San Jose police is about to get a $190,000 settlement from the city. Ammir Umar was arrested and jailed for a month on suspicion of selling boxes of wood he told customers contained flat-screen TVs. He faced several years in prison on charges of grand theft. But prosecutors let him go after a judge determined that Sgt. Craig Storlie made "patently incorrect" and "materially misleading" statements that led to Umar's arrest. Storlie is one of the officers in charge of San Jose Police Department's Internal Affairs unit, which looks into ethics complaints against other cops.
San Jose will enact an ordinance that requires contractors hired by the city to pay their workers at least prevailing wage. The ordinance comes after Gov. Jerry Brown, in 2013, signed SB 7, which prevents low-ball contractors from skirting California's prevailing wage rules. Prevailing wage refers to the average hourly wage and benefits paid to employees in the region. It's generally less than a "living wage," which is what it would take for a worker to support their household.
Another ordinance will enact a second-tier pension plan for all new San Jose Fire Department employees, a result of the city's voter-approved pension reforms.
Mayor Chuck Reed, who's terming out at the end of the year, will hold a farewell celebration the evening of Dec. 17.
Four council members are calling for the city to extend a tax break for developers building in North San Jose. "We are hopeful that a crane in the sky will bode well for more speculative building construction in North San Jose in the near future," reads the memo co-signed by Don Rocha, Sam Liccardo, Mayor Reed and Rose Herrera.
Reed, Herrera and Rocha signed a related memo that proposes relaxing design guidelines to encourage corporate tenants to move to North San Jose.
The city will extend the lease agreement for the San Jose Improv comedy club for another year, then probably put the property up for sale.
WHAT: City Council meets
WHEN: 1:30pm Tuesday
WHERE: City Hall, 200 E. Santa Clara St., San Jose
INFO: City Clerk, 408.535.1260