A Silicon Valley lawmaker wants to tax corporations that pay workers so little that they rely on public subsidies to scrape by. The Corporate Responsibility and Taxpayer Act, introduced by Rep. Ro Khanna, would make large companies foot the bill for the cost of food stamps and housing vouchers their employees need to make ends meet.
The congressman cites a 2015 study by the University of California, Berkeley, Labor Center, which calculated the high cost of low wages. Researchers found that low-wage workers in the U.S. cost the taxpayers about $153 billion a year in government assistance.
Fast-food wages alone come with a $7 billion side of public subsidies. By paying the legal minimum and keeping people on part-time schedules, McDonald's and its ilk force workers to rely on public programs such as food stamps and rent subsidies.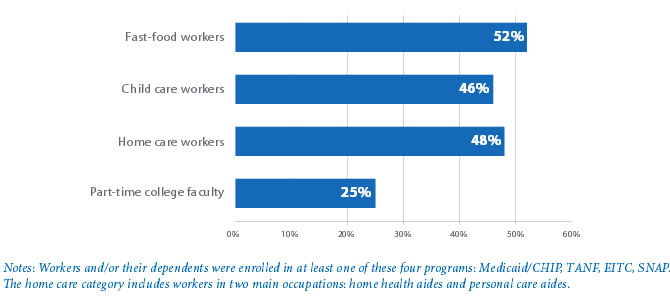 In Silicon Valley, one of the most expensive places in the nation to live, the minimum wage is higher and on track to reach $15 an hour in a few years. But the cost of living is so high that even six-figure salary earners struggle to get by. Low-wage workers simply cannot afford to live independently or afford a family in Santa Clara County.
People who bag groceries for a living should not have to rely on food stamps to feed their families, Khanna said. And taxpayers should not have to subsidize them so wealthy corporations can turn a bigger profit, he added.
"Companies are short-changing their employees by not paying a living wage," Khanna said in announcing the legislation earlier this week. "These companies are creating a drain on the economy by underpaying workers and should be responsible for covering the cost of the programs their employees rely on to make ends meet. It is my hope that this bill will further incentivize these companies to pay their employees a living wage without cutting their hours."
The proposed tax would only apply to companies that employ more than 500 people. It would require those companies to pay the entire cost of medical, housing and food subsidies their employees are qualified to receive.
In California, 6.8 million working families—defined in the UC Berkeley study as a household in which at least one person works—rely on Medicaid. More than 2.3 million qualify for the Earned Income Tax Credit, a tax benefit for low-income workers. And nearly a million rely on food stamps.
"Every American should have the basics: affordable housing and a livable wage," said Rep. Barbara Lee, a cosponsor of the bill. "It is unconscionable that CEOs siphon off billions to line their own pockets while their employees struggle to make ends meet."
To read the bill, click here.