Beau Goldie will get on a plane today and fly to Savannah, Georgia. By all accounts it should be an extraordinary trip, and the timing for the trip is no less extraordinary.
As CEO of the Santa Clara Valley Water District, a $377 million public agency that supplies water and flood control for 1.9 million people, Goldie's job status has never been less secure.
Last week, San Jose Inside confirmed that the District Attorney's office has launched an investigation following our report on fast-tracked contracts and allegations of conflicts of interest and fraudulent billing. The district's Board of Directors has already held a series of meetings to review Goldie's performance—they're taking steps to remove him—and a recent report by the Mercury News noted a water district employee survey that found just 20 percent of staff has trust in executive leadership.
Goldie's response to these reports has been comically disjointed, and it belies a bunker mentality in which knocks on the hatch inspire paranoia and often go ignored. Rather than respond to multiple interview requests made over several weeks, the CEO defended his actions in the comments section of a recent San Jose Inside article. He spelled his user name "Beau Goldoe."
Sources say the CEO and the district's head of communications, Teresa Alvarado, have been crafting a line-by-line rebuttal to last month's investigative report, published Sept. 23. With this kind of sense of urgency, we might see it any week now—don't forget, winter is coming.
But for now, Goldie flies south, and the timing and details of the taxpayer-funded trip are remarkable.
In an emergency closed session meeting last Thursday, the CEO informed the district's seven-person board that he would not be able to attend the next board meeting, arguably the most important of his career. The board is demanding answers related to San Jose Inside's report, and they want the matter discussed in public.
What Goldie failed to mention in closed session—and the CEO is building quite a reputation for omitting important information—is that he will miss Tuesday's board meeting to attend a non-essential conference for water executives at the Savannah Hilton Desoto, located in the city's historic district.
What Goldie also failed to tell the board is that he's turning the three and a half day conference into a seven-day trip, almost all of which will end up on the taxpayer's dime. Goldie could argue that the trip has been in the works since September, when he apparently made an initial request for travel, but documents obtained through a Public Records Act (PRA) request show that the CEO didn't even register for the conference until last Friday, Oct. 2, a day after he told the board he needed to miss its next meeting.
The conference runs from Sunday to Wednesday, yet Goldie's travel request notes that he'll be staying at the Savannah Hilton for a total of six nights. He booked a $680 plane ticket and his hotel stay for the conference—really just two days when you cut out a Sunday afternoon registration and a superfluous water plant tour Wednesday morning—will cost approximately $1,725.
Add on a $38 per diem and a $795 registration fee for the conference, where Goldie will notably not be speaking, and the total tab to see Savannah, rub a few elbows and perhaps put out a few job feelers—all while missing the most important water board meeting of his career—comes to $2,786.
It's not unusual for spouses to come along on such trips, as long as they pay their own way, and The 2015 Conference for Urban Water Utility Executives offers an top-notch "spouse/guest" package. If the CEO's spouse, Susie, does attend the trip, she'll have the option of partaking in a prix fixe menu of historic tours through cobblestone streets and five-star lunches. Attempts to confirm if the Goldies are attending the trip together, however, were stymied by the district's communications director.
Alvarado ignored numerous requests this week to discuss this story by phone, as well as answer a simple question of whether the CEO's spouse was also attending the trip to Savannah. Rather than relay the question to the CEO, Alvarado wrote in an email Wednesday: "I have no knowledge of Beau's travel and registration costs. I assume PRA response will provide that. His personal expenses are his personal business."
When the records came in Thursday afternoon, San Jose Inside again tried to reach Alvarado to discuss the story. The head of communications had this response: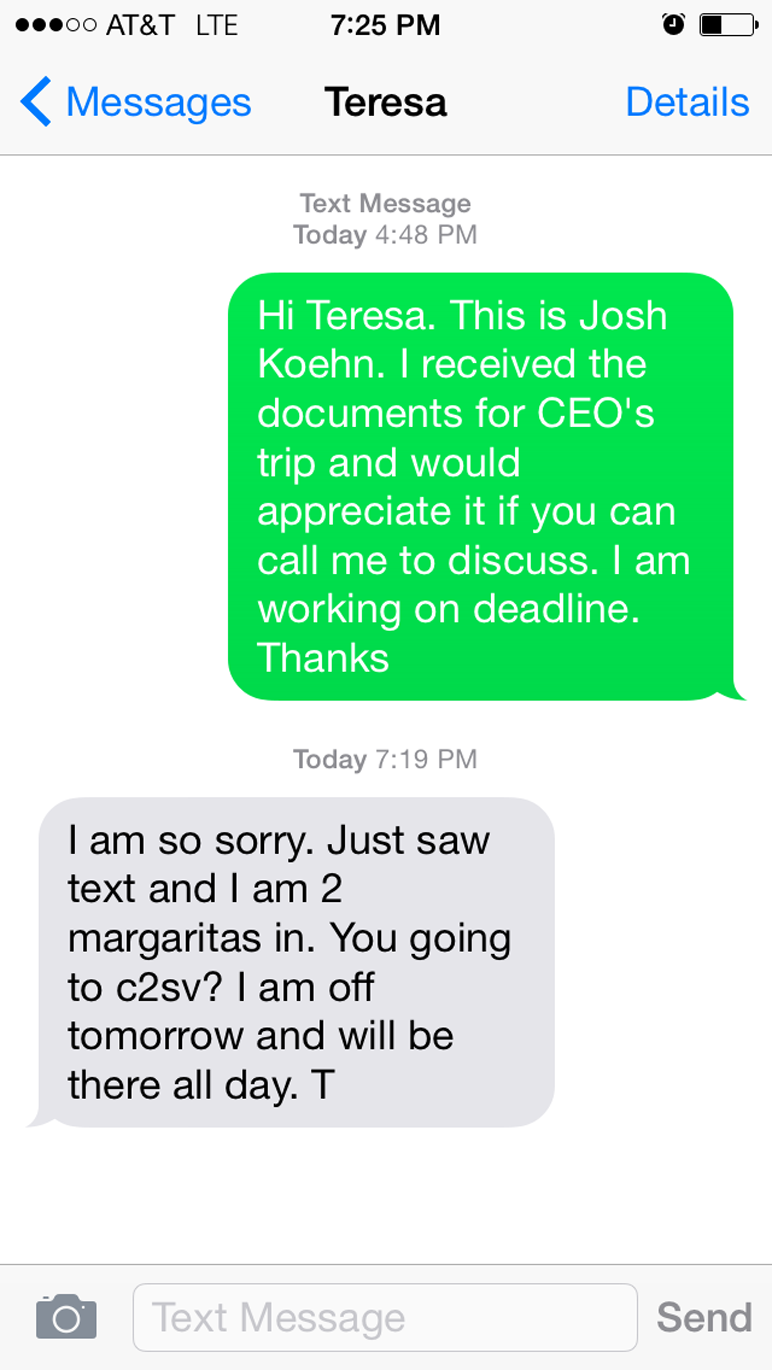 I most likely will not be able to attend c2sv, the killer two-day music+tech conference organized by San Jose Inside's parent company, Metro Silicon Valley. (Plugger!)
Savannah could be Goldie's last work trip as CEO of the water district, so his desire for a little southern comfort is understandable. It's probably just a coincidence that Tuesday will be the first regularly scheduled board meeting he'll miss this year.