San Jose residents feel less safe despite falling crime rates, according to an annual state-of-the-city audit.
Major violent crimes in the city dropped by 9 percent in 2013-14 compared to the prior fiscal year. Homicides fell by 16 percent. Even though the police force's numbers continued to dwindle and the number of 9-1-1 calls surged by 21 percent, the San Jose Police Department actually improved response times.
But just 46 perc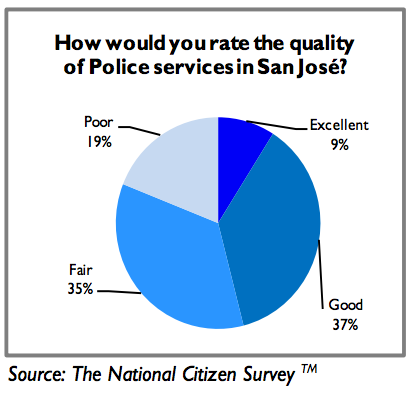 ent of resident surveyed gave the SJPD a rating of "good" or "excellent." Ninety-five percent said the city needs to boost the overall sense of safety.
Perceptions of public safety may have been influenced by the recent mayoral campaign, in which the police union blamed pension reform for decimating the police force and making the city less safe. Crime is cyclical, though, so perspective could also be in order.
San Jose, a city of more than a million people, saw 28,725 major crimes in 2013—a 10 percent decrease from 2012 but 12 percent more than a decade ago.
Major crimes include violent crimes—robbery, aggravated assault, rape and homicide)— and property crimes. There were 38 homicides last year, which was seven fewer than 2012 but more than the 10-year average of 31 a year.
Historically, San Jose has held a violent crime rate below the state and national averages. In 2012, the city surpassed those averages, requiring it to relinquish the oft-stated designation as being the "Safest Big City" in the nation.
But in 2013, crime dropped once more below state and national averages, according to the city's yearly report, compiled under the purview of City Auditor Sharon Erickson.
Read the rest of the police audit here. For the rest of the audit, which includes a section for each city department, click here.