A 51-year-old inmate died Friday after jailers found him passed out in his cell at Elmwood Correctional Facility, according to the Sheriff's Office.
This marks the county's seventh inmate death this year and at least the 40th since 2010, according to the Department of Corrections (DOC). Records provided later, however, indicate that this could be the eighth inmate death of 2015.
Correctional staff found the man around 8:20am and tried unsuccessfully to revive him until paramedics arrived. He died an hour later at Valley Medical Center.
The man's name is being withheld until his family has been notified. Authorities have not yet disclosed the cause of death or whether they suspect any foul play.
Meanwhile, the Sheriff's Office will follow the usual protocol for an inmate's death: deploying detectives and alerting offices of the District Attorney and the Medical Examiner-Coroner.
On Sept. 28, jailers found 33-year-old Walter Roches dead in his cell on the eighth-floor psychiatric ward of the Main Jail.
A week earlier, guards had forcibly removed him—a "cell-extraction" in correctional argot—with pepper spray and rubber projectiles.
Authorities ruled out foul play but, even after an autopsy, never publicly disclosed the cause of death. Roches had been booked twice that month on charges of assault, battery and public drunkenness.
On Aug. 31, a 50-year-old inmate named Noriko Seales died of a stroke and heart disease, per the county medical examiner. The Menlo Park woman was being held at Elmwood on drug charges.
The deaths of Seales, Roches and the unnamed inmate might have escaped notice had it not been for the brutal, fatal beating of Michael Tyree.
On Aug. 27, correctional deputies found the 31-year-old mentally ill inmate bloodied, battered and naked on his cell floor at the Main Jail. Within a week, prosecutors charged correctional deputies Jereh Lubrin, Matthew Farris and Rafael Rodriquez of murder in connection to Tyree's death.
Days after his death, San Jose Inside asked the DOC for a list of all inmate deaths from 2010 to the present.
Those records indicate that Tyree—whose official cause of death was homicide by "multiple blunt force," "visceral lacerations" and internal bleeding—was the only inmate to die by foul play in the past five years.
Of the 40 inmates who died since 2010, a quarter of them took their own life. Authorities declared four of those 40 deaths accidental. A 41-year-old died of a methamphetamine overdose in December 2010. A 48-year-old died of the same in December the next year. A 52-year-old succumbed to an aneurysm in March 2014. A 73-year-old died in the hospital after a fall that damaged his spine.
The rest were deemed natural causes.
In March 2010, 36-year-old died from "sudden cardiac death of undetermined etiology."
In May 2010, a 43-year-old woman died in the hospital from a pelvic and kidney infection, post-op complications from a hysterectomy and uterine tumors.
In September 2010, a 35-year-old died from congested heart failure.
In October 2010, a 46-year-old died in the hospital of heart disease.
Also in October 2010, a 69-year-old died in the hospital of lung disease.
In March 2011, a 51-year-old died of Type II diabetes.
In December 2011, a 57-year-old died from malnutrition and tooth decay, swallowing difficulties caused by Huntington's, a congenital and degenerative nerve disease.
In February 2012, a 50-year-old died in the hospital of intestinal bleeding, esophageal bleeding, liver cirrhosis, Hepatitis C and an iron overdose.
That same month, a 63-year-old died in the hospital of intestinal bleeding, liver cirrhosis and high blood pressure.
In June 2012, a 50-year-old died from liver cirrhosis.
In October 2012, a 72-year-old died in the hospital from a stomach aneurysm.
In December 2012, a 65-year-old died in the hospital from a heart attack and MRSA, a flesh-eating bacterial infection.
In March 2013, a 46-year-old died in the hospital from alcohol withdrawal.
In May 2013, a 45-year-old died from heart disease.
That same month, a 45-year-old died in the hospital of probable AIDS.
In April 2014, a 51-year-old died in the hospital of heart disease.
In August 2014, a 57-year-old died in the hospital of a blood clot in the leg, artery blockage in the lungs and other unknown causes.
In November 2014, a 60-year-old died of a pancreatic tumor.
That same month, a 64-year-old died of heart failure.
In December 2014, a 51-year-old died from a heart attack.
That same month, a 38-year-old died from sleep apnea.
And, as mentioned above, Seales died from a stroke and heart failure.
San Jose Inside also requested a list of "man down" incidents, in which an inmate collapses, at both county jails from September 2014 to the same time this year. From Sept. 2, 2014, to Sept. 1, 2015, the county has reported more 701 "man downs."
For the entire list, click here.
The "man down" log indicates that common emergencies involved chest pain, pregnancy complications, fights, seizures, alcohol withdrawal, self-harm, suicide attempts, stomach pains, allergies, falls, bruises and trauma, pepper spray, blackouts, assault, cuts, methadone withdrawals, anxiety, fever, allergies, dizziness, head injuries and back pains.
A couple of inmates hurt their heads playing basketball in August. Also in August, two inmates guzzled cleaning fluid, while another swallowed glass. At least 16 inmates were sent to the hospital after being pepper-sprayed, indicating that guard-inflicted injuries were to blame.
It's unclear how many of those injuries, aside from the pepper sprays, resulted from jail guards. San Jose Inside has requested copies of inmates' use-of-force complaints, but those were denied. San Jose Inside has also asked for the county's use-of-force policies, but that has also been denied.
Since 2010, inmates have filed 374 complaints with the county's Internal Affairs division, according to records obtained by San Jose Inside. None have been sustained this year.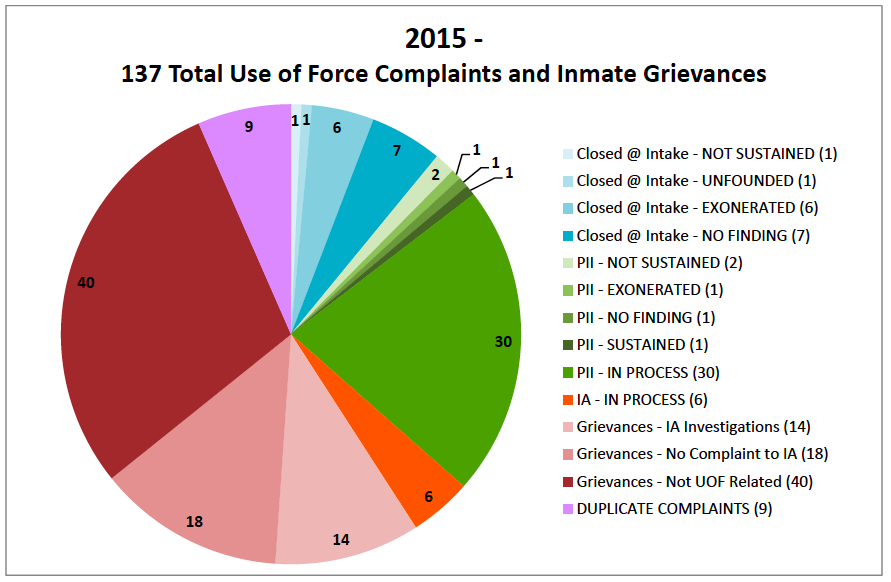 None were sustained in 2014.
Two were sustained in 2013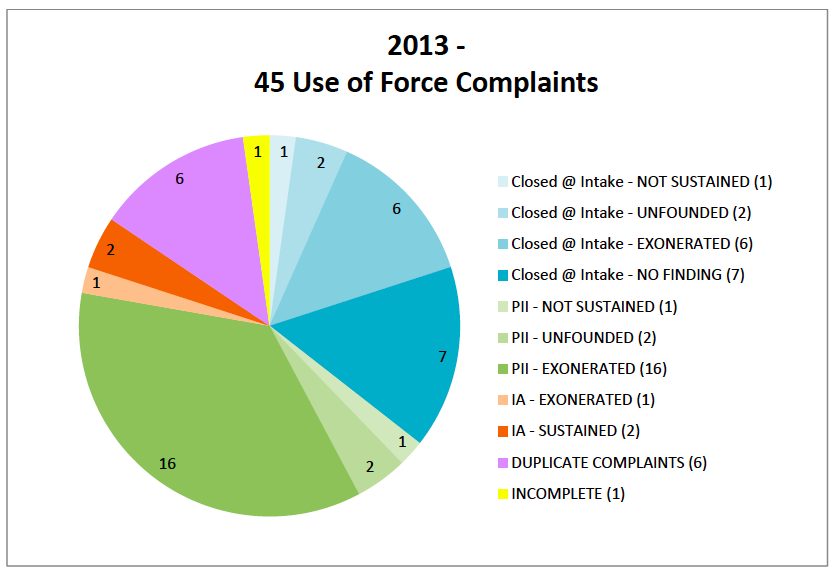 One was sustained 2011.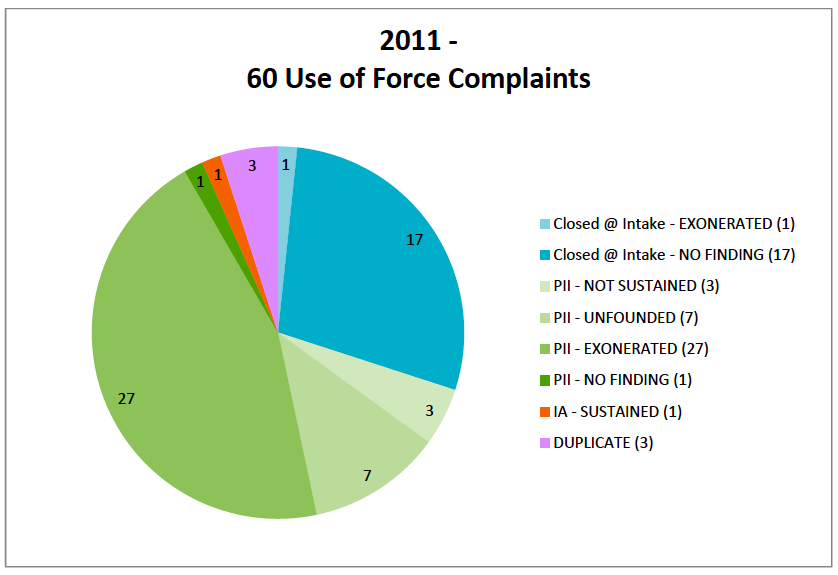 Again, only one was sustained in 2010.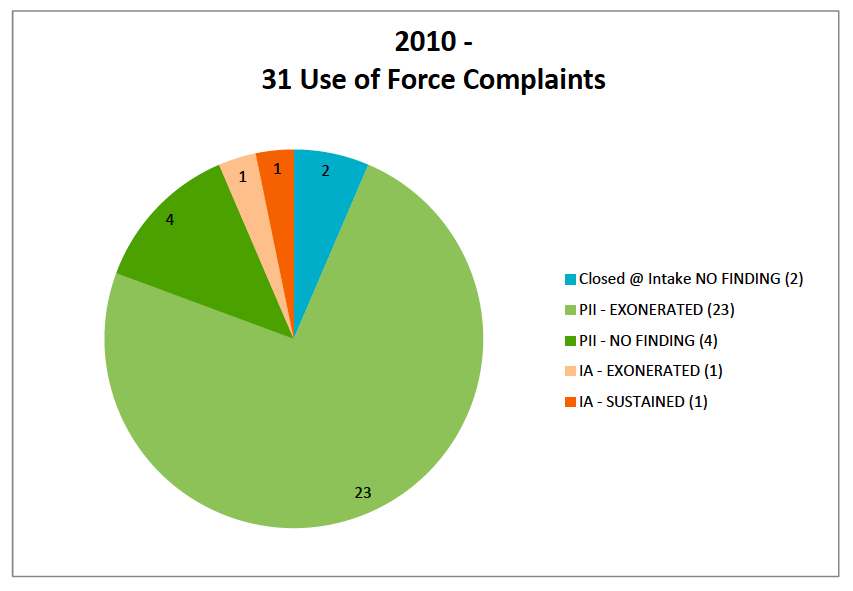 According to the California Department of Corrections, at least a fifth of inmates have been diagnosed with some type of psychiatric disorder. In some California prisons, up to 99 percent of rules violations were issued to mentally ill inmates, who comprise only about a third of the facility's population.
This county has formed a special "blue ribbon" commission to investigate county jails and issue recommendations to improve them. But its chairwoman, retired judge LaDoris Cordell, has criticized the county for a lack of transparency.
It remains to be seen how many of the inmates who died or sustained injuries while in custody have been diagnosed with mental illness. But the mental health of inmates has become a key issue in the wake of Tyree's death.
This article has been updated.