One would think the indiscretions of George Shirakawa Jr.—and his wasting of taxpayer dollars—would still serve as a warning to public employees. But an annual audit of the city of San Jose's procurement cards (P-cards) has unearthed a litany of violations—alcohol purchases, personal car rentals and way too much money spent on food.
One department hosting a group of 28 delegates charged the city $2,800 to dine at a fancy downtown restaurant—$700 of that on wine. An employee used his P-card to rent a brand-new BMW for personal use after his car got totaled. Another bought 10 non-city employees $255-a-head VIP tickets to an awards ceremony. Staffers in one department charged $45,000 at a business owned by their supervisor, who signed off on the purchases—a clear conflict of interest. And another supervisor OK'd the purchase of several tablets without asking permission from IT.
"Due to the decentralized nature of the p-card review process, it is important that all p-card parties are fully involved in the oversight of p-card transactions," City Auditor Sharon Erickson writes in her report. "Holding a p-card is a privilege, not a right, and that privilege is contingent upon responsible compliance with city policy."
The cards are meant for low-cost equipment, office supplies, tools and travel. City policy adamantly prohibits any personal use. That employee who got taxpayers to foot the bill for his luxury car rental got his card revoked. The audit doesn't say whether he had to repay the city.
Going back a year from April 1, 939 card-holders made 41,000 purchases amounting to $12.8 million—a million bucks more than the year before.
The Environmental Services Department spent the most: $2.4 million from 4,638 transactions by 73 card-holders. Parks, Recreation and Neighborhood Services came in second with $2.3 million from 9,877 purchases by 201 card-holders. Third was Public Works, with $1.9 million from 5,862 purchases by 114 employees. The San Jose Police Department spent $1.3 million on 4,515 purchases by 167 employees.
On the bottom of the list we have the Independent Police Auditor, whose office spent $7,832 on 34 transactions.
The highest-spending City Council office was Councilman Pete Constant's District 1, whose five card-holders billed the city $36,729. Councilman Xavier Campos' office spent the least—$9,513 on 62 purchases—but listed a single card-holder.
In more than 80 instances, employees tried to circumvent the P-card's single-purchase limit of $2,500 by billing multiple times, the audit found. In other cases, peers signed off on P-card statements instead of supervisors, which may have prevented them from speaking up about something that appeared to flout city policy.
There's a widespread practice of turning in restaurant receipts that aren't itemized, which makes it impossible to see how much each item cost and whether the card-holder bought alcohol (against city rules, of course). San Jose Inside caught ex-county supervisor Shirakawa employing this exact strategy. That report led to the reform of nearly every single county expenditure policy, according to County Executive Jeff Smith.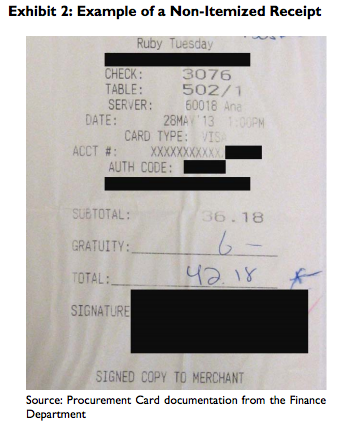 Food purchases in general were way too common, according to the audit. City policy restricts meals for training and special events and expects the food to be cheap—things like bagels and muffins for staff training. But Erickson found that city employees spent $345,000 on food in the past year, often on meals at hoity-toity restaurants during regular work hours without anyone offering a reason why that meeting couldn't have been held on-site without racking up a pricy lunch bill.
Meanwhile, there were several cases where P-cards of former employees were never deactivated and some card-holders had no qualms about sharing their card information with co-workers.
Erickson recommends that the city tighten up oversight and switch to an electronic accounting system to keep better track of individual purchases.