San Jose's chronically underperforming ambulance contractor may get bumped if the city finds it more cost-effective to have firefighters take over operations. The plan was introduced as part of Mayor Sam Liccardo's first annual budget proposal, which the City Council will discuss next week.
Firefighters are first to respond to medical emergencies, which make up nearly two-thirds of all fire calls, but have to wait on for-profit Rural Metro to show up and drive the patient to the hospital. If San Jose took over its own ambulance services it could possibly drive up revenue for its understaffed Fire Department, allowing the city to cut ties with the financially embattled company.
Liccardo also spells out how he would prefer to spend an $8.6 million surplus—less than 1 percent of the 2015-16 fiscal year budget—on public safety, infrastructure and youth programs. The surplus is the third in the past 14 years in San Jose, which laid off more than a fifth of its workforce in that time. In his five-year forecast, Liccardo predicts modest surpluses for the next several years.

"This year, we have the good fortune of making spending decisions, rather than budgetary reductions," Liccardo writes in his budget message. "We must remain fiscally prudent, however, and avoid repeating past mistakes as we restore services. As a result of the improving economy and recent fiscal reforms, city revenues and expenditures have come in closer alignment. The margins appear very thin, however, and the city cannot weather a decrease in revenues or undertake substantial new expenditures without substantial cuts elsewhere."
After saving $2.5 million in reserve, the mayor proposes funding to keep all city libraries open six days a week, $1 million for investment in summer jobs for teens and $2 million over two years for after-school programs.
But restoring public safety is the top priority, he said, adding that he wants to settle the city's drawn-out legal fight over pension reforms with its public employee unions. Liccardo proposes adding 26 civilian community services officers to the San Jose Police Department to help sworn staff, adding $5 million for police overtime and one-time funding for body-worn cameras.
In a recent survey, community members also listed public safety as their top concern—actually seven of their top 10 priorities: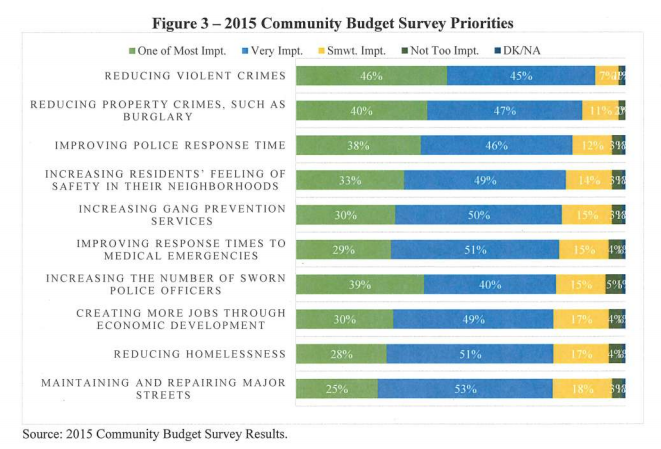 Other ideas  in the mayor's tentative proposal: incentives to woo manufacturing companies to San Jose, one-time funding for an office of immigration services, partnering with private sector to build micro-cottages for the homeless, add recycled water programs and set aside $50,000 for the July 4 fireworks show in downtown.
The budget will likely set aside money to survey residents about putting a tax-hike on the 2016 ballot to pay for street repairs and public safety.
Under San Jose's budget process, the mayor's budget message provides initial direction while the council and the public develop a final budget due in June.
A public hearing on the mayor's budget message takes place 7pm Monday at City Hall. The council's vote on the proposal is scheduled for 1:30pm Tuesday. After the vote, the city manager will release his own budget review for the council and the public to consider.