A new class-action lawsuit brought by two inmates claims Santa Clara County's use of solitary confinement is inhumane and unconstitutional.
Brian Chavez and Brandon Bracamonte—who have been charged but not convicted of any crimes—say they spent years isolated in tiny concrete cells at San Jose's Main Jail with little human contact, natural light, fresh air or exercise. Their lawsuit, filed last week in federal court by the inmate advocacy group Prison Law Office, alleges that the county routinely isolates hundreds of men and women in cells as small as 6-by-7-feet in violation of the Fourteenth Amendment.
"The county is harming people by locking them in harsh conditions of solitary confinement," said Kelly Knapp, a staff attorney for the public interest law firm. "People isolated in tiny jail cells for 22 to 24 hours every day become depressed and suicidal. Those with pre-existing mental illness suffer from worsening symptoms including hallucinations, delusions, and paranoia. To make matters worse, many of these men and women did nothing to deserve being placed in solitary confinement in the first place."
The nonprofit law firm raised those concerns twice in recent months, but the Sheriff's Office gave no indication that it would improve its maximum-security wings.
Jail officials have been under the microscope since the fatal beating of a mentally ill inmate in August, allegedly by three correctional officers.
At least 40 inmates have died in custody at either the Main Jail or Elmwood Correctional Facility since the start of 2010. During that same timeframe, inmates have filed 374 use-of-force complaints, according to records first reported by San Jose Inside. Only four have been sustained. Seventy-two incidents were classified as "closed at intake," meaning they weren't investigated.
Michael Tyree's Aug. 27 beating death prompted the county's Department of Corrections to go back and review some of those complaints. The county also assembled a citizen's Blue Ribbon Commission to review custody operations. Meanwhile, a risk-management consultant has been conducting a concurrent confidential review of both jails.
In a statement, Sheriff Laurie Smith said she "appreciates the perspective" brought by the Prison Law Office. "We believe that the more eyes on our custody operations, the better," she said.
Chavez, one of the plaintiffs and a pretrial detainee, was booked on narcotics and conspiracy charges in November 2011. Though later indicted, he has not been convicted. It should be noted that pretrial detainees—theoretically presumed innocent until proven guilty under the U.S. Constitution—generally receive the same treatment as convicted criminals.
As an inmate, he never engaged in violent behavior and never racked up any jail infractions, according to the lawsuit. Officials appointed him a "jail trustee," a designation reserved for inmates who demonstrate good behavior.
For three years, Chavez served as a trustee until November 2014, when—allegedly without notice, hearing or a chance to contest the decision—the county stripped him of his title and placed him in solitary confinement.
Chavez filed a grievance and asked to relocate to a less restricting housing assignment, but the county denied his request. The county held that he was "properly housed" and that his file would be reviewed every month. But Chavez said they never notified him of those reviews, if they even happened, or let him participate.
Bracamonte, a co-plaintiff and another pretrial detainee, was booked in April 2012 on charges of carjacking and indicted on conspiracy, drug and gang charges. Inside jail, as with Chavez, he was never found guilty of rules violations or violence, according to the lawsuit. Also like Chavez, jail officials appointed him a trustee.
In August, however, the jail accused him of taking part in a "gang assault," though it's unclear what evidence was used to support the allegation. The District Attorney's Office declined to prosecute the case. A month after the unsubstantiated incident, the county moved Chavez to a maximum-security unit without explanation, notice or change to challenge the assignment.
For a year, Chavez and Bracamonte sat in 6-by-7-foot windowless cells for 23 hours a day in Third West Max. According to the lawsuit, the county failed to keep the cells clean, forcing the inmates to live in filth. They could only step out of their cells about every other day. For months, the lawsuit claims, they were denied access to natural light and fresh air.
In July, the jail allowed the men an hour a week in a caged enclosure on the "yard" before sunrise. Chavez said in the complaint that he can't remember the last time he felt natural sunlight.
The only times the men say they could leave their cells were for two-hour weekly non-contact visits with family, relocating to a new cell or showers every couple of days. Outside, they were always chained and shackled. They were strip-searched each time they returned to their cells.
Three days before the 27-member Blue Ribbon Commission was scheduled to tour the Main Jail earlier this month, the county relocated both men to slightly larger 8-by-10-foot cells, each with a single frosted glass window. But they remain on lockdown for all but an hour a day.
This prolonged isolation has led to debilitating psychological damage, Knapp said. Chavez, who is only 35 years old, has become preoccupied with fears of dying alone and forgotten in his cell. He has withdrawn from the rare opportunities for social interaction, including visits from friends and family.
Bracamonte has reportedly experienced similar effects. Before solitary, he used to read books to pass the time, but now he can't focus for more than a paragraph. He said he has lost emotional connection with his wife and children.
According to the Prison Law Office, even inmates without mental health diagnoses can become mentally ill from prolonged isolation. The county, which oversees about 3,500 inmates in the men's and women's facilities at Elmwood and the Main Jail in downtown San Jose, keeps hundreds of inmates in solitary confinement.
Through their lawsuit, Bracamonte and Chavez want the county to end solitary confinement altogether. They also want a due process hearing for all people placed in restrictive housing, as well as an overhaul of the county's inmate classification system.
In September, California scaled back use of solitary confinement in its prisons in response to a public interest lawsuit filed three years earlier by inmates at Pelican Bay State Prison. In Ashker v. Brown, inmates argued that the maximum-security facility's reliance on indefinitely drawn-out solitary is unconstitutional. One Pelican Bay prisoner had been in isolation for 43 years.
To settle the lawsuit, the California Department of Corrections and Rehabilitation (CDCR) agreed to systemic overhauls. Solitary confinement would be reserved for serious rules violations instead of a way to isolate inmates with gang ties. The settlement agreement also requires the state to establish procedures to prevent inmates from being held in solitary indefinitely.
But the CDCR case has no effect on the state's 123 jails, which collectively house more than 73,000 inmates. Each jail sets its own policies, guided by state standards known as Title 15.
Title 15 suggests jails should let inmates out for at least three hours of recreation time every week. But the code doesn't define "recreation," which some jails have interpreted as an hour to walk in an empty room. And though it calls for a minimum of three hours, many jails offer no more than that.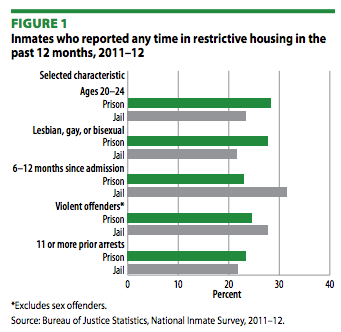 There's no official tally of how many jail inmates in California are kept in solitary cells. A 2015 Bureau of Justice Statistic survey reported that about one in five jail inmates nationwide spent some of 2011 and 2012 in isolation. Inmates in restrictive housing tend to be mentally ill, people of color, younger, and transgender, lesbian, gay or bisexual.
In a June letter to Sheriff Smith, Prison Law Office director Don Specter said he's concerned that inmates in some wings of the jails have been denied outdoor exercise for at least seven months.
"During that seven-month period, their only 'yard' was a small, empty cell in their unit," he wrote. "In this 'yard,' they have no access to fresh air or natural light, and no room to exercise. This is in stark contrast to the [segregated housing unit] at Pelican Bay State Prison where convicted prisoners in the most restrictive setting receive 10 hours of outdoor yard time each week."
Jails house hundreds of pretrial inmates who haven't been convicted of anything yet remain on lockdown for 23 to 47 hours at a time.
"We have toured scores of jails and prisons throughout the nation, and the conditions we observed in the Santa Clara Jail units were harsher and more punitive than most we have visited," Specter wrote in a follow-up letter.
Part of the issue is that jails weren't designed for long-term stays. California-wide prison reforms in 2011 pushed thousands of non-violent state prisoners to county jails to ease overcrowding. But most jails were built more than 30 years ago and lack dayroom and recreational space, according to the Public Policy Institute of California.
To accommodate the larger population, longer sentences and influx of mentally ill inmates, several counties have broken ground on new jail facilities. Santa Clara County recently landed an $80 million state grant to replace the Main Jail. Lease-revenue bonds using other county buildings as collateral will cover the rest of the cost.