UPDATE: Jose Antonio Vargas announced around 3:30pm Tuesday that he had been released. He shared the following statement.
"As an unaccompanied child migrant myself, I came to McAllen, Texas, to shed a light on children who parts of America and many in the news media are actively turning their backs on. But what I saw was the generosity of the American people, documented and undocumented, in the Rio Grande Valley.
"I've been released by Border Patrol. I want to thank everyone who stands by me and the undocumented immigrants of south Texas and across the country. Our daily lives are filled with fear in simple acts such as getting on an airplane to go home to our family. With Congress failing to act on immigration reform, and President Obama weighing his options on executive action, the critical question remains: how do we define American?"
The United States Border Patrol on Tuesday detained journalist and filmmaker Jose Antonio Vargas, the country's highest-profile undocumented immigrant.
The Pulitzer Prize-winning journalist, who grew up in Mountain View, spent several days by the U.S.-Mexico border reporting on the surge of child migrants in Texas. But his passport from the Philippines tipped off authorities as he tried to leave the McAllen-Miller airport this morning. Border agents stopped and cuffed him, according to the Huffington Post's Ryan Grim, who tweeted a picture of the incident: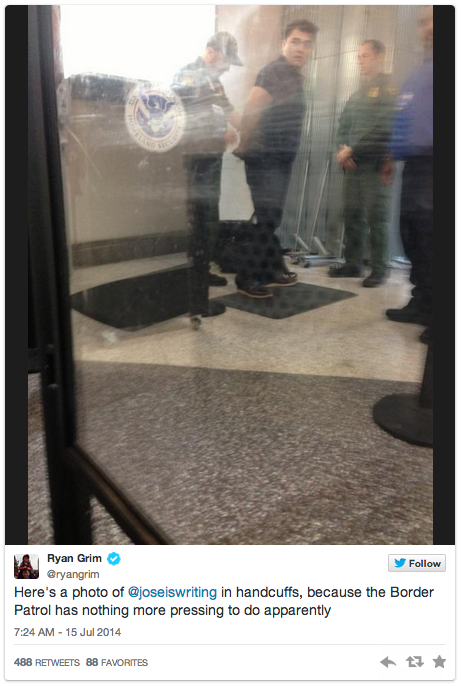 Vargas, who came out as an undocumented immigrant in a 2011 New York Times Magazine story and later a TIME Magazine essay, wrote about his trip to the tiny border town of McAllen, Texas, for Politico last week:
Tania Chavez, an undocumented youth leader from the Minority Affairs Council ... asked me ... "How will you get out of here?" Tania grew up in this border town. As the day wore on, as the reality of my predicament sunk in, Tania spelled it out for me: You might not get through airport security, where Customs and Border Protection (CPB) also checks for IDs, and you will definitely not get through the immigration checkpoints set up within 45 miles of this border town. At these checkpoints, you will be asked for documentation. ("Even if you tell them you're a U.S. citizen, they will ask you follow-up questions if they don't believe you," Tania told me.)
Like most of the country's 11 million undocumented immigrants, Vargas lacks any official U.S. identification. This was his last tweet before getting whisked away by authorities: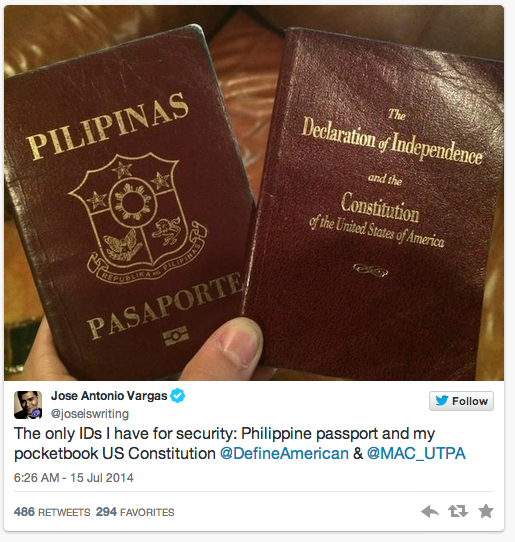 Vargas was 12 when his mother sent him from the Philippines to live with his grandparents in Mountain View. Twenty-one years later, he still lacks formal status in the US.
The former Washington Post reporter directed his first film, Documented, and launched a campaign called "Define American" to illustrate the dysfunction of the nation's immigration policies. The documentary, which aired on CNN a few weeks ago, explores Vargas' own life and those of other undocumented immigrants in America.
Hundreds of people expressed outrage following his arrest Tuesday, lighting up Twitter with words of encouragement. Others weren't so sympathetic.
Though Vargas has traveled non-stop for the past few years to promote his work and speak out against current immigration policies, he was never detained. Still, he has said that being undocumented means living in fear.
"The visibility, frankly, has protected me," he wrote last week for Politico.
He flew to McAllen to promote the work of immigration reform groups and stand in solidarity with the hundreds of unaccompanied minors stranded at the nation's southern border. It wasn't until he arrived, he said, that he learned about the checkpoints and heightened security.
... I didn't think twice about visiting the Texas border. But I didn't know what I was getting myself into and knew nothing about life as undocumented in a border town in Texas, where checkpoints and border patrol agents are parts of everyday life. I've been flying everywhere across the country—what would make this trip different?
Worried about being held up, he stayed in the border town for several days before attempting to leave for a screening of his documentary in Los Angeles.
"I don't know what's going to happen," Vargas wrote.
https://www.youtube.com/watch?v=ofgrSDEh0vk