Schwarzenegger Stumps for Smith
on Thursday, May 6, 2010
Calling Santa Clara County Sheriff Laurie Smith "an absolute jewel," California Governor Arnold Schwarzenegger appeared on the elected official's behalf at a May 5 Los Gatos fundraiser that may have raised close to $100,000 by some early estimates. Smith called it her most successful fundraiser ever.
Held at the historic mansion of David and Cindy Kenyon Lazares, once home to the famous trial attorney James Boccardo, Schwarzenegger arrived and spoke on Smith's behalf and posed for photographs with the sheriff's supporters.
The popular three-term law enforcement official is facing off against two former San Jose Police Department officers, Richard Calderon and Martin Monica, each of whom briefly served as a small town police chief.
In addition to the governor, Smith introduced her mentor, former Sheriff's Lt. Pat Ruch, who sued the county in the 1970s for gender equality. Back then, women in the department were known as "matrons" and the men were called "deputies."
"We didn't get the same pay even though we were in the same danger," Ruch said.
Smith became California's first female sheriff in 1998.
Contributors paid $500 to attend the fundraiser, which included wine and a buffet of paella and soft tacos.

Smith referred to former Sheriff's Lt. Pat Ruch (center) as her mentor.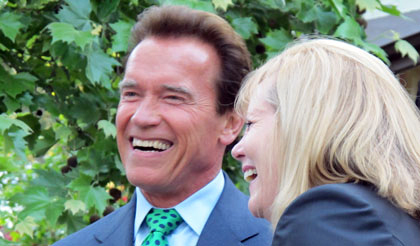 Post a Comment
Mission Statement: This site is designed to encourage political debate, discussion and change in our city, started by people who value San Jose and are interested in her future and in this valley's place in the state and nation.
Disclaimer: All views expressed on this site are solely the opinion of the individual writer.
Comment Policy: Please read our comment policy before posting.
© 2013 San Jose Inside. All rights reserved. Contact us