More than 100,000 people have unpaid fines or fees with the Santa Clara County Library District (SCCLD). At the same time, Second Harvest Food Bank (SHFB) needs help stocking its shelves in order to provide food to the more than quarter million Silicon Valley residents it serves each month. Food for Fines, a new amnesty program offered by the SCCLD, seeks to address these challenges.
To encourage patrons to return to the library in good standing, SCCLD is waiving up to $100 in fines and fees in exchange for the donation of non-perishable food. This is an amazing deal that offers the opportunity for SCCLD library card holders to quickly return to good standing and enjoy full borrowing benefits. Plus, they can help someone in need put food on the table, making this truly a win-win program.
All eight of our libraries, as well as our bookmobile, are participating in this effort. In order to take part, just bring in non-perishable food (click here for a list of most needed items) to the accounts desk of any of our libraries during normal business hours. If you found that book or movie you thought you lost long ago, bring it with your donation. We always appreciate getting our materials back. If your library card is expired or is lost, simply bring a valid photo ID with you.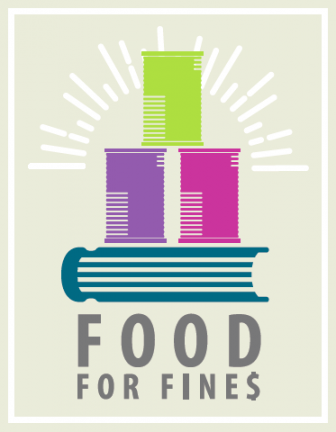 Spring is a key time to donate non-perishable food items as there is a greater need for food in the summer months, when children are out of school and without access to subsidized meal programs. SCCLD has been sensitive to this issue, partnering with Second Harvest to provide over 4,000 meals in the South County area in 2017 through our Lunch in the Library program.
Santa Clara County is a place of great opportunity and compassion. Food for Fines fits into this tradition by seeking to eliminate barriers to learning and empowerment, while also assisting those who are struggling to put food on the table. If fees or fines have been keeping you away, this is your opportunity to return to the library while doing a good deed and helping others.
Even if you don't have an outstanding fine, or if you want to pay your fine, we are counting on the kindness and generosity of our community to make a food donation. Public libraries and programs such as Food for Fines make our communities healthier, happier and contribute towards lifelong learning.
Together, we can work to nourish both the mind and the body.
In the first week and a half of the program, almost 1,200 library cardholders have had up to $100 waived from their fines and donated 30 full barrels of food! That's the equivalent of 3,750 meals—enough to feed a family of four, three meals a day for almost an entire year. Please keep the donations coming throughout the month of April. We are looking forward to seeing all of our patrons back at the library.
Nancy Howe is the Santa Clara County Library District County Librarian. Leslie Bacho is CEO of Second Harvest Food Bank of Santa Clara and San Mateo Counties. The opinions expressed in this article are the author's own and do not necessarily reflect those of San Jose Inside. Interested in writing an op-ed? Email pitches to [email protected].