Santa Clara County's homeless population fell by 14 percent since the last count two years ago, according to figures released Monday.
The 2015 homeless census, which took place in 15 South Bay cities on a single day in January, tallied some 6,556 people—the lowest count in a decade. Census-takers also conducted a survey of 952 homeless people, which gives greater insight into the nature of homelessness in the South Bay.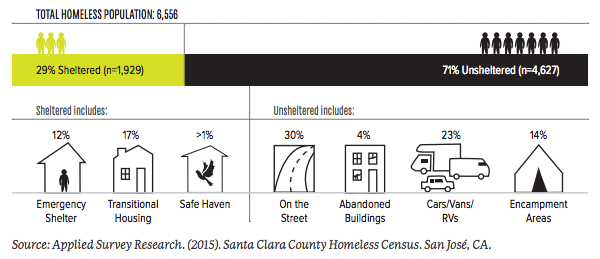 San Jose's citywide totals dropped by 15 percent, partly because of a multimillion-dollar effort to house more than 175 people who had been living in a now-dismantled homeless camp called "The Jungle." The city recently committed another $3.5 million for re-housing programs, though Mayor Sam Liccardo said there's still a long way to go.
"We have more than 6,000 people living outside in this county and a lot of work to do with our partners to provide housing solutions," Liccardo said.
Homelessness in unincorporated areas dropped by 336 to 500 people overall since 2013, according to the census. But the number of homeless people in South County actually increased by 259 during that same timeframe, partly because of a shelter closure in Sunnyvale that drew more people to a 100-bed counterpart in Gilroy.
South County Supervisor Mike Wasserman said the localized influx proves the importance of regional collaboration.
"The overall decrease of 1,075 homeless is encouraging, but the data underscores the need for a regional approach to solving homelessness," Wasserman said. "Permanent housing is so important: it breaks the cycle of homeless moving from one encampment or city to another. This is why the county is investing so heavily in housing for the homeless."
Most of the homeless people included in the point-in-time count—exactly 4,627 of them—live outside, on the streets, in vacant buildings, cars or camps. County officials said the census is considered a conservative estimate because it relies on a visual identification and doesn't account for people who may be couch-surfing, for example.
The vast majority, 84 percent of them, said they lived in the South Bay at the time they lost their homes, and 77 percent said they lived in the region for more than a decade. Many said they became homeless after losing a job (30 percent), substance use (21 percent) or a divorce or breakup (16 percent).
The single biggest obstacle to finding housing, according to the survey, is money. Sixty-nine percent of respondents said they can't afford rent in this market.
Local governments use the biennial homeless census to gauge how much money to allocate and what services to prioritize in dealing with homelessness.
While the overall total dropped from the last count, county officials said the need for more housing remains high, with 4,627 homeless men, women and children still on the streets. The county's Housing 1,000 campaign managed to find shelter for 865 chronically homeless people between 2011 and last year, but there remains a 4,000-unit shortfall to meet the immediate needs of this year's unsheltered population.
"While our work is far from over, the decrease in homelessness indicates our collective progress," said Jennifer Loving, head of Destination: Home. "The recently released Home Not Found cost study shows the financial benefit of housing and the new Point-in-Time count tells us that our strategy is working. Our efforts are making a difference and the City and County should be applauded for their commitment and investment in ending homelessness."
In May, the county launched an initiative to supply 1,000 federal Section 8 housing vouchers. But a competitive housing market makes it extremely difficult for recipients to find landlords willing to lease to them. Right now, about 600 families have housing vouchers but can't find a place to rent.
Moving forward, the county approved $91.5 million for housing and homeless services for the next fiscal year and another $6.7 million for permanent supportive housing in 2016.
"The homeless census and survey shows that our collective efforts are beginning to gain traction," said Ky Le, the county's director of Homeless Systems.
Here's a look at some more findings from this year's survey, available in its entirety on the county website:
GENDER: 63 percent of those who responded are male, 36 percent female and 1 percent transgender.
ETHNICITY: 39 percent are Latino, 32 percent white, 16 percent black, 8 percent multi-racial, 3 percent Native American and 3 percent Asian.
LGBT: 10 percent overall identify as lesbian, gay, bisexual, transgender, queer or questioning, compared to 16 percent of respondents aged 25 years and younger.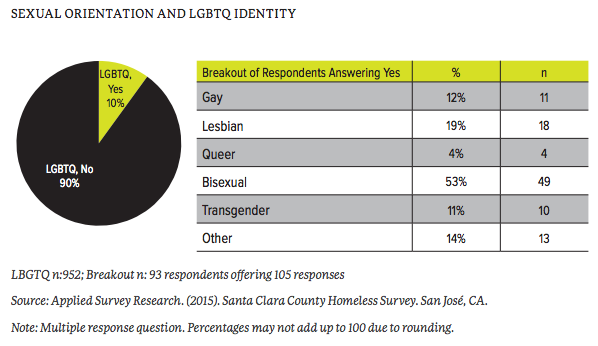 TIME SPENT HOMELESS: 63 percent reported being homeless for at least a year, up from 56 percent in 2013.
EMPLOYMENT: 81 percent said they were without a job, compared to 74 percent in 2013.
HEALTH: 65 percent reported at least one health problem, ranging from chronic physical ailments to substance use disorders and mental health issues. Specifically, 39 percent said they have a psychiatric or emotional condition, 38 percent struggle with substance abuse, 30 percent claim a physical disability, 25 percent have post-traumatic stress disorder and 12 percent a traumatic brain injury.
DOMESTIC VIOLENCE: 27 percent reported experience domestic violence in their lifetime, including 44 percent of female respondents. Seventeen percent of them said that's the main reason they became homeless.
INCARCERATION: 30 percent said they spent at least one night in jail within the past year.