Last year's presidential election set a record for the most ballots cast in Santa Clara County history, according to a new report.
Out of 875,176 registered voters, nearly 83 percent cast a ballot, according to the Registrar of Voters' post-election analysis, which was released Friday. The turnout rate was the highest among the 10 California counties with the most registered voters.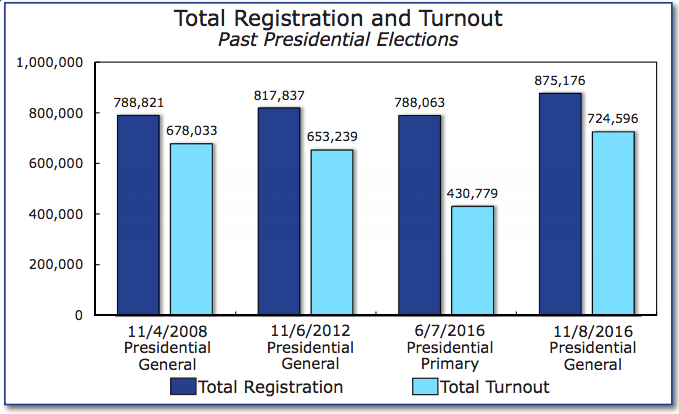 November's election set new records not only for voter registration, but also the number of local ballot measures, ballot cards, recounted contests and percentage of online registration. The county also reported a record number of bilingual election officers and more ballots than ever picked up just before the polls closed.
In recent years, the county's Registrar of Voters (ROV) has come under fire for mistake-laden ballots and taking too long to tally votes on election night and the days following. The release of the post-election report came eight months after the November election.
The numbers took longer to tally because of those record-breaking numbers, according to ROV Shannon Bushey. Large quantities of mailed, write-in and provisional votes as well as extended deadlines reportedly complicated the process.
President Donald Trump could be credited with bringing more people to the polls in Santa Clara County, but that doesn't mean the president fared well in the liberal South Bay. Hillary Clinton took 72.7 percent of the county's votes for president, while Trump secured just 20.6 percent. Clinton also dominated the state of California, securing 61.7 of all votes, and defeated Trump in the popular vote with 48 percent to Trump's 45.9 percent. Trump, of course, won the Electoral College.
Sen. Bernie Sanders garnered about half of the county's qualified write-in votes for president, the report states. Independent write-in candidate Evan McMullin got about a quarter of all write-in votes. Because some people apparently like to do things the hard way, Clinton and Trump, also received write-in votes.
Three candidates conducted write-in campaigns for local office. Saratoga City Council candidate Sudip Ghosal received the most—697 write-in votes, or about 3 percent of total votes for that contest.
Voter turnout was highest among people in their 60s and 70s and hovered around 80-something percent for most age groups, except people aged 18 to 24. Less than two-thirds of these new voters cast ballots.
 Click here to read the report in its entirety.