These days it's easier to break the Internet than have zero presence on the web. But in an unusual set of circumstances, Jon Gundry, Santa Clara County's superintendent of schools, has recommended a quarter-million dollar contract with a mystery company that has no trace of existence online.
In an under-the-radar memo Gundry placed on the consent calendar for Wednesday night's Board of Education meeting, the superintendent recommended a $150,000 extension to a contract with School Business Service Consultants. No record of such a company exists online, according to search engines and a check with the California Secretary of State's office.
Gundry's recommendation would bring the Santa Clara County Office of Education's total tab for consulting services with the company—owned by a man named Frank Butler—to a dollar short of $250,000.
The exact dollar amounts of the contract, and the fact that it was placed on the consent calendar, raise several concerns.
Since October 2014, Gundry signed off on two separate agreements with Butler's company—the first for $50,000 and the second for $49,999. By keeping the total of those two pacts a dollar short of $100,000, the contracts did not require input or approval from Board trustees.
Gundry's placement of this new contract agreement on the consent calendar is also significant, as Board trustees often approve these items without public discussion.
In a phone interview Wednesday afternoon, Gundry defended his actions regarding the contracts—first by putting the monetary amount a dollar out of trustees' reach; and second, by cloaking the item on the consent calendar.
Gundry said he drew up the single-source contract solely for the purpose of bringing on consultant Mark Skvarna, a retired superintendent from San Gabriel Valley. Skvarna, Gundry said, has been sifting through past audits while also working to fix the SCCOE's broken payroll system, which was rife with mistakes and overpayments last year.
Skvarna has "a specific skillset" for sifting through financial documents, Gundry said, and he uses School Business Service Consultants as an intermediary for contracts.
A call to the company's phone number went to a voicemail that had no greeting. Online records suggest it shares an address with another company owned by Butler, Sunrise Petroleum Inc.
The Secretary of State's website lists Butler as the owner of Sunrise Petroleum Inc., but it also notes that the Franchise Tax Board suspended his California business license.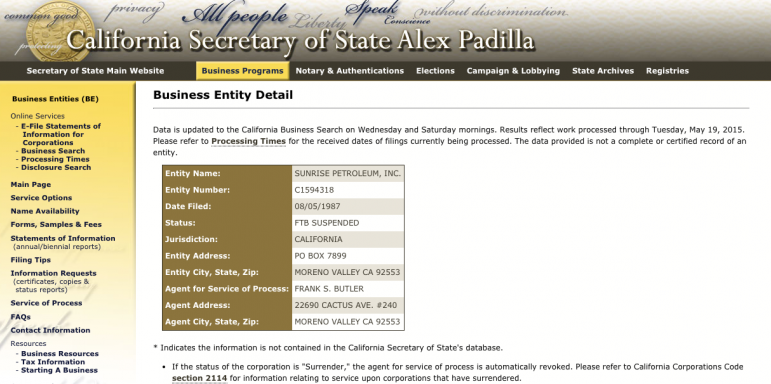 Gundry said he was aware of the companies' connection, but he could not explain how the two are related. He added that he believes School Business Service Consultants is a sole proprietorship.
Joseph Di Salvo, a Board of Education trustee who also contributes weekly columns to this site, told San Jose Inside that he was unaware of the company's history—or lack thereof—when reached for comment. Di Salvo added that he plans to pull the agenda item off of the consent calendar to get more answers.
"All of that concerns me,"Di Salvo said.
Gundry told San Jose Inside that he doesn't consider the agreement to be "that unusual," despite a lack of information on the company's dealings.
"I didn't intend for this to go on this long," he said. "Hopefully, we're not going to use this entire (dollar amount in the) contract."
UPDATE: The agenda item to extend a contract with School Business Service Consultants by an additional $150,000 was pulled from the consent calendar by trustee Joseph Di Salvo on Wednesday night. It will be discussed by the entire Board at the June 3 meeting.
San Jose Inside will update this story when more information becomes available.