New internal emails from the Santa Clara County Office of Education show that the chief of schools and his communications director followed the same playbook when it came to hiding contracts.
After repeatedly flouting the Public Records Act—either by ignoring San Jose Inside's information requests or by claiming no responsive records existed—the public agency that oversees 31 Silicon Valley school districts now says it "inadvertently" failed to provide previously undisclosed contracts as required by law.
"It was an oversight in not supplying you with this information in a timely manner," the Santa Clara County Office of Education (SCCOE) wrote in a June 29 response. "There was never any intention by any staff member to withhold information."
The record shows otherwise.
Micaela Ochoa, who appears to have been forced out of her role last week as chief business officer, sent several emails between June 16 to 18 informing Superintendent Jon Gundry and his spokesman, Ken Blackstone, that the agency was being unresponsive to San Jose Inside's requests for public records. Public agencies are required to "promptly" respond to request for records within 10 days, regardless of whether they come from media or the general public, and to explain why additional time is needed if the records cannot be provided.
This never happened after San Jose Inside made two requests for consulting contracts on June 3 and 4, in addition to numerous follow-up calls and emails requesting clarification.
"It appears that the information you provided to Josh yesterday evening is inconsistent with the facts," Ochoa wrote on June 16 to Gundry, Blackstone, several staffers and Maribel Medina, an attorney who also no longer works for the SCCOE. "The attached response you sent to Josh today at around 2 PM is also inconsistent with the facts. I am very concerned that SCCOE's response to the PRA Request is not accurate. I'm not sure from where you are getting the information you are providing to Josh, but it's not accurate."
Thirteen days would pass before the SCCOE would cough up copies of the contracts.
Several of these agreements again prove that Gundry has doled out $100k deals but set amounts just below the six-figure threshold, which would require approval from the elected Board of Education and scrutiny from SCCOE accountants.
As previously reported, Sue Daniels received a consulting contract for $99,999. SOA Project had its contract increased by the superintendent to $99,950. The law firm McArthur & Levin, LLP received a contract in February for $90,000. Multiple other law firms were given contracts for tens of thousands of dollars.
Several of these contracts related to payroll mishaps from 2013, which resulted in the IRS fining the SCCOE $200,000 last year. Gundry has insisted in public that he simply wants to find out what happened and fix the system, but in a rare email he admitted he has always planned to contract out unionized positions and eliminate jobs.
On Oct. 20, 2014, Medina sent an email with the subject line "RE: serious concern." She wrote: "It sounds like there are two primary concerns: (1) contracting out bargaining unit work, and (2) automating payroll to replace employees. Neither of which is accurate."
Gundry replied: "We are definitely planning to automate payroll. It would be irresponsible not to do so. The fact is that when we automate, we will need fewer employees, so concern #2 is largely true. Are they really suggesting that we maintain antiquated, manual practices just to save positions? I would make a similar argument for concern #1, but we will discuss it at cabinet on Monday."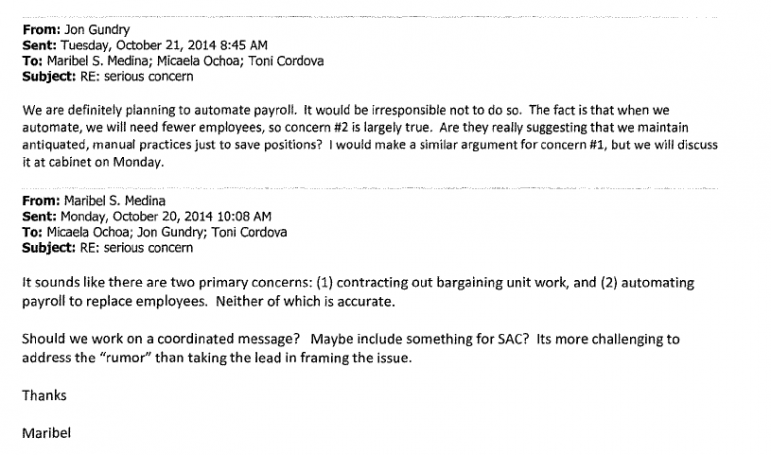 Gundry's plans to clean house are now coming to fruition with the departure of Medina and Ochoa, the latter of whom is being replaced by Mark Skvarna, a consultant Gundry secretly hired last November and paid $92,250. In six months of work, Skvarna never submitted a single written report and invoiced the county for nearly $20,000 in travel expenses.
Gundry's hiring of consultants has created a situation where double dipping could occur. In addition to now bringing aboard Skvarna, who retired from a superintendent position in Southern California just last fall, Gundry also brought back retired SCCOE employees to assist in handling payroll matters.
In a phone call Monday, Blackstone repeatedly used a boiler plater quote—a speciality of his—that the SCCOE is committed to transparency and never intended to conceal contracts.
"I want to be clear that we respect and follow the law," he said several times.
Blackstone then called past San Jose Inside articles on SCCOE business "libelous."