Santa Clara Valley Water District CEO Beau Goldie and top-level staff have repeatedly misled the board of directors and public regarding contracts with consultant RMC Water and Environment, according to internal emails.
Earlier this week, San Jose Inside reviewed hundreds of documents district staff compiled for an Oct. 27 board meeting. At that meeting, Goldie and top district executives told the board that procedures were followed, no laws were broken and all invoices to the consultant checked out. This despite its own staff's flagging of a half-million dollars in improper payments to RMC and possible conflicts of interest.
Goldie went on to call RMC's work on the Lower Silver Creek (LSC) watershed, which began in 2009 and is located in East San Jose, a "success."
In a follow-up video interview with San Jose Inside on Oct. 29, Goldie said he was not sure who amended contracts with RMC on three separate occasions, but he reiterated his contention that transparent processes were followed in the disbursement of taxpayer dollars.
"On this particular contract there was a question in terms of the authorization that was allowed," Goldie said. "Legal staff and project staff looked at that project and the authorities were appropriate per the interpretation of that contract. So, what I'm saying is all the transfers that were made and the authorization were followed."
The emails show that, contrary to Goldie's statement, just the opposite occurred.
All three amendments to RMC's original deal for Lower Silver Creek violated board rules, the district's own attorneys determined.
In a Sept. 10, 2014 email sent by Leslie Orta, the district's senior counsel tells chief operating officer Norma Camacho and CEO Goldie's top assistant, Meenakshi Ganjoo, that Goldie violated board policy on multiple occasions by amending RMC contracts without board approval.
Orta wrote in the email: "Regarding the LSC program management agreement with RMC, On April 28, 2009 the board approved the sole source transaction and delegated authority to the CEO to approve the agreement (along with several others), but the board did not delegate authority to amend the agreement, nor any of the other sole-source agreements approved in that same board action discussed in the same memo. The agreement was amended subsequently, so in violation of board policy."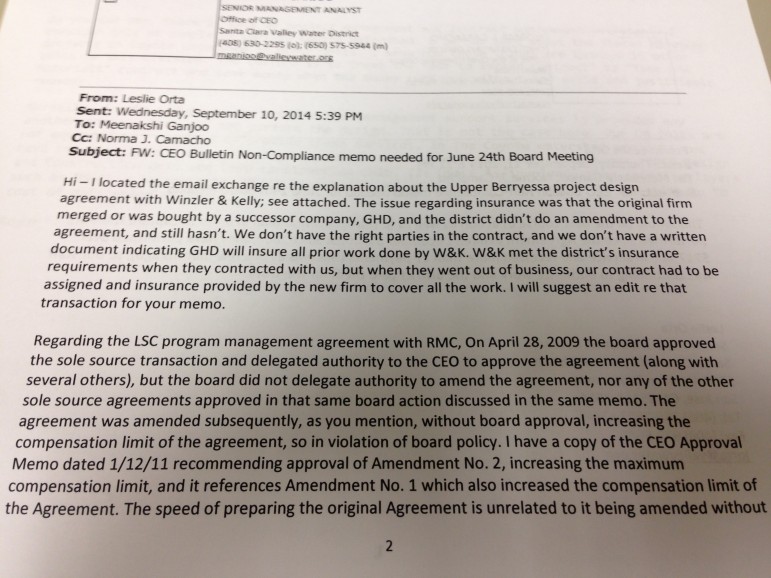 In another email sent a day later, Orta tells COO Camacho: "The third contract non-compliant consultant agreement was with RMC to provide program management services for Lower Silver Creek construction project. Although the board delegated authority to the CEO to approve the sole source agreement (per board action on April 28, 2009), there was no delegation to approve subsequent amendments to the Agreement. During the course of the project, two amendments were approved by the CEO, revising the scope of services and increasing the maximum compensation limit of the Agreement. (Norma- can you provide me info on what we are doing to rectify this issue?)"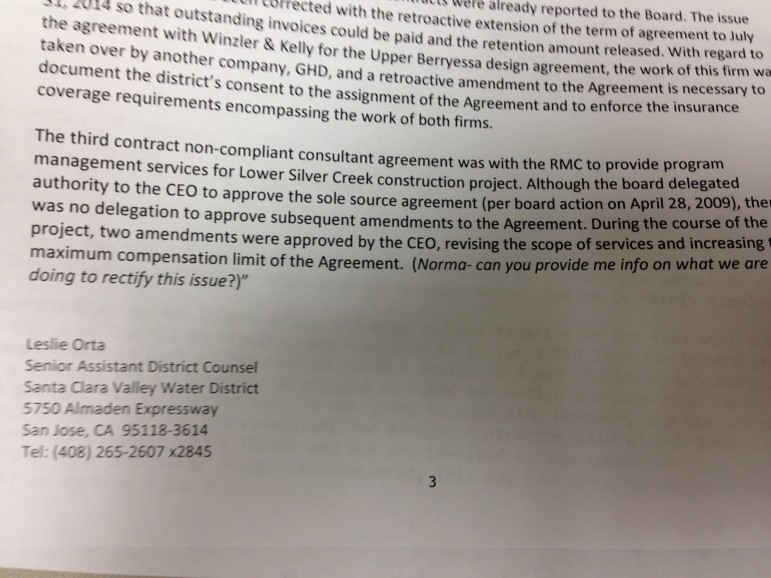 The district has refused to comment on these emails as well as release the documents San Jose Inside reviewed earlier this week. In the Oct. 27 board meeting, neither of these two emails were ever mentioned by Goldie, Camacho or Orta.
When informed of the senior counsel's emails noting the CEO's violations of district policy, board chair Gary Kremen said he now intends to launch a full-scale investigation.
"I am deeply concerned by these allegations," Kremen said. "I plan to lead the board to investigate all single-source contracts entered into the last 10 years."
The board has already voted to refer RMC's work to the audit committee.
Board member Dick Santos said he does not recall his colleagues ever being informed of Orta's emails, or the CEO's inappropriate actions in amending RMC contracts without board approval.
"There is no doubt in my mind that the CEO has exceeded his authority," Santos said.
The district communications department and records division has gone into lockdown, failing to provide any answers or documents since San Jose Inside discovered Orta's emails. However, during its review, San Jose Inside photographed documents that show that the executives presented an inaccurate account of events to the board of directors last month.
In the original contract, the Lower Silver Creek agreement with RMC specifies that the consultant cannot shift money for future tasks to current work. (Item No. 3 below, outlined in red.)
However, district staff admitted to the board that money was frequently moved from later tasks to earlier work.
In one email exchange between district staff and RMC employee Steve Bui, $180,000 in future work was shifted to tasks already underway. The approval was extraordinarily casual, coming in email exchanges a few sentences or less.
Goldie has repeatedly hedged answers to the board and in interviews, saying he wasn't sure who signed off on amendments with RMC. He has said that he trusts staff did the right thing. But the first two amendments to RMC's agreement bear the CEO's own signature.
Amendment No. 1
Amendment No. 2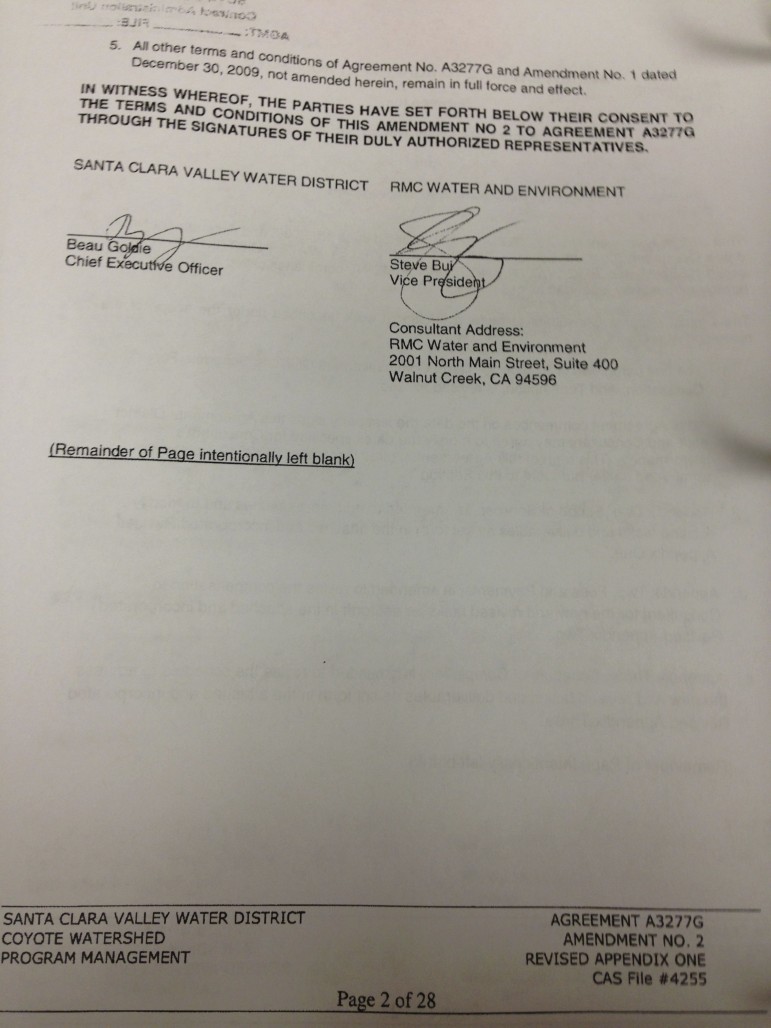 In the third amendment to RMC's deal, COO Camacho signed off in Goldie's place.
Amendment No. 3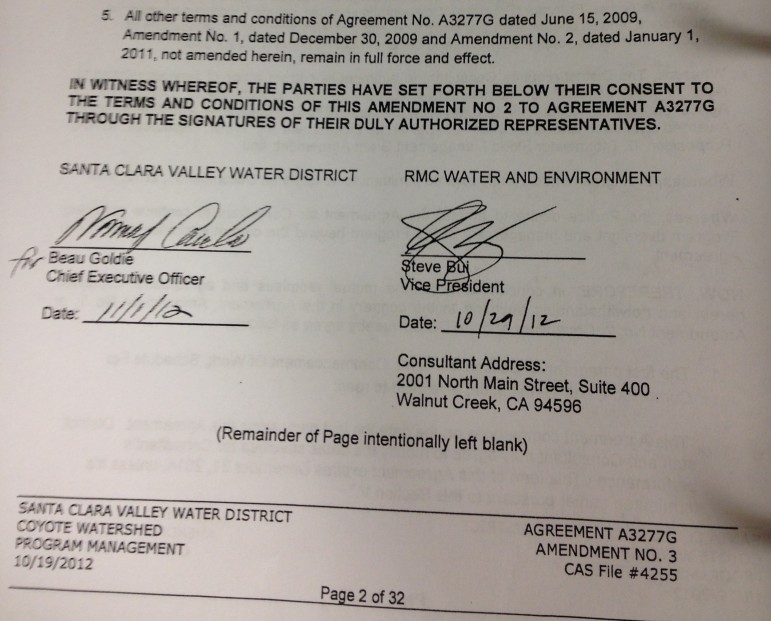 Goldie has been described by district staff as a "micromanager" who is keen on knowing all the details of agreements. He admitted as much in an interview.
"You mention I'm a detail person, yeah," Goldie said. "I also verify things."
And yet, Goldie apparently failed to verify—or perhaps intentionally ignored—board policy requirements in signing for the district without the consent of its elected overseers. (The board referred RMC's contract to the audit committee on a 6-0 vote, with director Dennis Kennedy absent. This week he resigned his position due to health reasons.)
It's unlikely that Goldie's professed lack of knowledge about the identity of amendment signers was accidental, given the amount of preparation for the public meeting. District sources say the CEO and top-level staff met every other day, for weeks, to discuss RMC business ahead of the Oct. 27 report.
Complicating matters is the consultant's close connections to the district. One of Goldie's top administrators, Melanie Richardson, is married to an RMC owner, Tom Richardson. Goldie and district staff have argued there were no conflicts of interest in her role with the district. However, the district refuses to release the "firewall" agreement it created, citing attorney-client privilege.
This spring, Goldie pressed the board for permission to sign single-source agreements to plan and design an $800 million groundwater recycling plant. He cited the drought as a reason to bypass the standard consultant qualification process. RMC was tabbed for the biggest chunk of the work, initially projected at $4 million. District sources say RMC's early involvement gives it an advantage over competitors in landing future agreements.
After facing media and board scrutiny, the district capped RMC's payout at $1.28 million—unless the CEO receives board permission for more.