Pat Meyering, the Sunnyvale city councilman who's the target of a recall effort, has repeatedly accused his colleagues of enriching themselves on the public dime.
Since being appointed to office in 2012, the city official and self-employed attorney has painted himself as a watchdog for public interests, denigrating his peers as fat cats who take money from developers and vote for their own pay increases.
In reality, Meyering takes home the second-highest compensation of anyone on the council: $64,000 in salary and benefits since taking office 18 months ago. And voters, not the council, approve pay increases for public officials.
Only Councilman Dave Whittum made more—$86,682 since the start of 2013—because he included most of his family under the health plan. Mayor Jim Griffith, who makes a show of declining cost-of-living increases, makes the least, just $39,807 during that same time.
Here's the full list, provided after a public records request by Peter Cirigliano, a leader of the recall effort: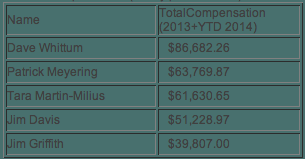 Armed with that tally, Cirigliano confronted Meyering about his compensation at the city's July 15 council meeting. During the public comment period, Cirigliano says he was surprised to learn that Meyering, for all his railing on other council members about their take-home pay, makes more than most of them. And since the council voted to move elections to odd years, which added a year to Meyering's tenure, he will only have to serve one term to reach the five-year minimum to qualify for lifetime benefits.
Here's video of the exchange, which gets pretty terse when Meyering fires back that he's "never taken a $64,000 salary from the city of Sunnyvale, that's a false statement." (Sure, it wasn't a $64,000 "salary." But it was indeed $64,000 in total compensation, as Cirigliano noted.)
Meyering continues, implying that other council members convinced Cirigliano to speak and accusing them, again, of being bought and paid for by developers.
"There is no basis for you to say that any council member here had anything to do with this speaker coming forward," Griffith counters, sounding flustered.
The Sunnyvale council censured Meyering more than a year ago for his bellicose behavior, including aggressive theatrics and those incessant accusations of corruption. Word is, his antics drove city manager Gary Luebbers into early retirement and city attorney David Kahn on to another job.
Meanwhile, he cost the city $83,000 in legal fees over a personal injury lawsuit. The day after being sworn, Meyering claims to have tripped and fallen on Morse Avenue sidewalk. He filed a $8,500 claim with the city, which was denied, and promptly sued for damages. A judge later dismissed the lawsuit.
Meyering critics say the damage he costs is more than a dollar amount, though.
"It used to be that Sunnyvale was like Harvard—everybody wanted to work there," says Chris Moylan, an ex-councilman whose term overlapped for a couple years with Meyering's. "Now it's like a safety school. He's really hurt this city. He's hurt our reputation and he continues to hurt it every day he's in office."
Meyering, who did not immediately return calls and an email requesting comment, does have a small band of supporters. One of them, retired software engineer Chuck Clark, said he's only met Meyering briefly one or two times but decided to create a website dedicated to his defense.
The site, BeFair.info, depicts Meyering as a persecuted pariah speaking out against a shameless pro-developer majority. It compares the first-term councilman to Ghandi and Dr. Martin Luther King Jr.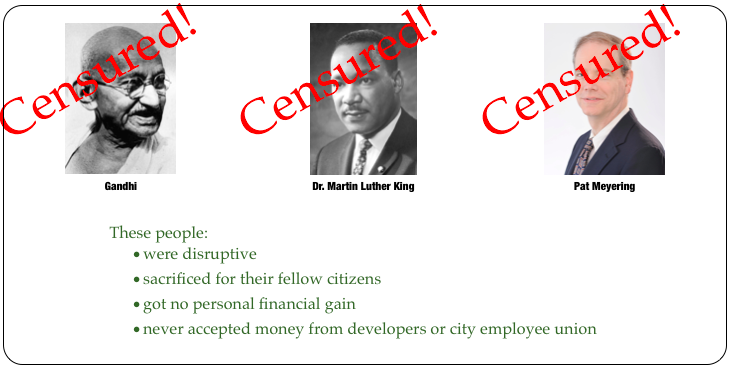 "Why is it that these people are so intent on getting him out of office?" Clark told San Jose Inside. "The answer is that there's a struggle going on between pro-developer and non pro-developer people. Pat is not in favor of unlimited development. His only crime, really, is being disruptive."
The recall effort needs upward of 8,000 signatures to move forward. To date, it's collected 3,000.