In his final budget message before he terms out at the end of this year , San Jose Mayor Chuck Reed says it's time to invest in public safety again.
"Our top priority should be improving public safety and the quality of life for our residents," he says in the document released Thursday, which echoes his message from last year. "Unfortunately … over the past 10 years the police and fire departments' budgets have increased, but number of police officers and firefighters has decreased."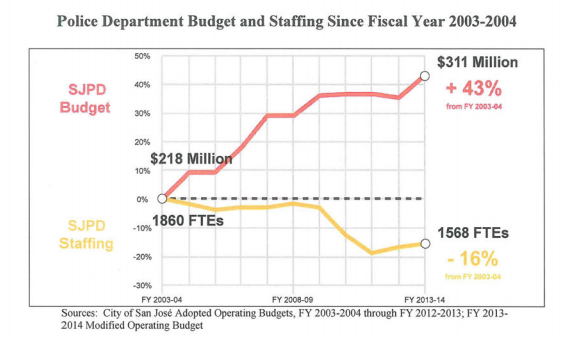 Reed, who rallied for pension reform in San Jose and wants to pursue similar measures statewide, notes that the discrepancy owes to ballooning retirement costs for public employees. Reed's opponents blame his retirement reforms for scaring away police officers, many of whom have defected to other departments to take advantage of better pension plans.
Some of the mayor's proposals for the 2014-15 budget include spending more on police academies to make sure they train the maximum number of new recruits and bringing back the burglary unit lost to budget cuts. He also suggests addressing the uncertainty over disability retirements by making sure the city offers alternate work for officers and other employees injured in the line of duty.
The city should look into developing new staffing models to quicken fire department response times, he adds, like sending two-person squads to respond to low-priority medical calls and deploying just three firefighters per engine. And revenue from new construction taxes, he continues, should go to address the growing backlog of street and infrastructure repairs.
Reed credits the City Council with implementing "bold fiscal reforms," like the $20 million in general fund savings from the parts of Measure B that were upheld, for the city's improved budget situation.
"We've made the tough decisions to avert a fiscal disaster and we've made significant progress in eliminating our structural budget deficit," he says. "However, a number of fiscal challenges remain."
Councilmembers will have to decide whether to place a sales tax measure on the November ballot. They already voted this week to put a library parcel tax extension out to voters in June. Reed included a list of spending priorities, namely stepping up police and fire enforcement and fixing San Jose's deteriorating roadways, in case the sales tax measure goes through.
The mayor's March message is the first draft of the coming fiscal year's budget document, a guide to kick off months of discussions about what to prioritize and pay for in the city's next-year spending plan.
The council will talk about the mayor's recommendations when it meets March 8. Residents will have several chances to weigh in at a series of public meetings leading up to the final budget adoption in June.