The Santa Clara County Sheriff's Office violated state and local sanctuary policies by allowing federal immigration agents to interview inmates.
According to the San Francisco Chronicle, which broke the story Tuesday, Sheriff Laurie Smith acknowledged that U.S. Immigration and Customs Enforcement (ICE) deportation officers were "mistakenly" let in both the Main Jail in San Jose and Elmwood correctional facility in Milpitas on March 7 and 8.
Smith issued a statement affirming that ICE detained none of the inmates and that her staff "reevaluated and strengthened the clearance procedures in which all law enforcement agencies are permitted to enter our facilities."
A similar breach happened in San Francisco.
It's unclear how state officials will enforce newly enacted "sanctuary state" laws, which limit local law enforcement cooperation with federal immigration authorities. Santa Clara County has had its sanctuary policies in place since 2010. The local policy prevents the Sheriff's Office from allowing deportation officers in its jails and from complying with immigration holds, which are basically written requests from ICE to hold inmates up to 48 hours their court-ordered jail stay.
ICE Deputy Director Thomas Homan denounced sanctuary policies as a public threat.
"Sanctuary policies, which have pushed ICE out of jails, force our officers to conduct more enforcement in the community, which poses increased risks for law enforcement and the public," he said in a media statement. "It also increases the likelihood that ICE will encounter other illegal aliens who previously weren't on our radar. It is nonsensical to demand that ICE solely focus on criminals, while simultaneously preventing ICE from arresting criminal aliens inside the secure confines of local jails."
Unlike the willful violation of state sanctuary laws by Orange County Sheriff Sandra Hutchens, who agrees with Homan, Smith emphasized that the ICE entries in Santa Clara County were inadvertent.
"The county of Santa Clara has a policy of not cooperating with ICE operations," Smith told reporters. "The Sheriff's Office does not accept ICE holds and has a longstanding policy of not allowing ICE agents access to our custody facilities. Unfortunately, a few weeks ago staff mistakenly permitted ICE entrance into our jail."
Subsequent attempts by ICE to gain entry on March 14 and 26 were denied, sheriff's officials said. NBC Bay Area reported that another attempt was made on Wednesday.
In her statement on Tuesday, Smith reaffirmed the county's aim to build trust with its sanctuary policy. "We value the trust and rapport we've earned with our local immigrant community," she said, "and we will not break that trust."
County Supervisor Dave Cortese echoed the sheriff's statement.
I echo @SCCoSheriff Smith's statement: we value the trust/rapport we've earned w/ our local immigrant community & we will not break that trust. If @jeffsessions & ICE think we're going to abandon our people like the Orange County Board of Supervisors they are wasting their time

— Supervisor Cortese (@SupDaveCortese) March 28, 2018
It should be noted that while sanctuary policies prevent certain types of coordination with immigration agents, local police still work with ICE and affiliate agencies on on multi-jurisdictional investigations. Local law enforcement also train together with ICE and share facilities, such as shooting ranges.
Last year, officers from ICE's investigative unit, Homeland Security Investigations (HSI), took part in Urban Shield, a controversial SWAT training and military expo hosted by the Alameda County Sheriff's Office and attended by South Bay law enforcement agencies.
In early 2017, HSI officials made an effort to strengthen its ties with the Santa Clara County Sheriff's Office, according to emails obtained by San Jose Inside almost exactly a year ago through a formal records request.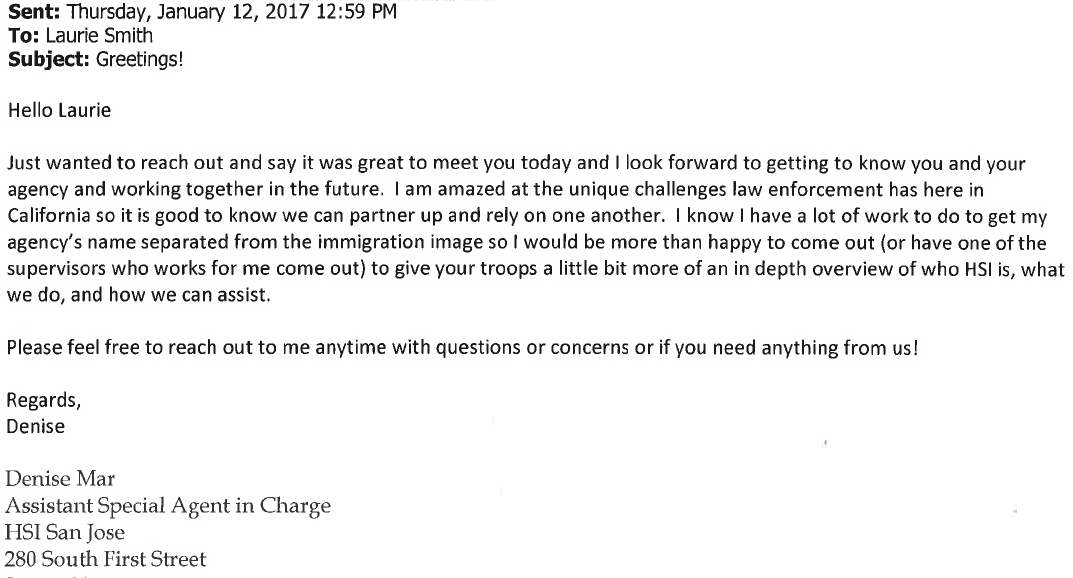 There was also some discussion between federal immigration agents and Assistant Sheriff Rick Sung about having HSI officers use the sheriff's shooting range.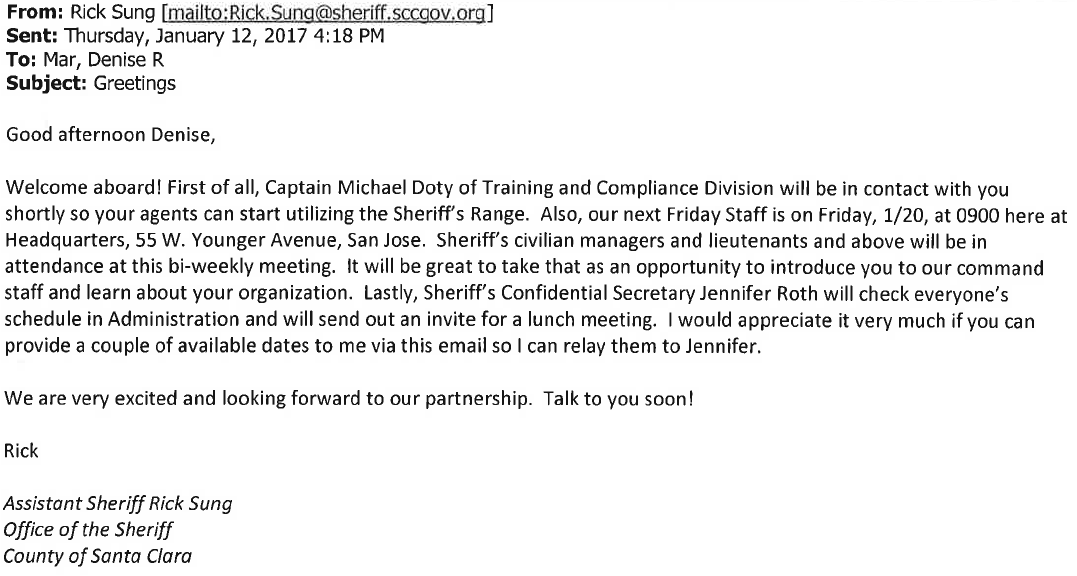 The county's Probation Department maintains regular communication with ICE and affiliate agencies, too, records show. Law enforcement in other Bay Area jurisdictions, including Alameda County, have similar working relationships with ICE and HSI.
But the sanctuary policy violation in the jails this week gave Smith's critics more ammo. Former Undersheriff John Hirokawa, who's challenging her run for re-election in June, called the sanctuary policy lapse an example of "reactionary leadership."
"The choice facing voters in June's election was made more clear with news that county and state immigration policies, as well as the public trust, were violated multiple times under Laurie Smith's watch and as she asks voters to trust her with a sixth term in office," Hirokawa said in a press release issued Tuesday.
The county's jails have been under unprecedented scrutiny since three jail deputies fatally beat a mentally ill inmate named Michael Tyree in 2015. A blue-ribbon commission that formed in response to the murder later handed down scores of recommendations, including the creation of an independent monitor to audit and oversee the troubled jails.
Earlier this month, the county finally voted to form the independent auditor's office, which will act as a watchdog for both the custody and patrol divisions.