The Sequester and the Local Impact
on Friday, March 8, 2013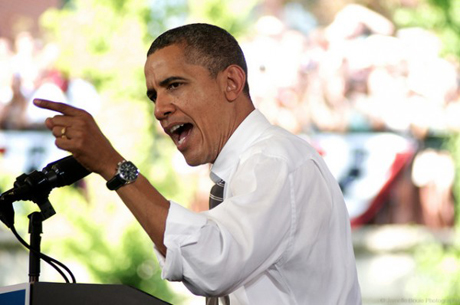 President Obama warned the public for months about the potential effects of a sequester, which might become more obvious in the coming weeks and months. (Photo by Jamelle Bouie, via Flickr)
After months of reading about the horrors of sequestration, most folks didn't even blink when President Obama signed the document ordering the cuts beginning March 1, 2013. Call it "sequestration fatigue," but the hype leading up to the date was akin to the expectation of all computers crashing on Y2K.
The sequester was part of a compromise negotiated in 2011—by a divided legislative committee—to raise the debt ceiling. The Budget Control Act of 2011 included the sequester, intending it to act as a poison pill and encourage Democrats and Republicans to compromise. If the legislators could not pass their own reduced budget or raise the debt ceiling, then cuts would automatically take place for a saving of $1.5 trillion over 10 years, beginning March 2013.
While I have heard some pundits call the 2.3 percent reduction in Federal government spending "budget dust," the cuts target certain departments and programs and leaves others alone. Medicare (recipients, not doctors), Social Security and other mandatory programs are exempted from the cuts. After removing all the exempted categories, including the salaries of legislators, the cuts run deeper among the remaining departments.
A February 2012 Congressional Budget Office report outlines the various cuts that the sequester enacts. For example, discretionary defense cuts will total $42.7 billion, a 7.9 percent reduction, while nondefense discretionary cuts of $28.7 billion equates to a 5.3 percent reduction. Already House Republicans are tinkering with the defense cuts, giving the Defense Department some latitude on where the cuts would occur.
The Washington Post has asked for personal stories on how the sequestration is affecting citizens. A mix of stories can be found on the newspaper's website http://www.washingtonpost.com/grid/national/sequestration/. Some Federal employees are sharing that they have already lost their job, while other folks are saying, "tough luck, the budget was bloated."
What are the impacts in Santa Clara County? Personally, I know of one person who was laid off from a small business that contracted with the Federal government. The entire company shut down in January 2013 in anticipation of the sequester—20 other people lost their jobs. The nonprofit I direct, Bill Wilson Center, has lost $40,000 to date and more is anticipated. We have frozen any new hiring until we learn more about the cuts.
A recent email from the Chair of the Santa Clara County Collaborative on Affordable Housing and Homeless Issues discusses the anticipated cuts to services for the homeless and to affordable housing. Up to 800 low-income families could lose their housing and urban development (HUD) vouchers that currently subsidize rental payments. As a result, many could end up homeless.
California will lose millions that filters down to residents. Education, criminal justice, clean air and water, food safety, defense, and unemployment benefits are among the services that will receive cuts.
It is hard to imagine that everyday citizens will not feel these cuts. I guess we will see after the "budget dust" settles.
Sparky Harlan, Executive Director/CEO at Bill Wilson Center, is a nationally recognized advocate for youth in foster care and in the juvenile justice system, as well as homeless and runaway youth.
Post a Comment
Mission Statement: This site is designed to encourage political debate, discussion and change in our city, started by people who value San Jose and are interested in her future and in this valley's place in the state and nation.
Disclaimer: All views expressed on this site are solely the opinion of the individual writer.
Comment Policy: Please read our comment policy before posting.
© 2013 San Jose Inside. All rights reserved. Contact us