Tag: President Obama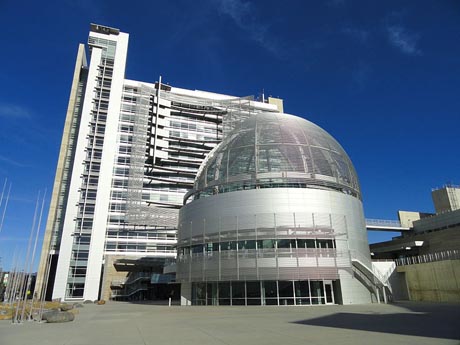 The first U.S. Patent Office in Silicon Valley will call San Jose's City Hall home.
The U.S. Department of Commerce picked San Jose City Hall as the permanent site for its Silicon Valley satellite patent office. The office will open up shop by the end of 2014, the federal agency announced Tuesday.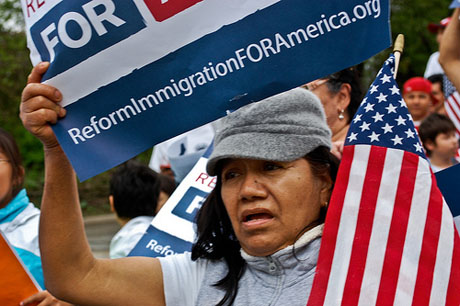 On Tuesday, the county Board of Supervisors will discuss its policy on detaining undocumented immigrants. (Photo by Sasha Y. Kimel, via Flickr)
Santa Clara County's Board of Supervisors on Tuesday will review its policy on how local law enforcement should cooperate with federal immigration authorities. The county was one of the first in the nation to take a stand against a 2010 Obama administration enforcement policy that led to a record number of deportations in California.

Volunteers from the Pacific Asian Advisory Council volunteer at a Second Harvest Food Bank center in San Jose. With cuts to the Calfresh food stamp program, a greater burden will be placed on Second Harvest, which provides meals for more than 250,000 people per month. (Photo courtesy of PAAC)
The government shutdown may be over, but the Republican-fueled hits keep on coming—especially for Silicon Valley's most vulnerable citizens. Starting Nov. 1, extra funding provided by the American Recovery Act, President Obama's 2009 economic stimulus package, expire. As a result, people who rely on rely on food stamps, officially known as the Supplemental Nutrition Assistance Program (SNAP), or CalFresh in California, will see their benefits decrease. In addition, the U.S. House of Representatives approved a bill last month that would cut $40 billion from the program over the next decade—resulting in 3.8 million people getting kicked off the program next year, the Congressional Budget Office estimates.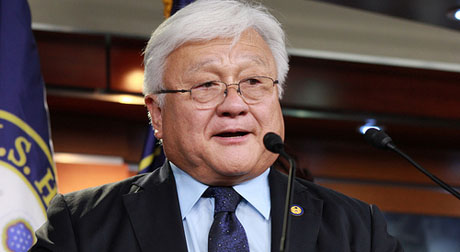 U.S. Rep. Mike Honda (D-San Jose) has refused to give up his paycheck during the federal government shutdown. (Photo by Talk Radio News Service, via Flickr)
Almost two weeks into the federal government shutdown, there are still 800,000 employees sitting at home, waiting for Congress to approve a budget and allow them to get back to work. Meanwhile, members of Congress have not had any hold placed on their paychecks, and a growing number of people are not happy about it.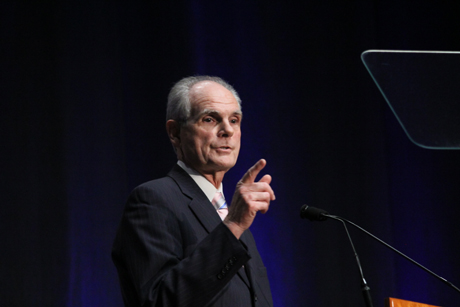 San Jose Mayor Chuck Reed has been working the phones to raise money for a state pension reform ballot measure.
What in tarnation is Chuck Reed up to? Pension reform, of course. The mayor of San Jose got future benefits for city employees scaled back last year with Measure B, and now he's taking aim at a state ballot measure with the help of Texas moneymen and California libertarians.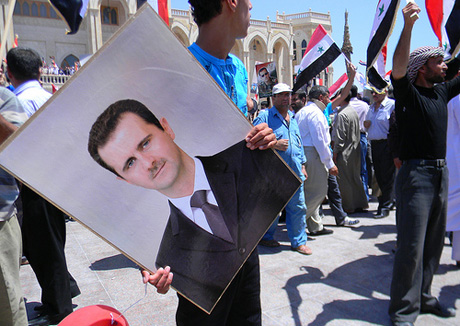 Syria's Presidetn Bashar Al-Assad, seen in the portrait being held by a supporter in 2010, has been accused of using sarin gas against his own people, sparking a debate on U.S. intervention. (Photo by Beshroffline, via Flickr)
Our local congressional delegation should vote against President Obama's proposed strike in Syria. The administration's policy does not provide a solution to the stated problem. It will hurt our image around the world, strengthen our enemies and it is antithetical to our purpose: weakening the Assad government. Most importantly, military action will result in many innocent lives lost.
Mission Statement: This site is designed to encourage political debate, discussion and change in our city, started by people who value San Jose and are interested in her future and in this valley's place in the state and nation.
Disclaimer: All views expressed on this site are solely the opinion of the individual writer.
Comment Policy: Please read our comment policy before posting.
© 2013 San Jose Inside. All rights reserved. Contact us