Tag: George Shirakawa Jr.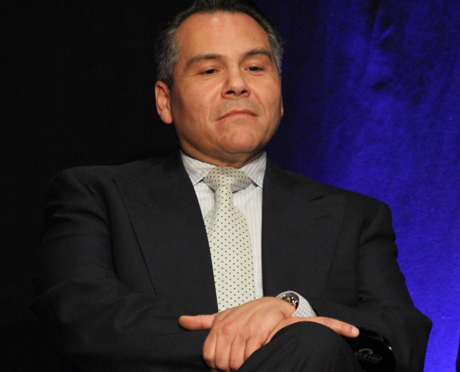 Xavier Campos filed fictitious business names for his 2010 City Council campaign and a 2004 school board campaign.
The Fair Political Practices Commission (FPPC) confirmed Thursday that it has expanded its investigation into San Jose Councilman Xavier Campos' 2010 campaign. Earlier this week, San Jose Inside reported that Campos and incarcerated former county Supervisor George Shirakawa Jr. created fictitious business filings with the county Recorder's office under identical names as their campaigns. The unconventional finance practice could have allowed the two men to funnel campaign contributions into secret bank accounts.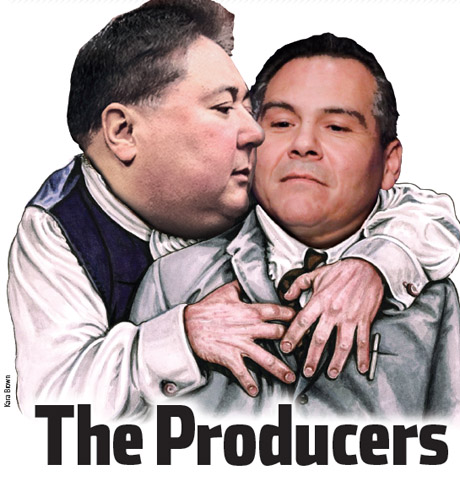 George Shirakawa Jr. and Xavier Campos created fictitious businesses names that would have allowed them to escape detection of campaign finances.
The Santa Clara County District Attorney's office seized documents in a Thanksgiving eve raid that implicate Xavier Campos' campaign in funding the red-baiting political mailers that helped him win a seat on the San Jose City Council. Now, records obtained this week by Metro/San Jose Inside suggest that the District 5 councilmember engaged in a highly unconventional campaign finance practice—one used by the incarcerated former county supervisor—that would have allowed him to establish phony campaign bank accounts that could have gone undetected by agencies monitoring election spending.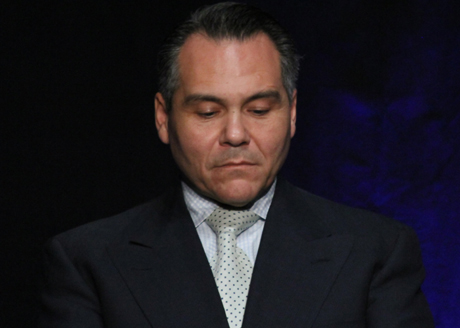 New evidence seized in a search of George Shirakawa Jr.'s home links Xavier Campos' 2010 campaign to fraudulent political mailers.
A search of George Shirakawa Jr.'s home the day before Thanksgiving turned up evidence that suggests Xavier Campos' 2010 City Council campaign paid for materials to create a fraudulent political mailer that helped the San Jose city councilman get elected. The mailers portrayed Campos' opponent, Magdalena Carrasco, as a communist to East San Jose's Vietnamese voters, and Shirakawa's DNA was found on a stamp affixed to one of the mailers. Campos ended up winning the primary election against Carrasco by 20 votes and later won the runoff.
George Shirakawa Jr. shuffled into court Wednesday for the first time since being sentenced to a year in jail. The former county supervisor wore a red jump suit and his wrists were shackled to his waist while his ankles were shackled together. Except for a whispered exchange with his attorney, Jay Rorty, Shirakawa didn't say a word during the brief proceeding.

Xavier Campos and Magdalena Carrasco will once again face off for San Jose's District 5 City Council seat.
San Jose Councilman Xavier Campos will face a familiar opponent when he runs for re-election in the June 2014 primary. Magdalena Carrasco, who lost the 2010 race for the East Side council seat by a slim margin, quietly filed papers this week to give it another shot.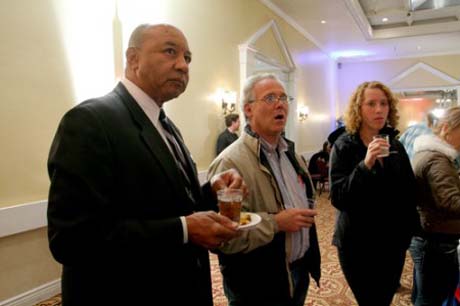 Forrest Williams stunned political observers when he decided to join the crowded San Jose mayor's race. (FIle photo)
More than a baker's dozen have declared plans to run for mayor of San Jose next year, but no announcement was more startling than former councilman Forrest Williams'. Out of the spotlight since his failed 2010 county supervisor bid against Mike Wasserman, his announcement last month came out of left-left field considering his past supporters at the South Bay Labor Council are all-in for former vice mayor and present county supe Dave Cortese. Fly isn't the only one scratching its head over Williams' kind-of, sort-of run. He said SBLC officials have called to "ask what's my plan," which is code for "WTF, Forrest?" There are some theories that 2010 figures into his new effort. A look at disclosure forms shows that Williams and his wife, Dorothy, had to forgive $116,950 they loaned his supervisor campaign. Williams insisted that he forgave only about $50-60K, though, and isn't running to help pay off old debts.
Mission Statement: This site is designed to encourage political debate, discussion and change in our city, started by people who value San Jose and are interested in her future and in this valley's place in the state and nation.
Disclaimer: All views expressed on this site are solely the opinion of the individual writer.
Comment Policy: Please read our comment policy before posting.
© 2013 San Jose Inside. All rights reserved. Contact us