The Fly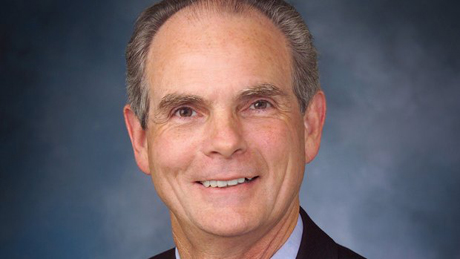 San Jose Mayor Chuck Reed is not expected to endorse a candidate to succeed him until after the primary.
There are enough candidates for mayor of San Jose to field a football team with a few water boys, but no one entrant should expect the blessing of Mayor Chuck Reed just yet. With a year left on his final term, the mayor's five pension reform supporters on the City Council—a.k.a. The B Team—are all vying to drag their files over to the 18th floor's corner office, and he needs their support to gets things done.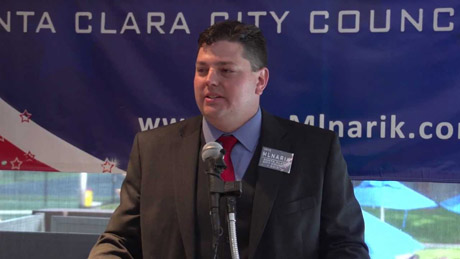 John Mlnarik didn't win a seat on the Santa Clara City Council, and now he's being accused of breaking campaign laws. (Screenshot via YouTube)
Since his unsuccessful bid for a seat on the Santa Clara City Council last year, attorney John Mlnarik has been on the legal warpath. To date, Mlnarik has sued: a couple whose diminutive dog allegedly nipped him on the hand while he was campaigning; blogger and political operative James Rowen for defamation; and a former employee, attorney Elena Rivkin Franz, who supposedly misused company resources to start her own firm and steal clients. The last two targets on that list are fighting back, however, and the Fair Political Practices Commission (FPPC)—the state political watchdog—could have an interest in their allegations.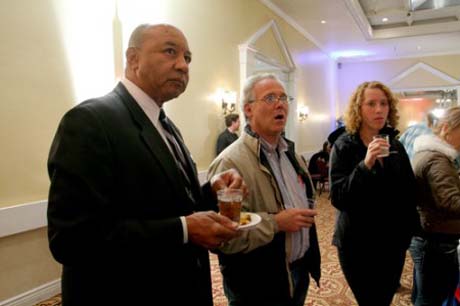 Forrest Williams stunned political observers when he decided to join the crowded San Jose mayor's race. (FIle photo)
More than a baker's dozen have declared plans to run for mayor of San Jose next year, but no announcement was more startling than former councilman Forrest Williams'. Out of the spotlight since his failed 2010 county supervisor bid against Mike Wasserman, his announcement last month came out of left-left field considering his past supporters at the South Bay Labor Council are all-in for former vice mayor and present county supe Dave Cortese. Fly isn't the only one scratching its head over Williams' kind-of, sort-of run. He said SBLC officials have called to "ask what's my plan," which is code for "WTF, Forrest?" There are some theories that 2010 figures into his new effort. A look at disclosure forms shows that Williams and his wife, Dorothy, had to forgive $116,950 they loaned his supervisor campaign. Williams insisted that he forgave only about $50-60K, though, and isn't running to help pay off old debts.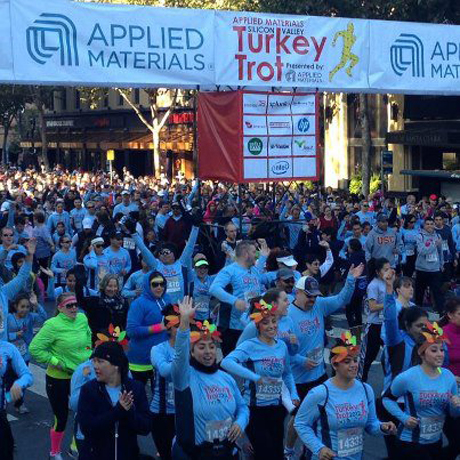 The annual Turkey Trot raises more than $850,000 for local nonprofits, but one of them has a dubious history in fulfilling its mission.
Almost 28,000 people are expected to run in the 9th Annual Silicon Valley Turkey Trot, the Thanksgiving morning race put on each year by the Silicon Valley Leadership Group Foundation. The runners, walkers and joggers might be surprised to note that money raised in previous years to pay health care premiums for low income kids was diverted to political campaigns.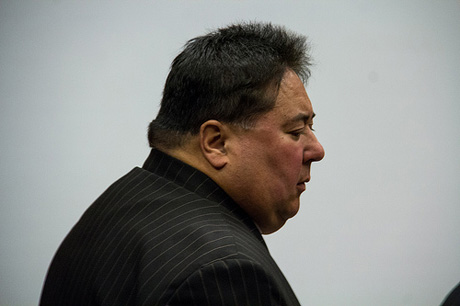 George Shirakawa Jr.'s illegal actions have had a direct effect on multiple people's careers. (Photo by Geoffrey Smith)
There is life after George Shirakawa Jr., as three men are proving with varying degrees of success. A former chief of staff to the incarcerated supervisor is rewriting history on his new blog, while a former county CFO has accepted a demotion after failing to catch Shirakawa's crimes. Perhaps most interesting, though, is how the city's acting police chief, Larry Esquivel, has managed to stay above the fray.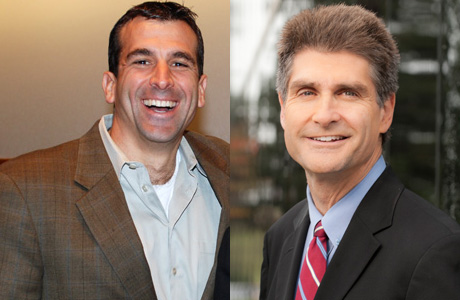 San Jose Councilman Sam Liccardo, left, has been getting plenty of support in his bid for mayor from friend and Silicon Valley Leadership Group CEO Carl Guardino.
Roughly 1,300 people attended the Silicon Valley Leadership Group's (SVLG) Annual Lunch last week at the Santa Clara Convention Center—but not everyone left satisfied. Carl Guardino's boosterism of one San Jose mayoral candidate has created concern that the leadership group CEO is blurring the line between personal preference and organizational support.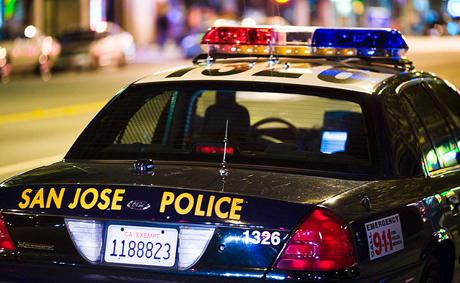 The fight over how best to retain San Jose police academy cadets is in full swing.
San Jose City Manager Debra Figone decided last week to end the suspense and remove "acting" from Larry Esquivel's title as police chief, setting up a dramatic showdown. Not between cops and City Hall, though. An arsenal of memos over how to keep graduates of the police academy from jumping ship were fired off Tuesday. Just last week, it was widely reported that up to 17 cadets are taking their talents to different law enforcement agencies, leaving the city out about $2.9 million in training costs. On one side of the memo melee stands Sam Liccardo, armed with what he calls a "carrot and a stick." On other other side stand Madison Nguyen and Johnny Khamis, carrying what they call a "first five" initiative. And in the middle, the police union is at the ready to shoot down both ideas.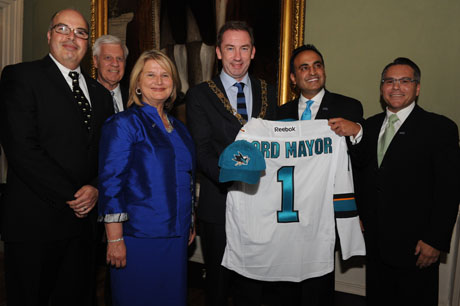 San Jose councilmembers (from left) Johnny Khamis, Rose Herrera, Ash Kalra and Xavier Campos present a Sharks jersey to Dublin Lord Mayor Oisín Quinn (middle). Tim Quigley, president of the Dublin Sister City Program, stands in the back.
Great news. San Jose's elected leaders had a total blast on their "Sister City" trip to Dublin, Ireland. In addition to a bunch of meetings, which appear to have had nothing to do with city business, goodwill was spread and Guinness hats were purchased. And in a true show of solidarity with the Dubliners, some of San Jose's councilmembers even came back with a case of the common cold! Fly called around to find out what San Jose officials learned during their time in Dublin—at an anticipated cost of $20,000; although one Irish writer called our estimate low—and we're happy to report nothing substantial.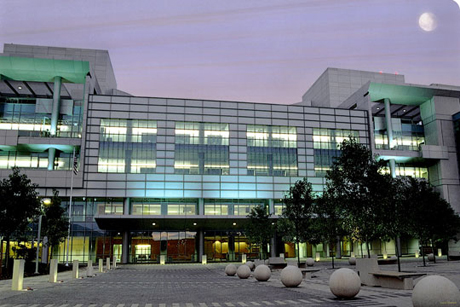 Santa Clara County's Valley Medical Center lost its chief financial officer to resignation last week, leaving the top two finance posts filled on an interim basis.
CFOs are dropping like flies—well, not this Fly—over at the County of Santa Clara offices. Last Friday marked the final hurrah in the tenure of Dave McGrew, the chief financial officer of Valley Medical Center (VMC) since August 2011. Word is McGrew was placed on administrative leave a couple weeks prior to his sayonara. While McGrew trotted out the boilerplate goodbye in an email to staff, citing a need for more time with his family, his admin leave was not voluntary, according to sources in the county. David Claude, the director of general accounting, will take over as interim CFO, which means the county now has temps staffing its two most important finance positions.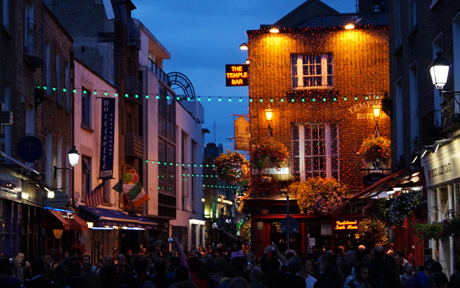 A group of San Jose city officials will travel to Dublin, Ireland, as part of the 'Sister City' program. A drop by the Temple Bar district could be in order. (Photo by Ian Stannard, via Flickr)
The Emerald Isle is calling. Ten San Jose officials will fly this week to Dublin, Ireland, for the bi-annual "Sister City" trip, which is basically a pub crawl disguised as a city-sponsored economic development junket. Among the lucky 10 are four councilmembers (Xavier Campos, Rose Herrera, Ash Kalra and Johnny Khamis); three department heads (budget director Jennifer Maguire; Joe Hedges, of economic development; and environmental services' Kerrie Romanow); two council chiefs of staff (Shane Patrick Connolly, for Khamis; and Mary Anne Groen, for Herrera); and one soon-to-retire city manager, Debra Figone. If that seems like overkill, well, it is.
Disclaimer: All views expressed on this site are solely the opinion of the individual writer.
Comment Policy: Please read our comment policy before posting.
© 2013 Virtual Valley Inc.